30-Day Challenge: Going Raw with Danilae
I'm in total shock that I made it a complete three weeks on raw food. This is partially because I generally have little to no will power when it comes to sweet tooth cravings and partially because it doesn't feel like it's been three weeks, but, regardless, I'm genuinely enjoying being raw and learning about new foods.
I know I've said this in my first two posts, but the best part so far is my abundance of energy. I really can't get over how much more energy I have on a regular basis. From the moment I wake up until bedtime, I don't even need caffeine. No, I'm not joking. I'm also sleeping better than ever and I'm thinking much clearer. Also, I'm noticing that my body is craving more vegetables. When I get hungry, I honestly want kale, green juice, beets or something just as nutrient-dense. I can tell the difference between what my body wants and what my brain wants— which is typically mac and cheese and cupcakes.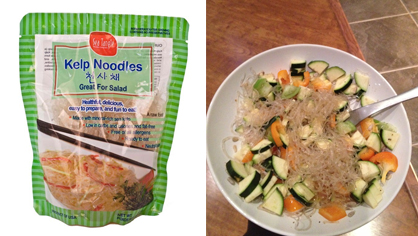 This week, I made a few special discoveries. The first was an uncooked culinary delight, if you will: kelp noodles. Now, I'm sure for most it doesn't sound too exciting but when you're raw, finding a food that you really enjoy and is easy to prepare is like striking gold. One day, I was walking through Mothers Market and Kitchen, starving because I had just left the gym, and at the deli I noticed a sign for "raw fettucine alfredo." As a carb-lover, naturally it caught my eye and I decided to try it. I was skeptical at first, but after tasting it, I was hooked. When I asked the store worker what kind of noodles they used, she replied, "kelp noodles," and a love affair was born.
At first I just ate the raw fettucine alfredo. Then, I started venturing out and trying new things. I added zucchini, bell peppers, mushroom, olive oil and red wine vinegar into a plate with kelp noodles and ate it that way. I also tossed it in my salad. Then, I decided to try and make tomato basil pasta. Now, that was a process. I thought that if I added a little water, tomato, basil and garlic in a blender that it would come out like a sauce. Instead, it just came out a watery mess. Fail.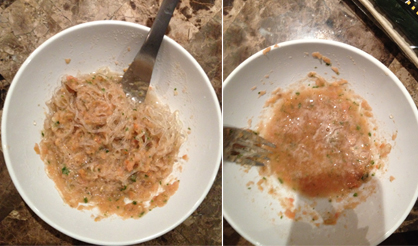 However, I can be quite stubborn at times and I was unwilling to succumb to failure so I tried it again the next night. I used the same ingredients as the time before, but this time, I added cashew milk to give it more of a texture. I noticed that cashew milk doesn't have very much taste, so it takes on the flavor of anything you blend with it. For me, it was tomato and basil—and it was delicious.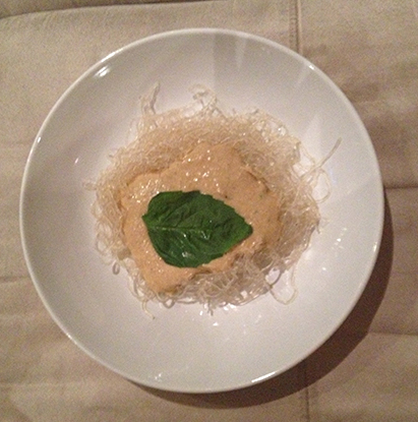 Another special discovery was Kombucha. I hate to admit it, but when I'm not raw, I love soft drinks, Coca Cola and Canada Dry ginger ale in particular. Drinking water and green juice for three weeks straight was getting kind of old. Luckily, I found Kombucha, a raw, fermented, sweetened tea that is carbonated and has live active culture to aid digestion. It comes in a variety of flavors and my favorite is Passionberry. It's a great addition to my daily diet.
My third special discovery was my Raw Crunch bars. This was a special revelation because I had been searching high and low for a raw bar to try. The first one I got, I didn't read the label correctly and was disappointed that it was only 80 percent raw, so I had to throw it away. The second one I tried tasted like cardboard. The third one I tried was also not very good. But, Raw Crunch? I hit the jackpot—at least that's how I felt. The one I got had dehydrated goji berries and was amazing. At one point, I ate raw fettucine alfredo with a Raw Crunch bar and washed it down with Kombucha---it was delicious.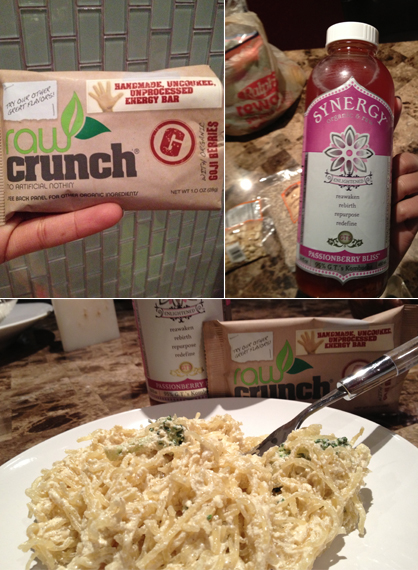 My last special discovery was another great find from the deli section of Mothers Market and Kitchen—a dessert in the form of a flax bar. As a person that usually takes the word dessert to mean a dozen macaroons or a Sprinkles cupcake, the flax bar did not at all sound like a treat. However, I was pleasantly surprised; it was amazing. It was sweetened with raw honey and tapioca starch.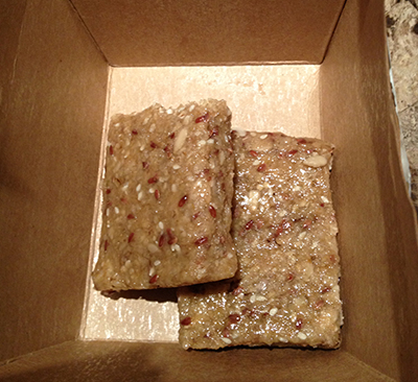 After learning about all these new foods, being raw isn't nearly as hard as when I first started. I'm even considering extending my raw way of life past 30 days.
Tagged in: wellness, food, 30 day challenge, nutrition, health, raw, raw food,