30-Day Challenge: Try Something New Every Day with Jessica
Week 2 is in the books and I'm a little sad this challenge is half way over! It has been such a great experience thus far and I truly believe you learn a lot about yourself when you force yourself into new situations. It's given me a much needed boost of confidence and self esteem and has helped me feel as though I will be able to handle any sitaution thrown at me. Here's what I was up to this week...
#1 Infrared Sauna Lounge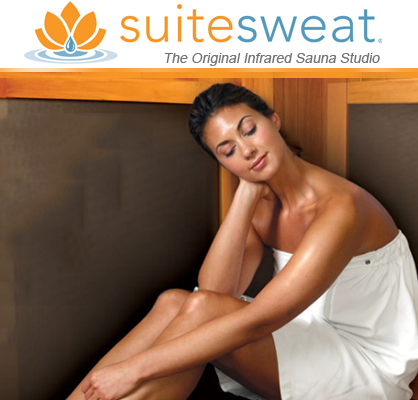 Infrared saunas have long been praised for their healthy detox benefits. Unlike a regular sauna, they heat up your core temperature to increase heart volume and rate, serving as beneficial heart stress similar to that of cardiovascular training. In addition to substantial calorie burning, infrared saunas help with weight loss, detoxification, flexibility, stress, fatigue, pain relief, blood circulation and skin conditions. I went to SuiteSweat to experience my first infrared sauna lounge. Greeted with a welcoming and relaxing atmosphere, I was escorted to my own room and personal sauna. The 40-minute sweat session left me feeling rejuvenated, relaxed and ready to start my day! I look forward to detoxing through this method on a regular basis and seeing the benefits first hand.
#2 Give Blood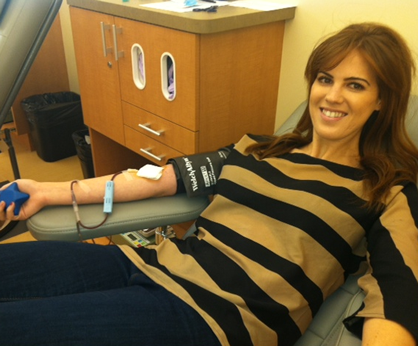 Needles, doctors and anything involving blood is not something I enjoy to say the least. This experience put me out of my comfort zone more so than anything thus far, but was also the most rewarding. It wasn't the needle going in that hurt, it was more the thought of it being there and feeling the blood rush out that made the experience a tad unpleasant. Knowing that my pint of blood can save up to three lives made the 15-minute discomfort well worth it. It's a simple way we can all give back in our daily lives and I intend on returning for round two in the near future.
#3 Luxury Cinema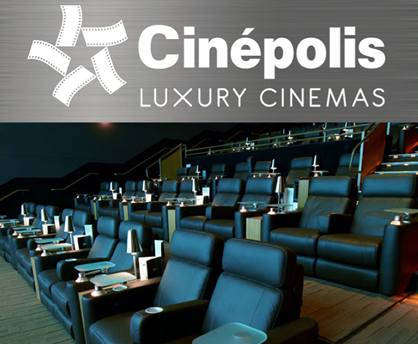 It's safe to say that going to the movies will never be the same after experiencing a luxury cinema. Yes, it's a little pricey, but the overall experience is worth it and the perfect date night activity! I love me some good movie theater snacks but having a waiter serve you sliders in a reclining leather chair beats red vines any day. Not to mention, they serve alcohol, which might be one of the biggest selling points. The days of sneaking wine juice boxes into the theater are over. Blankets are provided for added comfort. I'm thinking we might need to start a petition to get them to show Sunday football. (Bloody Mary bar, anyone?)
#4 Speed Dating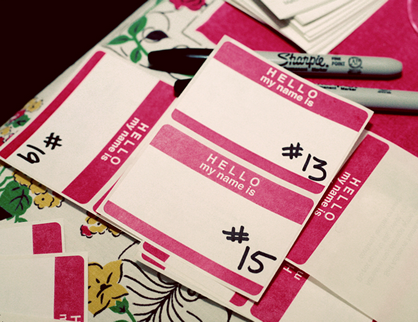 This is something that would have mortified me in the past, but given the point of this whole challenge, I figured the time was now. It's certainly a little unnerving not knowing what to expect in a room full of strangers, but nothing a glass of red wine won't cure. Put together by Pre-Dating.com, everyone was assigned a badge number, women sat on the inside of the table and men rotated every 6 minutes for a total of 11 mini dates. After the third one, I felt like a conversational pro! (or maybe it was the wine?) I had no idea I would have so fun and found myself sad as the last potential suitor took his seat. While I can't say I met the love of my life, the conversations were great and I even made a couple of business connections. I would recommend this to any single people out there if only to boost self-esteem for other dating adventures. Try it: Bring a friend, grab dinner and drinks beforehand and make a night of it. You have nothing to lose!
#5 Detox Foot Bath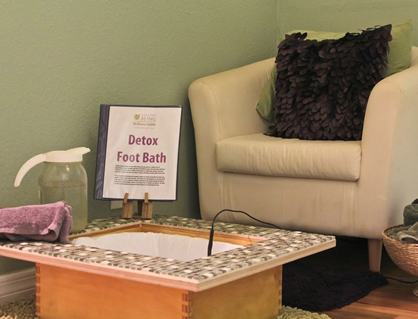 I'm always on the hunt for new wellness and detox techniques and have wanted to try an ion detox footbath. The idea is that positive and negative ions alternate in the water to eliminate toxins through reflex points and pores in the feet. Detoxification, improved liver, colon and kidney function, mental clarity and increased energy levels are claimed benefits of treatments over time. I was most looking forward to seeing what color the water would turn as that is an indication of what parts of your body are most toxic and was underwhelmed when it only turned a slight shade of yellow. I'd like to think this means I don't have a lot of toxic build up, but the jury is still out on this one.
#6 Blow Dry Bar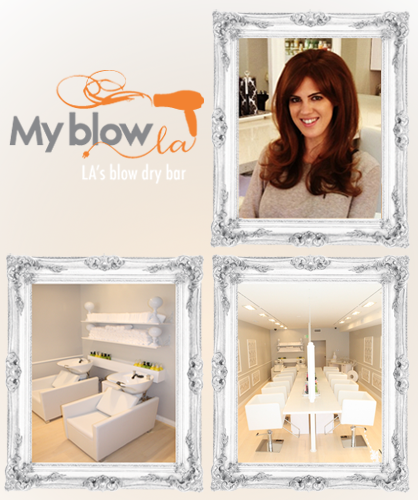 The concept of a blow dry bar is pretty genius if you ask me. No cuts, no color, just a blow out and styling. I can be very particular with my hair so this is not something that has interested me in the past. I went to MyBlow LA for my first blow out experience and loved every minute of it. (The scalp rub alone would get me back in the doors, not to mention the mimosas!) The staff was extremely friendly and I enjoyed getting pampered with a fresh new do'. Depending on the occasion, you can go straight, get voluminous curls, beach-y waves or even an updo. I left with some serious volume; just how I like it.
#7 Watch "Happy"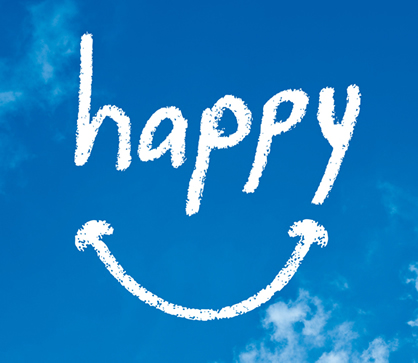 "The Constitution only gives people the right to pursue happiness. You have to catch it yourself." -Benjamin Franklin
Beginning with this thought provoking quote, the documentary "Happy" sets out to explore the secrets behind our most valued emotion and what actually makes people happy. Documenting people's lives and experiences around the world, from all walks of life, researchers are also interviewed and the science of happiness is examined. Of most interest to me was seeing those who live in the slums and those who have faced great adversity and tradgedy that live truly happy lives. It makes you stop and think. The biggest takeaway is understanding that happiness is not necessarily a result of your circumstances or the cards you were dealt, but more of an attitidue. It's a choice.
Read more of the 30 Day Challenge
Tagged in: wellness, 30 day challenge, health, hair, movies, detox, speed dating,