FGI LA hosts the 5th Annual Designer and The Muse
On Wednesday, October 23rd, Fashion Group International Los Angeles teamed up with Jaboy Productions and LA Confidential to host the 5th annual Designer and The Muse event. Mr. C Beverly Hills hotel set the stage for over 50 designers, their muses and the fashionable crowd coming out to celebrate their accomplishments. The red carpet lit up at 6pm with a host of fashion forward looks.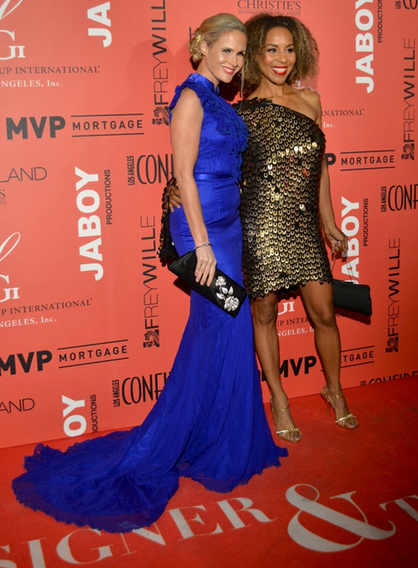 There was an assortment of accessories designers decorating the red carpet in their pieces. Accessories designer CC Skye wore twin dresses with her muse and best friend, Jen Egan. Egan raved about the collection, saying "I'm honored to be CC's muse. She's the pioneer in costumer jewelry on an international level." CC went on to say, "I'm loving my tiara, a Mid-Summer's Night. It gets a lot of attention everywhere we wear them. It's such a conversation piece that everyone wants to be wearing.".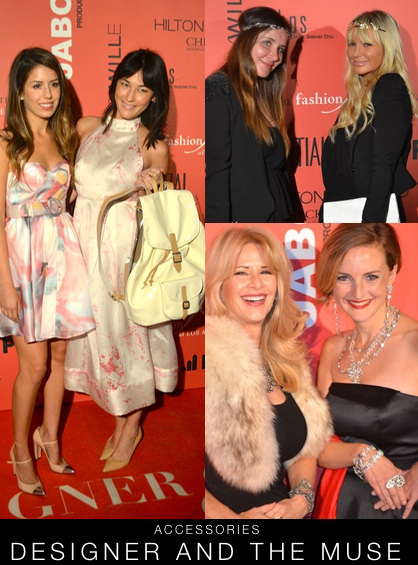 Briana Anter, of Harper Ave, was accompanied by her muse, Taylor King. Both ladies were wearing a brushed on floral print dress that allowed for her creamy backpack to shine on the red carpet. Her big shiny backpack line merges sporty pieces with feminine styling.
For the perfect kick of LA glamour, designer Margaret Rowe and her muse, Lauren Selman, rocked the couture jewelry of the night. Layers of crystals were glistening from every angle.
For the womenswear looks, it was all about the floor sweeping gowns. Former Miss USA, Alyssa Campanella, accompanied designer Lauren Elaine. Both women wore a pop of red lipstick that radiated confidence. Their off the shoulder dresses were ultra-feminine and accentuated with excess fabric details.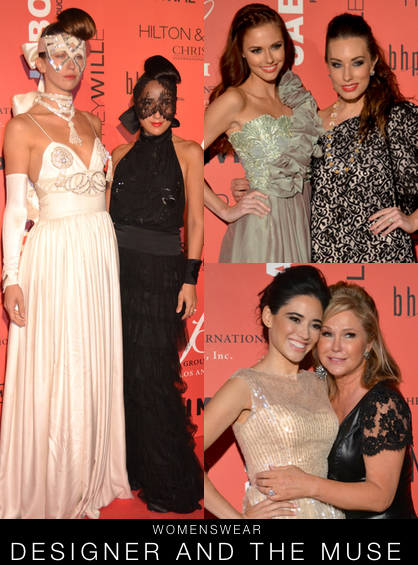 Host of the evening, Kathy Hilton, was keeping the romantic look alive with her collection of cocktail dresses on the red carpet. Muse and actress, Edy Ganam, was glowing in Hilton's champagne, sequin encrusted princess dress. Each of Hilton's dresses had a touch of sparkling glamour.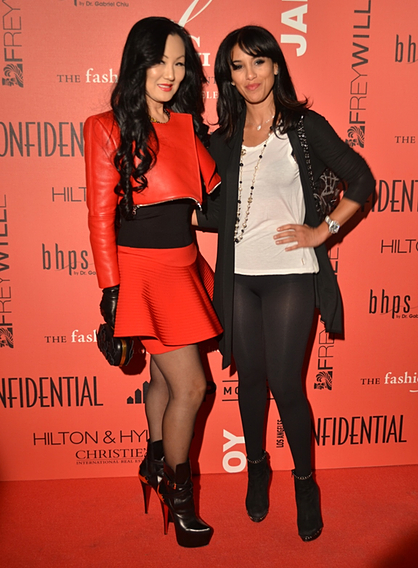 To accompany the gorgeous designs and talent on the red carpet, we're some of LA's trendy bloggers. Rachel Dickhute of Everything Hauler, An Dyer of Haute Pink Pretty and Sheryl Luke of Walk in Wonderland were talking trends and ideas for their upcoming posts. Their looks were polished, simple and perfectly accessorized.
After the red carpet wrapped, everyone headed upstairs. It wouldn't be a night in LA without cocktails and networking. The gorgeously accessorized crowd was waiting to see who won the evening's designer awards. The effortlessly creative footwear designer, Jerome C. Rousseau, was presented with the Best Accessories Designer award by Fashion Group International. Next up was the award for Best Emerging Designer, which was presented to Maria Stanley of Harlyn, known for her "collection of lovlies".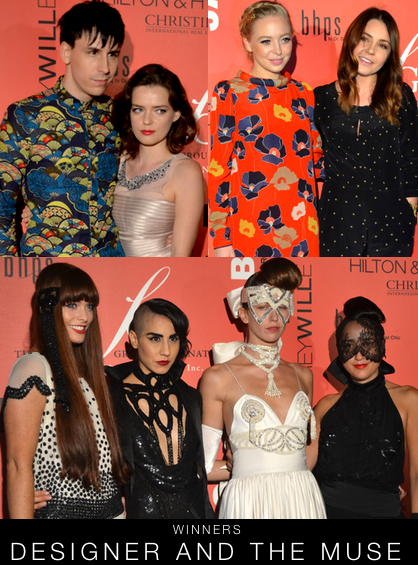 To wrap up the night, the last award was handed out for Best in Show and Overall Designer. This award was presented to the avant garde designer Julia Clancey. Her collection portrayed architecture and historical reinterpretation of artwork.
Congratulations to all of the talented designers and muses of the evening.
Tagged in: fashion, designer, events, red carpet, fashion group international,