LUX Style: 7 Swimwear Trends
Swimsuit season is officially here! From crochet and floral to fringe and colorblocking, we feature all of the top Summer 2013 swimwear trends of the season. After reading about these seven hip swimsuit trends out in stores today, you'll be on the fast track to finding your go-to swimsuit for summer!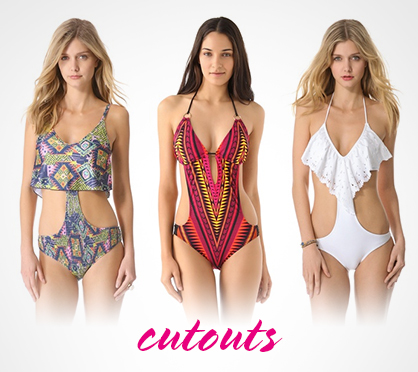 Tallow/Draped Coutout Swimsuit
Red Carter/Aztec Printed One-Piece
PilyQ/White Cutout One-Piece
Take your one-piece swimsuit to the next level with some fun cutouts. Backless one-pieces with sexy, exaggerated cutouts bring boring swimsuits to life with flirty details like draped flounces, keyhole accents and eyelet ruffles. Be sure to lather on some extra sunscreen so you won't get any unfortunate tan lines!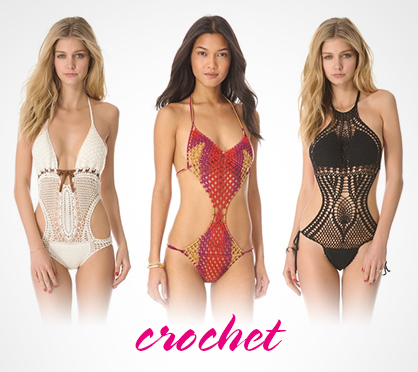 Lisa Maree/Black Crochet Swimsuit
Lisa Maree/White Crochet Swimsuit
Indah/Macramé One-Piece
One-pieces own a bohemian feel when constructed in crocheted detailing. Crocheted swimsuits add alluring appeal to simple one-piece shapes in both solids and multi-colors. Macramé and leather ties add a festive summer feel to crocheted creations.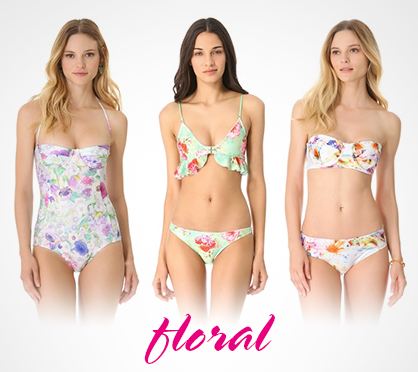 Amore & Sorvete/Graphic Floral Bikini
Suboo/Floral Bustier Bikini
We Are Handsome/Floral One-Piece
Spring and summer swimsuit trends are always in need of feminine florals. Keep your swimsuit sweet and simple with white and pastel floral prints in mint and cotton candy pink with bright orange and purple accents offering some zest. Soft and vibrant graphic floral prints add an attractive look to one-pieces, two-piece bikinis and string bikinis.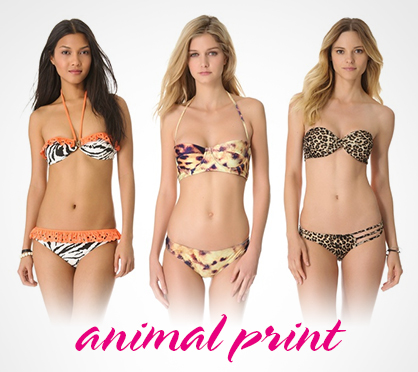 We Are Handsome/Cougar-Print Bikini
Roseanna/Ruffled Bikini
Tyler Rose Swimwear/Leopard Bikini
Unleash exotic vibes when outfitted in an animal print swimsuit. Boasting animalistic prints in leopard, zebra and cougar, these swimsuits will bring along a wild ambiance when playing in the sand or swimming in the surf.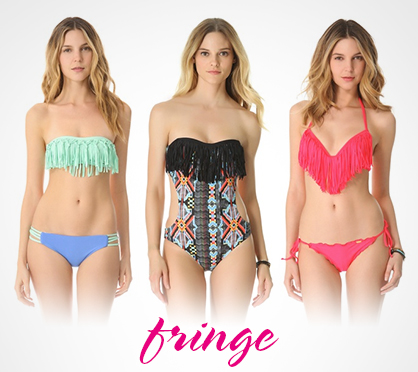 L*Space/Fringed Tribe One-Piece
Luli Fama/Fringe Bikini
L*Space/Knotted Fringe Bikini
Incorporate a funky vibe into your swimsuit with long, swaying fringe or thick, knotted fringe. This fun detailing adds movement, texture and a 60s flair to any one-piece or bikini when positioned on the neckline or bikini bottoms.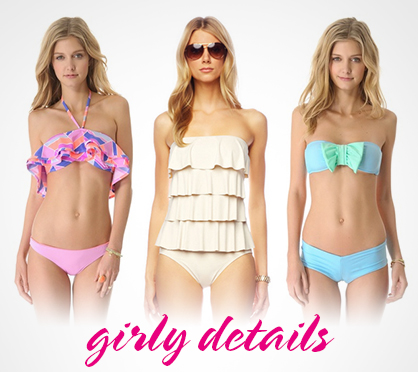 MICHAEL Michael Kors/Ruffled Tankini
Lolli/Bow Bandeau Bikini
Zinke/Ruffled Bikini
You can never go wrong with an ultra-girly swimsuit flaunting frills, ruffles, feminine details and candy colors. Bikini tops featuring tiered and fluttering ruffles add soft movement, while petite bows added to candy-hued bandeau tops and bikini bottoms keep the look cute and chic.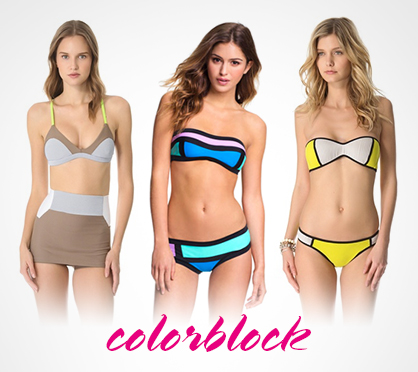 DosMares/Yellow Colorblock Bandeau Bikini
Seea/Striped Colorblock Bikini
The Bikini Lab/Colorblock Bandeau Bikini
Create a daring, unexpected look highlighting bold colors with a colorblock swimsuit. Contrasting hues in yellow and white, pinks and blue and mixed stripes and solids maintain modern, futuristic and even retro vibes for swimwear with an edge.
Read more LUX Style
Tagged in: trends, guides, michael kors, lux style, swimwear, spring 2013, summer 2013, swimsuits,