Alison Pickart dicusses the Frippery Collection
Alison Pickart, an interior designer in Chicago, was trying to find jewelry to wear to her stepdaughter's wedding when she decided to take a stab at it herself. A few months later, her jewelry company – Frippery—was born.
"I just stumbled upon these fabulous stones," Pickart said.
She settled on a necklace composed of 24k gold-dipped sliced geodes offset by blue chalcedony drusy. It's now called "Cave Glam Drusy" in her collection.
The wedding of her stepdaughter, Christina Pickart, served as a launching pad for Pickart and seems especially fitting because the young lady is no stranger to fashion either. Christina Pickart owns her own handbag collection, Christina Elaine, which features vintage- inspired clutches. The Cordwainer's graduate and former Burberry intern frequently posts her designs on her blog, "Christina Elaine: Cool Eclectic Original."
"My stepdaughter is very, very fashion forward," Alison Pickart said.
Perhaps Christina rubbed off on her stepmother.
Now the creative professional can add "jewelry designer" to her resume. Although Frippery officially debuted in January of this year, it's quickly expanding to make Alison Pickart a household name for design.
Shortly after the wedding, the interior designer said, people in Chicago were approaching her on the street, enamored by her pieces.
"People would literally buy them off my neck," she said.
When a TV correspondent on a local news show in Chicago, Michelle Alegria, decided to wear a piece for her New Year's Eve broadcast, the ball really got rolling.
"She called me up and was like, you have to get some kind of presence with your pieces because people are dying over this," Pickhart said.
Without a website or a PR team, Pickart quickly got her pieces on the Web so that her hobby could become a company.
A team of three local artisans turn Pickart's designs into reality. Always hands-on in her work, Pickart studied the women working and wanted to learn the craft.
"I was really interested in knowing how to do it," she said. "I got into bed with my husband one night with needle nose pliers and a chain, and my husband is like 'No, this is where I draw the line. No pliers in bed.'"
Pickart, who still runs her 15-year-old interior design firm, realized she had to delegate. She decided to focus on what she does best: design.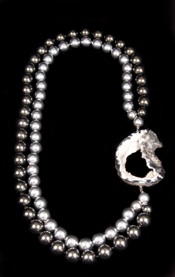 So where does she find her inspiration?
"A lot of times the people that ask me for things (inspire me)," she said. "I had one woman ask me about a very certain color green. It wasn't a green I had ever used before. What ultimately came out was the coolest reflection of our conversation. It wasn't exactly what she thought it would be, but it came out very cool."
Michelle Gertzman, the designer of Michelle Rahn bridal, has asked Pickart to design a capsule collection inspired by her fashion-forward, runwayesque gowns.
It seems weddings are a source of luck for the designer.
"Her dresses are very unique. Some are very avant-garde," she said. "She approached me in February to see if she could use (Frippery) in her bridal catalog to show how to shake it up."
She later suggested the capsule, and now Pickart is beginning to work on the collection, aimed to debut in February of next year.
Pickart is hoping to make six to eight exclusive bridal pieces, with Michelle Rahn's gowns serving as the muse. The line will be more monochromatic than her current collections, featuring a mix of black crystal, white gold, silver tones and clear stones.
She plans to unveil her newest Frippery designs in January; however, the designer has been rolling out new items over the past couple of months. Her latest additions were a black pearl and pyrite necklace with a black drusy clip, a layered abalone necklace, and a gold chain-link necklace.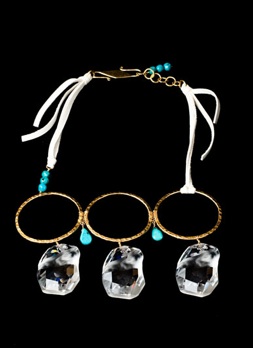 Tagged in: lux exclusives, jewelry, accessories, design, geode, agate, alison pickart, flippery,