Holiday 2012 Trends: Holiday Sweaters
The holidays aren't always about getting glammed up in sequins and all that glitters. Perfect for festive everyday looks or a low-key get-together are holiday sweaters! These aren't exactly your ugly Christmas sweaters but rather lux possibilities with a cheerful beat. Who needs reindeers and snowmen when you have preppy plaid, chic chevrons and even a faux tuxedo? Style the knitwear with details of red or metallic now and continue to wear them through winter by simply updating the palette. It's the sweater that keeps on giving!
Boy. by Band of Outsiders gets whimsical with a preppy dog pattern on a crewneck sweater. The intarsia dog sweater with raglan sleeves can be layered over a collared shirt or tank top and coupled with simple pleated trousers. Toss on a red trench coat and you're set for a holiday affair!
Cozy up by the fireplace with hot chocolate in Étoile Isabel Marant's Gladys patterned pullover. The sweater has a deep rust base with a salt and pepper shaded pattern. Go for the full on monochrome look by pairing the piece with a burgundy skirt or pants. Laced up boots offer a laidback feel to the ensemble but switch into pumps to quickly dress it up. Instant sass!
Sequins can be effortless, especially on a sweatshirt-like sweater like Diane Von Furstenberg's. The Maryse sequined wool sweater is a casual staple with a glamorous touch. The grey and silver style looks sharp against black skinny pants or flirty with a full skirt and almond toe pumps. Embrace color into the look with a cheerful scarf and crossbody bag.
Brisk nights call for snuggle time in Free People's reindeer lover pullover. The oversized red jumper is embellished with two leaping reindeer and an inside-out sweater texture. Keep casual by joining it with fitted denim and flats. Add on mitten gloves to keep your hands toasty.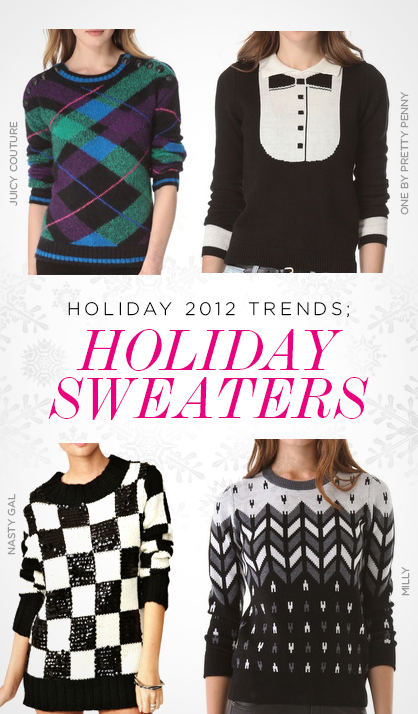 Argyle is reminiscent of winter snow days during the holiday season and Juicy Couture is ready for it with the chateau mohair sweater. The style pops with rich jewel tones of green, purple and blue and is embellished with crest-embossed buttons on the shoulders. Play up the colors by joining them together with blue shorts layered over opaque tights. Toughen up the pattern with buckled booties.
It's practically cheating with ONE by Pretty Penny's bow tie penny sweater. The style mimics the appearance of a tuxedo bib and French cuffs, presenting a humorous touch on the soft sweater. Appear suited up by pairing with trousers or give it a feminine twist with a pencil skirt and accessorize with bracelet and cocktail ring. Either way, your friends will think you are more dressed up than you really are!
Jolly fun comes in all colors and shapes including black, white and checked! Nasty Gal's In-Check sequin knit features a ribbed neckline, cuff and hem, and shimmers with sparkling details. Pair the sweater with green skinnies and ankle boots for an easy chic feel and don't forget the sunglasses!
Stay comfy and stylish during never-ending white elephant gift exchanges in Milly's Montana intarsia sweater. The knit boasts a monochromatic chevron pattern with trailing contrast shapes. Combine it with black leather pants and contrast the look with oxblood red pumps. Add on a few colorful bracelets for a sprinkle of character.
Read more Holiday 2012 trends.
Tagged in: trends, holiday, what to wear, holiday 2012, diane von furstenberg, nasty gal, sweaters, juicy couture, milly, how to wear, free people, one by, etolie isabel marant, holiday sweaters, boy. by band of outsiders,