Leoluca brightens up Spring with candy-colored handbags
With the magic mix of handbags and friendship, Leoluca is quite possibly every girl's dream come true. Best friends for 15 years, founders Emma Lezak and Lauren Letizio were born and raised in Wooster, Ohio, but moved out west to San Diego, Calif. in 2005 hoping for opportunities in the fashion industry.
They officially launched Leoluca in 2010, fusing their lust for must-have fashion accessories with their strong business sense. The brand's name suggests a bit of naughty and nice; Leoluca is derived from the Italian Saint Leoluca as well as the Italian mobster Leoluca Bagarella. Lezak and Letizio chose the name to represent the duality of the brand: classic styling with edgy, contemporary twists.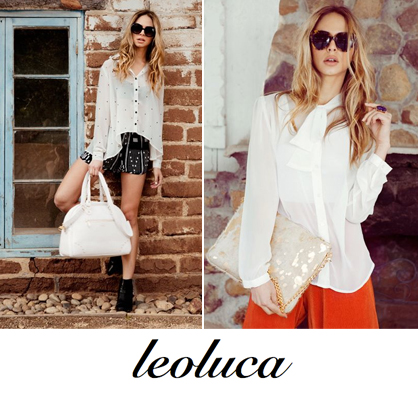 LadyLUX via Leoluca
The stylish duo is a true team in every way, even designing and sketching each handbag together. While their debut Fall/Winter 2011 collection presented mostly black, white and cream tones, they are stepping it up a notch for Spring/Summer 2012. The new collection features bright, candy-colored handbags with an earthy sensibility.
"We really wanted to do something that would let the person wearing these handbags express their fun side, with a lot of color," said Letizio.
The vibrant shades of fun and functional lamb leather appear on styles including a carryall satchel, a drawstring bucket bag, a coin purse and a multi-use cross body bag. Each bag is embellished with signature hardware studs and a brand stamping that is new to the company. Completing the details, the interior lining is crafted from various colors of luxurious crepe satin.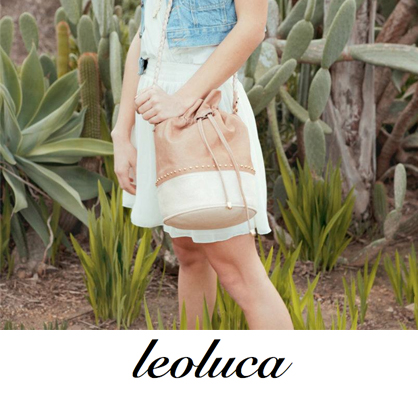 LadyLUX via Leoluca
"We take inspiration from all of our surroundings. In this collection, we looked a lot to nature: the bold colored flowers we see in San Diego combined with the natural colors of the desert," said Lezak.
Letizio and Lezak not only aim for a stylish collection, but are also advocates for domestic production. They take pride in having the best leathers and fabrics sourced within the United States and support local work.
Prices for the new collection range from $76 to $572.
To shop the styles of Leoluca Handbags, please click here.
Tagged in: san diego, spring 2012 collection, hangbags, emma lezak, lauren letizio, leoluca,