Macy's celebrates the 5th Anniversary of the Believe Holiday Campaign
Bringing joy and cheer to the holiday season, Macy's is celebrating the fifth anniversary of the Believe Campaign to benefit Make-A-Wish foundation. For the last four years, the department store has invited believers of all ages to bring their stamped letters to Santa Claus to their nearby Macy's Santa Mail letterboxes. For every letter received, $1 will be donated to Make-a-Wish, up to $1 million. Macy's has donated nearly $5 million since the inception of the campaign, which has helped make wishes come true for children with life-threatening medical conditions across the country. The exciting program was originally inspired by the true story of Virginia O'Hanlon, an eight-year-old who wrote a letter to the New York Sun newspaper in 1897 asking if good ol' Saint Nick was real.
To make this year special, Macy's is also offering a school musical program called the National Santa Tour with stops in 26 cities and National Believe Day on December 14.
"This year marks a milestone as we celebrate the fifth anniversary of our popular Believe campaign," said Martine Reardon, chief marketing officer for Macy's, in a statement. "Since we introduced this nostalgic holiday program, our customers have responded enthusiastically. By providing Macy's with millions of letters to Santa, they have encouraged Macy's in its donation of nearly $5 million to Make-A-Wish through Believe, thereby impacting positively on countless lives through wish-fulfillments for children. Through this year's entertaining and engaging new elements, we hope participation in the 2012 program will be greater than ever."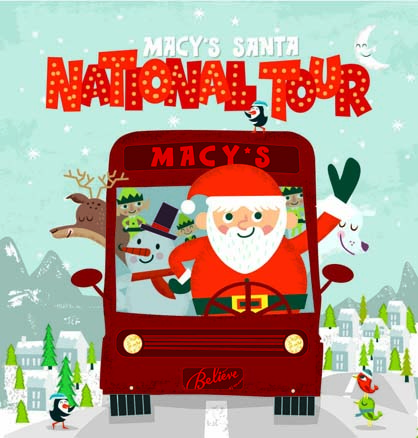 The heartwarming story, "Yes, Virginia The Musical," will be showcased in over 100 local performances in schools nationwide. From California to New York, believers can follow Virginia and her friends through a musical adventure to prove Santa does in fact exist. Macy's has united the participating schools by providing an interactive, digital toolkit at yesvirginiamusical.com, complete with downloadable scripts and scores. The store has also made the script and score available on a royalty-free basis for all schools and has offered $100,000 in grants to 100 schools to help fund each production.
Macy's is partnering with Aflac once again this year as the National Santa Tour takes over 26 cities across the country, including, Santa Ana, Naples, Buffalo and Sacramento. Families and children can come meet Santa, his elves and Virginia, who is joining the tour for the first time. (macys.com/holidayevents)
And as the pinnacle of the Macy's Believe Campaign, "National Believe Day" will be held on Friday, December 14. Macy's invites all Americans to celebrate the holiday season's message of generosity and goodwill.
Click here for more information about the Macy's Believe Campaign.

Tagged in: causes, holiday, holiday 2012, philanthropy, christmas, believe campaign, national believe day, make-a-wish foundation, national santa tour, make-a-wish, macy's,