A Genius Who Knew No Bounds
How does one begin to describe a phenomenon like Lee Alexander McQueen? The untimely death of one of the fashion world's most singularly creative minds has caused his followers to sit back and take stock. Where there was creative terrain, he braved it; where there was the opportunity to shock, he took it; where there was darkness, he dove in; and where there was light, he saw it.
It's not often that geniuses are born, or made, or exist. The word is flimsy, all too easily used for those among us who do something out of the ordinary, or pretty courageous, or who just come up with the next great idea. But Alexander McQueen had the next great idea, over and over and over. He had a perspective bent naturally toward the outrageous and a degree of capability that was nearly unmatched. In the world of fashion, where designers must churn out collection after collection, multiple times a year, McQueen never failed to be the originator, the surprise, the one to follow—at that, a very hard act to follow. Sitting in the audience waiting for his shows to begin was the equivalent of sitting in the roller coaster car before takeoff. And once the car started rolling, you knew you were in for a wild ride.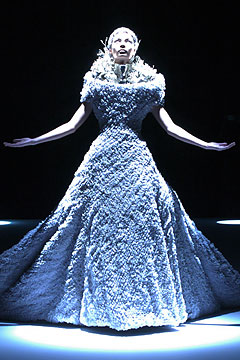 Known for his theatrically astonishing shows, the British designer made a mark that few have. Shocking at times, yes, but his capriciousness was welcomed. He hit the London fashion scene in the mid-Nineties when arguably many thought it needed shaking up a bit. Fashion designers are expected to shake things up though; editors and fans alike get impatient if there isn't one designer who comes along eventually to stir the pot. McQueen's compatriots-Gaultier, Galiano, Heatherette-have done a fairly good job of it, but no one came close to McQueen's over-the-top presentations and sartorial daring-do. His use of anatomically correct breast plates, corsets, feathered extravagance, and wild props (chateaux growing from one model's shoulder; shoes like cut-in-half bowling balls) were perhaps signature, but there was nothing routine about his work. Clothes led a dual purpose—-was it a dress? A top? Did it matter? It was McQueen. Although he took risks that normal mortals wouldn't dare, McQueen's enormous creativity and intelligence outweighed his at times vulgar or inappropriate thematic content. He woke up fashion when it wasn't even sure it was asleep. "Nicey nicey just doesn't do it for me," he said at one point. "Enfant terrible", his eventual moniker, didn't seem to rub him the wrong way in the slightest.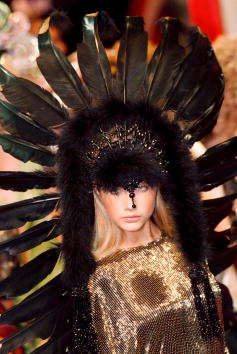 Sadly, McQueen's glorious life, one of only 40 years, was terminated by his own hand, a suicide by hanging at his Mayfair, London flat. To add to the tragedy, McQueen's death comes 10 days after that of his beloved mother, Joyce, with whom he was inextricably close. The irony of McQueen's tragic suicide occurring that day as well-the first day of the collections in New York-was an all-too disappointing alignment. The designer's lower priced line, McQ, was to be presented Thursday as well, although the show was cancelled, for obvious reasons.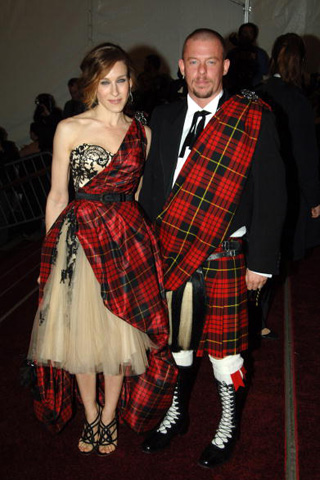 ******************
Lee Alexander McQueen was born in the East End of London in 1969 to a cab driver father and a social science teacher mother. His five siblings and he lived a quiet, working class life. After his teenage years at school proved difficult, in part as a result of fellow students' mockery of his being homosexual (something he was always open about), McQueen left institutional life and garnered an apprenticeship on London's storied Saville Row with Anderson & Shepperd, arguably the most prestigious establishment in which to work, given that their clientele included Prince Charles and Mikhail Gorbachev (it is rumored that out of boredom one day, McQueen stitched a derogatory slur into the lining of one of the Prince's suit jackets). Following that, he took a position at fellow Row clothiers, Gieves & Hawkes, followed by a stint at costumiers, Angles & Bermans, a company famous for their creations for the theater. His time there may have given McQueen the sort of nurturing that his extravagant imagination needed, and that was evidenced in his work, fashion that was often, if not usually, more performance art than stilted object.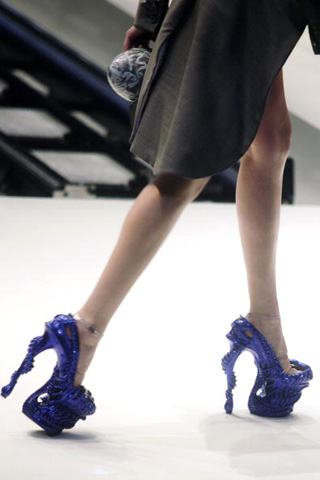 As his work evolved, McQueen's daring never wavered: In an October 1993 collection, the designer had the models flip the audience the bird, each walking with her middle finger pointed toward the sky. His spring 2001 ready-to-wear collection saw the models as inpatients—in a mental ward. A glass-encased box held them as the audience peered in, the models bouncing off and running into walls, sporting flesh-colored skull caps, but in clothes that were in fact quite wearable-sensible pants in neutral tones and oxford button downs suitable for any prep school freshman. But wildness was woven throughout: One model sported a skirt full of feathers while birds (stuffed, mind you) encircled her head in a Hitchkokian whirl.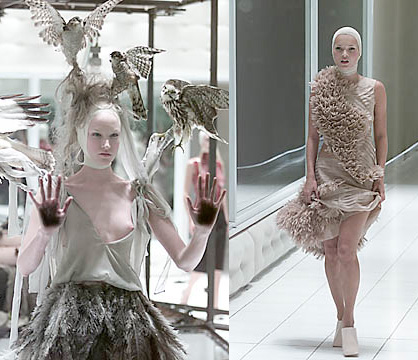 From the outset, McQueen was daring, something that did not go unnoticed by the fashion cognoscenti, particularly Isabella Blow, the former fashion director of Tatler who bought his initial collection, the one fashioned for his graduation from Central St. Martins, for £5,000. The two became close friends, until Blow ended her life three years ago; upon a diagnosis of ovarian cancer, her choice to imbibe a dose of weed killer ended her own creative existence. It is said that this had only added to McQueen's sadness and consequent grief.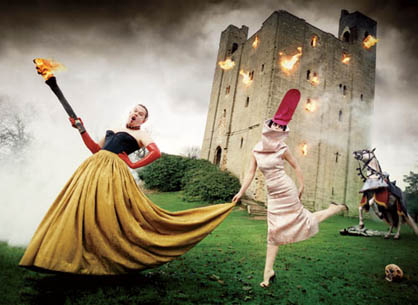 But he continued to create. His shows were productions in every way, with the mere act of getting in being a feat in and of itself. McQueen's milieu was Paris, always, even though he was London-born. The global fashion capital was used to the extreme, romanticism and the darker side of life that were at times interwoven, the grotesque and the meek meeting on his stages, with the audience as easy spectator. He became known for his vinyl "bumster" pants, a pair copied by the world over, shown on the runway with parts of the models bums sticking out.
The best was yet to come however when the historic house of Givenchy offered the post of creative director to McQueen in 1996. Taking the helm from John Galiano was a risk McQueen took, for the good of his career, more or less, as he knew it would launch him into superstardom if he were to succeed. His time there gave him license to create, and create he did, but often to the discordance of he and what was a corporate-owned fashion institution steeped in tradition. The powers that be, to be sure, hired a man with a reputation that preceded him, but the marriage did not prove, ultimately, to be a successful one. McQueen departed the post in 2001-but, with his business acumen fully intact: Before he left, he sold the majority stake of his Alexander McQueen label to rival fashion company Gucci Group, maintaining his independence, expanding his label worldwide, and taking on multiple creative projects to his liking.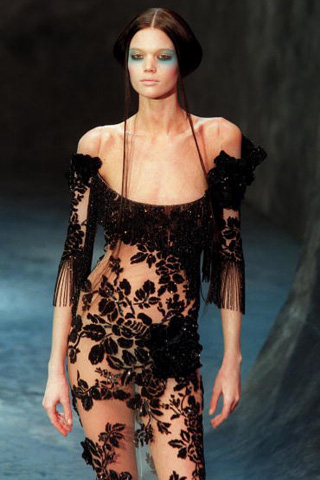 In Paris last fall, his 2009 collection swept the city off its feet; one wondered how he would have topped it. McQueen took bits and pieces of past work and tossed it on the runway, as if discarding it, each one overblown, mounds of garbage—props really—from previous shows. His comment was more sociological than sartorial; McQueen was aware of how fragile our financial world had become, both in what we expect from the creators and what they—the corporations—have created for us. Only last month in Milan, for men too he didn't back down. His "The Bone Collector" collection showed models that were muzzled sporting prints of skulls on their bespoke suiting (McQueen had taken a break from showing his menswear out of what he said was creative exhaustion). His theatrics were a showman's finest: There was the glass wind tunnel he fashioned for the Fall 2003 show where models, dressed in highly intricate beaded and perfectly stitched ensembles, made their way across the fake frozen tundra, draped in their McQueen finery; there was Shalom Harlow being spray-painted while twirling on a turntable; there was Kate Moss "dressed" as a hologram, appearing and then disappearing in a glass pyramid while the haunting music of Schindler's List played in the background; and there was the time that Aimee Mullins took to the catwalk on a pair of hand-carved wooden prosthetic legs with integrated boots. She is a para-Olympian track and field record-holder.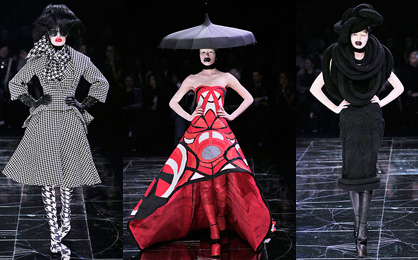 ********************
His work was not at all unwearable however; McQueen was known to be a master craftsman, one who could cut a piece of cloth better than anyone in the business and drape the body to perfection. His signature nipped waists, A-line skirts and incredible gowns with fishtail hems were easily adopted by the famous and not-so famous alike. And when the celebrated name dons one of your creations, one can be fairly certain of being put on the fashion map. In 1998, Madonna donned one of his creations-an early Goth look-for the Academy Awards, and earlier this month Sandra Bullock wore a McQueen gown for the SAG Awards in Los Angeles.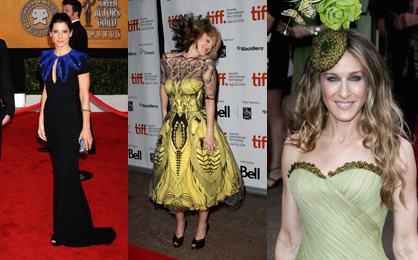 The heavyweights of the fashion world were quick to chime in on McQueen's passing: "We are devastated to learn of the death of Alexander McQueen, one of the greatest talents of his generation," said Anna Wintour, the editor in chief of Vogue. "He brought a uniquely British sense of daring and aesthetic fearlessness to the global stage of fashion. In such a short career, Alexander McQueen's influence was astonishing—from street style, to music culture and the world's museums. His passing marks an insurmountable loss."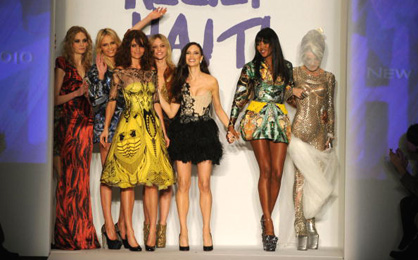 Ed Filipowski, president of public relations firm KCD Inc., said, "We worked with Lee for 10 years, and during that time, he took us to the most wonderful places fashion could go. It's a testament to his talent and spirit that he has created such a legacy that will endure."
On the other side of the pond, the editor of British Vogue too voiced her incredible sadness: "His brilliant imagination knew no bounds as he conjured up collection after collection of extraordinary designs. He was a modern day genius whose gothic aesthetic was adopted by women the world over. His death is the hugest loss to anyone who knew him and for very many who didn't." Dolce and Gabbana too felt his singular status in a world where it is hard to be unique: "He leaves the fashion world with an unfillable void."

Governmental and professional accolades were his throughout his too-short career as well: In 2003 McQueen was honored by Queen Elizabeth as a Commander of the British Empire. From the years 1996 to 2003, he won the award of British Fashion Designer of the year four times, as well as International Designer of the Year by the Council of Fashion Designers of America.

*********************
McQueen had been active on his Twitter account over the past few weeks, writing of his grief in detail after the death of his mother, but saying too in his post of the third of this month that, "Life must go on!" Two days prior though, he had revealed his dark side in saying, "From heaven to hell and back again, life is a funny thing, beauty can come from the most strangest of places even the most disgusting places."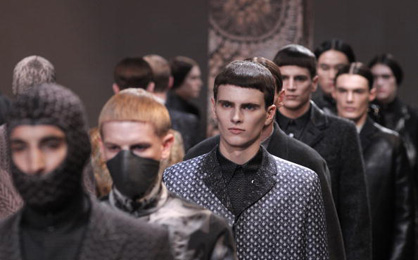 The collection presented last spring in Paris reflected that strangest of places, as noted by Stefano Tonchi, Editor in Chief of The New York Times Magazine style supplement, T. The show, Tonchi said, was a "very Avatar show, like the movie, a romantic trip into a fantasy world where imagination and creativity have no limits, where creatures on monstrous hills were mating and making the impossible possible." Tonchi talked of McQueen escaping in his own Avatar world, perhaps one of the ways he put a lid on his fragility and sealed very existence.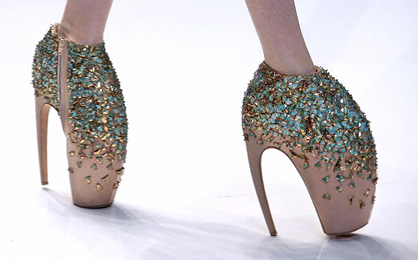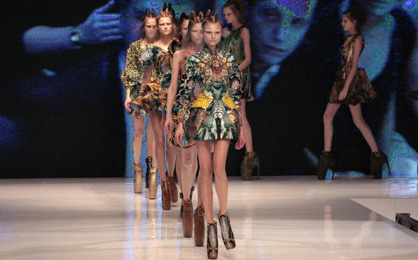 The milliner Philip Treacy, who had worked with Mr. McQueen and whose creations Isabella Blow also wore in droves (and became her wardrobe staple, her championing Treacey's career as well) knows precisely how vulnerable life is when one dwells in the world of creation: "Creativity is a very fragile thing, and Lee was very fragile." Treacey said he last saw the designer two weeks ago, when McQueen was preparing the fall collection that was to be presented in Paris on March 9.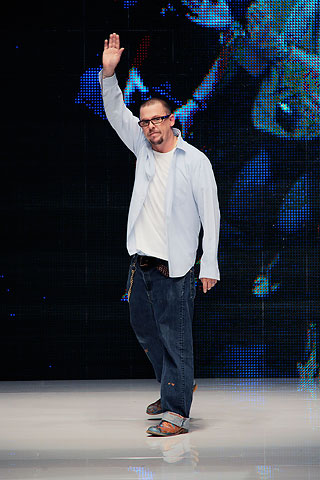 Tagged in: givenchy, vogue, fashion designer, isabella blow, lee alexander mcqueen, tatler, tragedy,