A special sneak preview of Doctrine Jeans' Fall 2012 collection
When it comes to jeans, Doctrine Jeans is what premium denim is all about. The creative team behind the Los Angeles-based men's and women's brand has over 30 years of combined experience in all aspects of the fashion business, so it's no wonder the washes and fit are of expert standards. Each pair of hand-made Doctrine Jeans are highly detailed and have the signature back-pocket stitching derived from their arrow logo, yet remain cool and understated, as jeans should be.
The team not only understands fit and detail, but they can also translate runway trends into their denim collections with ease. Sharing secrets from the Fall 2012 collection, designer Teresa Sung discussed finding her inspiration in metallics, which have been trending on runways from New York to Paris.
"I love gold, silver, metallic colors and even pearlescent finishes with shimmers, shiny or glossy effects," Sung shared.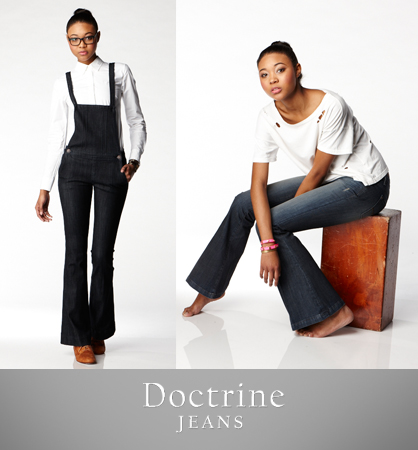 LadyLUX via Doctrine Jeans
The designer took the color and finishing elements and fused them with sexy low-rise skinny crops using subtle techniques for a sophisticated yet edgy alternative. To add further interest to the lineup of denim, she also used coated color ombrés.
The Fall collection will also continue with silhouettes that the brand has been successful with, including high-rise and low-rise flares, slim and regular bootcuts, slouchy skinnies and regular to super-wide bell-bottoms. For fresher styles, Sung incorporated short-sleeved cropped jumpsuits and overall flares in dark wash.
Doctrine Jeans' fabrics are always meticulously chosen from various regions throughout the world and tested to ensure quality. This season's styles will feature colored satin twill materials for a luxurious feel, soft Tencel denim and Egyptian denim, the new staple.
"Egyptian denim has been so well received by our fans and has become one of our signature fabrics throughout the season," said Sung.
The chic collection of metallic jeans and denim statements will be available in stores this Fall.
Please click here to visit the Doctrine Jeans website.
Tagged in: denim, jeans, fall 2012, los angeles, premium denim, teresa sung, doctrine jeans, sneak preview,