Accessorize with Denise Ilitch Designs one-of-a-kind pieces
Denise Ilitch Designs has one-of-a-kind jewelry and scarves that cannot be found anywhere else. With popular scarves that can be transformed from a day piece to a night wrap and worn in various ways, as well as stunning statement jewelry, the accessories brand created by Denise Ilitch is focused on creating stylish, individual and timeless collections.
"I love the creative process of creating a new line. I like to fulfill a need of the fashion customer. It was important to create a line that is unique and fun with a little edge," she said.
Ilitch has been enthusiastic about fashion and design her entire life, but it wasn't until she decided it was time for a change in her multi-faceted career that her passion really flourished. As a fan of couture with an eclectic eye for all types of design, she decided to explore a new avenue and learn the aesthetics of fine jewelry. After enrolling in a beading class in Tucson, Ariz. to satisfy her creative urges, Ilitch became fascinated with the intricate details of design. The young designer would fuse semi-precious stones with intricate precious metals to develop her craftsmanship and create distinctive pieces for family and friends.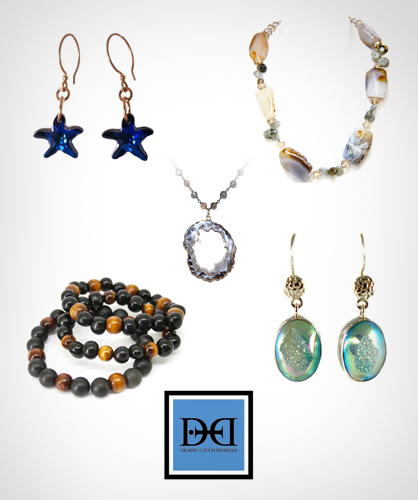 LadyLUX via Denise Ilitch Designs
"I like to create pieces that are different and that you don't see everywhere. It is boring to see the same look or pieces on many individuals. It speaks to a woman's confidence and independence. I love beautiful natural stones from the earth: Each one is different and natural but with a little sizzle," she shared.
Ilitch infuses natural elements with a hint of Detroit-centric style and her own personal taste into the Denise Ilitch collection. The designer is personally drawn to classic styles with an unexpected twist that she works into each piece. Her scarves and jewelry can be combined in numerous ways to make a simple outfit stand out.
"My inspiration comes from the natural elements and colors of the earth and the environment. I also am inspired by color and its relationship to moods such as happiness, positivity, love, fun and whimsy. I like to 'lift' others with our designs," Ilitch explained.
Always on the hunt for fresh ideas, she travels all over the world identifying trends, seeking luxe materials and finding new suppliers.
Ilitch has also recently joined forces with Joe Faris from Project Runway Season 5 to launch the denim line Motor City Blues, a new medium for her, and has plans for further expansion.
"We will expand our charm line, t-shirt and denim line. Our products will continually improve and evolve," Ilitch said.
Tagged in: lux exclusives, jewelry, accessories, spring 2012, scarves, denise ilitch, denise ilitch designs, arizona, one-of-a-kind jewelry,