Adina Designs offers simple, understated jewelry
In a fashion world where more is viewed as better, simplicity is quite underrated. Finding it difficult to find a simple, uncomplicated necklace or a pair of everyday hoop earrings, Adina Reyter was inspired to create her own jewelry collection. Reyter's brand, Adina Design, launched in 2001 and aims to fill the void in the marketplace for updated basics that are clean, simple and sophisticated.
"I offer jewelry for real people. My jewelry is not cumbersome. It is not difficult to wear. You can wear it to work, school, out at night or you can wear it to the park with your kids or to the gym! Yet, each piece still has style and design," Reyter explained. "Jewelry is all about the details and I work hard to make sure that all of my pieces are highly designed, but extremely wearable!"
The jewelry designer's first piece, a signature circle necklace created when she was still taking metal work classes after her full-time advertising job, embodied the brand's concept and quickly caught the attention of celebrities and Los Angelians.
'The first store I sold Adina Design jewelry to in Los Angeles, Demi Moore walked in and bought two of the hammered circles and was photographed wearing them. Immediately after, Jennifer Aniston purchased the entire collection from another store I sold to and wore the necklace on a 45-minute episode of Friends," Reyter shared.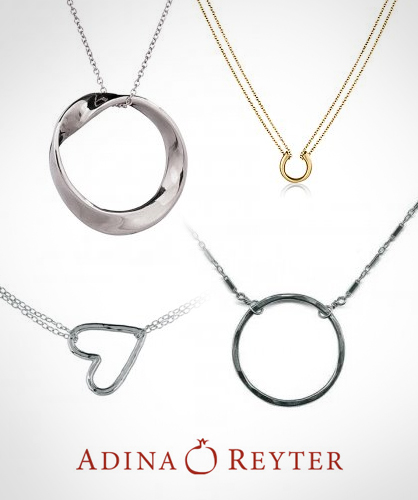 LadyLUX via Adina Designs
The jewelry designer is always open to inspiration and views the world through a jewelry lens. She looks to the daily occurrences in her life for design influence as well as her own personal style of pared down, classic basics with clean lines and structure.
"I think about jewelry all the time: when I travel, look at a magazine, read a book or go to the museum. My jewelry is always a very structural, deconstructed interpretation of different shapes, spaces and designs," she said. "I am a born and bred LA girl. I think that is why my line is fuss-free. Wear it to work, the beach, out at night; it's all-occasion jewelry!"
In creating a collection, she always begins with one piece and expands the collection from the initial design, ensuring each detail is exact. This season's styles are crafted with silver, pave diamonds and, as of recent, 18K gold to offer a more affordable gold option. Yet, regardless of the material, Reyter consistently aims for pieces to be feminine, classic, affordable and beautifully designed.
"This season's standout pieces are the tiny necklaces and the new hoop bar I created. The hoop bar offers hoops in eight different shapes in many different sizes. My favorite shape of the moment is the hexagon. I literally don't take them off my ears!" Reyter shared.
The minimalist designer promises more beautiful basics for the upcoming season that will incorporate pave diamonds and 14K gold for affordable fine jewelry.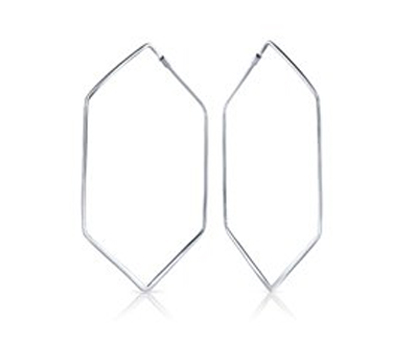 LUX Giveaway:

One winner will receive a pair of Adina Reyter sterling silver medium Hexagon Hoops (value $78). Here's how to enter:

1. Like Adina Reyter on Facebook Here.
2. Follow @adinareyter on Twitter (if you have one).
3. Comment under the picture of the earrings with your contact info Here.
The winner will be chosen at random via Facebook. The contest ends in seven days.
Good luck!
Tagged in: lux exclusives, jewelry, necklaces, earrings, los angeles, jewelry designer, spring 2012 collection, adina design, adina reyter,