LUX Travel: Africa's San Camp Safari reopens for summer
San Camp, the romantic and spiritual oasis on the edge of Botswana's Makgadikgadi Salt Pans in the Kalahari Desert has reopened just in time for the African dry season. The camp has been rebuilt from the ground up and endured a total transformation and redesign. San Camp is now a perfect place for you to unwind, relax and retreat.
The new property offers a unique desert experience in one of the most remote and inspiring landscapes of rolling golden grasslands. San Camp is a secluded paradise nestled in a reef of palms with an emphasis on spiritual focus, style, luxury, serenity and unity with nature.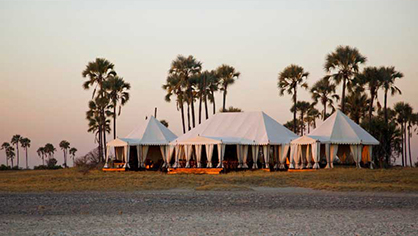 via Uncharted Africa
The grounds are set up with six spacious and airy white tents imported from India. All six tents feature four-poster beds, en-suite bathrooms, private verandas and central living areas home to a mini natural history museum of family heirlooms and local artifacts. For special family or personal time, a lush tea tent is just outside with sumptuous cushions and Persian rugs. There is even a special yoga tent where guests can shed their urban lifestyle and become closer to nature and their spirituality.
Guests are able to set their eyes upon fascinating desert creatures that inhabit the Makgadikgadi region such as Aardvark, brown hyena, springbruck and meerkat during desert drives. Guests can also journey out into the middle of the Salt Pans on quad bike rides to learn what being in "the middle of nowhere" is really all about. The indigenous Ju/'hoansi Bushmen who have lived in Bostwana for tens of thousands of years still live on the grounds. Bushmen cultural interactions with guests and travelers will definitely make their trip worthwhile. They can teach guests how they survived even in the harshest of environments by using ancient knowledge of plants, animal behavior and survival skills.
With a reputation for delicious, fresh and original menus, San Camp meals are elegantly presented and greatly indulgent. Tasty and decadent teas are served daily to enjoy in the tea tent.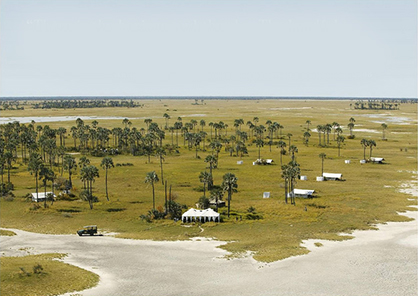 via Uncharted Africa
Because San Camp is set out in the wild, the camp has a great amount of respect for the environment and displays it through the design and building principles. All the wood used to build the camp is sustainable teak from Zimbabwe, harvested in accordance with the Forest Stewardship Council guidelines. San Camp's energy is almost entirely solar powered, which dramatically reduces the use of fossil fuels.
The San Camp African Safari Adventure is waiting for your presence by offering you a romantic excursion with your honey or a fun-filled adventure with friends and family.
To book your romantic African safari trip to San Camp today or to learn about other safari excursions offered, visit www.UnchartedAfrica.com.
Tagged in: travel, botswana, africa, safari, excursion, san camp, salt pans,