Amazon Launches 10 Crosby Derek Lam Online Store
Amazon.com is getting a bit of a fashion makeover.
The Internet giant is moving up in the fashion world with a new online store devoted to Derek Lam's glam 10 Crosby line. The first of its kind for Amazon, the store kicks off a new program of managing fashion setups for the e-retailer by capitalizing on the business's computer power, distribution centers and consumer-focused marketing, said WWD.
"When we think of what's next, we think of ourselves. We want to raise our own bar for presentation and innovation around the shopping experience, and partnerships like this one that elevate the whole experience give her content that she might not have [received] otherwise, and immerse and shop the brand in a way that she can't today," Cathy Beaudoin, president of Amazon Fashion, told WWD.
The new line means Amazon will be competing directly with behemoths such as Yoox Group, whose monobrand efforts for labels such as Giorgio Armani, Valentino, Marni and Ermenegildo Zegna raked in $150 million in 2012, a 45.3 percent hike from the previous year. Federico Marchetti, Yoox founder and CEO, cites this fashion channel as key in the company's growth, although the way the system currently works is customers do not access the store from Yoox's website.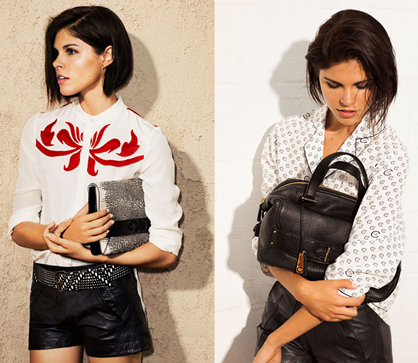 The 10 Crosby store betrays Amazon's underlying plans to get serious about establishing itself in the fashion world, coming on the heels of its decision to rent a 40,000-square-foot space in Brooklyn, N.Y. for its photo studio that launches later this year, as well as Amazon's very first television commercial devoted to fashion.
Beaudoin said, "We have been accelerating all of our efforts, time and attention in this space because there's so much to do here. It's so ripe for innovation, and if we can give customers a beautiful, branded 10 Crosby experience — and couple it with the ease of shopping on Amazon and all the service that our customer relies on — it's a genius combination."
As Amazon adds monobrand e-commerce to its multibrand platform, it further carves out its niche in e-commerce and mobile commerce. More than one third of all m-commerce transactions are conducted through Amazon and the retailer saw net sales of $61 billion in 2012.
"We're trying to create a beautiful, easy fashion destination, a place that you think to go to first and you prefer. It's not about online or offline. We know customers shop in many ways. [They] research online and shop offline [or vice versa]," Beaudoin said. "It's oriented to the fact we have rabidly loyal customers, and we want to offer them every category they want to buy. This whole initiative is about taking them there."
Tagged in: derek lam, amazon, radar, e-commerce, 10 crosby derek lam,