Aussie Bohemian at its Finest: This is Genevieve
This is Genevieve is nothing if not eclectic. From Aussie designer Genevieve Er, the funky label marches to the beat of its own drum with an exhilarating contemporary mix of street and bohemian style. Basic yet elegant, This is Genevieve offers something for the fun charismatic free spirit who knows what she wants and isn't afraid to wear it, says Er.
"We focus on creating really attractive styles and shapes, and design our prints exclusively in house. In a market place that is dominated by a few really big players who produce very fast and furiously, we take the time to create pieces that our customers absolutely love and feel amazing in," the designer declared.
Er's path to design was as unconventional as her clothing, After graduating with degrees in information technology and economics, Er began a career in IT, working at Oracle. It was enjoyable and brought home the bacon, but Er felt a "deep and unanswered desire" to create.
"Just in case the saying 'you only live once' is true, I decided to follow my heart and live life without regrets," Er said of her decision to enter the fashion world.
Enrolling in fashion school, she started small, working on accounts for a leading Australian fashion company. After assuming production and design roles, Er felt she developed her own sense of style, which ultimately led to her own line's launch in 2006.
This collection, Er is most excited about the slogan muscle tees. The vibrant prints get her vibe going, but she is particularly proud of the special dye process that gives an amazing worn look.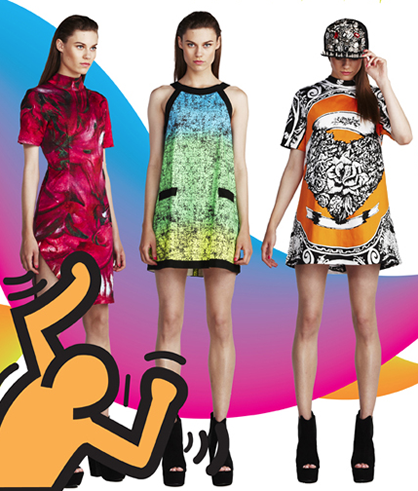 via This is Genevieve
"My absolute favorite is the A.I.M Fire! Dress. Mesh inserts is one of summers hottest trends. This dress is the ultimate sleek combination of mesh inserts and tailored paneling, which will fit your body like a glove," the designer declared.
She describes her designs as, "Live your days in bohemian bliss and dance away the nights to the beat of the streets. An eclectic mix of treasures can be found in every collection." Her cool, standout pieces are inspired by fresh street looks, the latest trends and vintage items.
Her ideal closet would be jammed packed full of all the latest trends. "Super-size me! A wardrobe that has everything you could possibly dream of AND a makes the process of picking out your perfect outfit a quick and easy blast!" she enthused.
Her path has nowhere reached its end. Her team is constantly exploring and experimenting with their designs, whether new materials, different prints or innovative dye methods. The next upcoming collection will feature some new techniques while staying true to the traditional methods of hand stitching and embroidery.
This is Genevieve is sold in top boutiques across the United States, Japan and Australia. Find out more on www.thisisgenevieve.com.
Tagged in: fashion, designer, design, interview, australia, exclusive, australian, this is genevieve, genevieve er,