Barbie: Cultural icon or just a doll?
Barbie. Her name evokes different things to different people. A cherished toy. A tragic sign of the times. A gateway to imagination. Some love her. Some hate her. But whatever your view, Barbie certainly stands for something.
"For more than 50 years, Barbie has been a pop culture princess, a fashion icon and an aspiration for girls of all ages. Barbie continues to inspire and empower girls of all ages around the world, allowing girls to role play real life opportunities and take on aspirational and culturally relevant roles," Stefani Green, Mattel spokesperson, said.
Billed as the original Teenage Fashion Model when first released in 1959, today Barbie has experimented with more than 125 careers and portrayed 50 different nationalities. Barbie has moved from being a fashion model to astronaut, computer engineer, zoo doctor, news anchor, race car driver and more, branching out into more than 45 different consumer product categories, including movies and books.
Through it all, Barbie has maintained her popularity as the the No. 1-selling doll worldwide.
What is the magic? Some say it is Barbie's ability to foster fantasy and make-believe.
"With Barbie, you can be anything you want to be … She is a role model and an agent of change," Green said. "With Barbie, girls can try on different personalities, careers and can explore the world and all of its possibilities without leaving home. We know that role play eventually becomes real play so aspirational dolls are an important part of allowing girls to play out their dreams."
With a motto of "so many dolls, so little space," M.J., writer of Barbie blog Barbie Collector Obsession, has a collection pushing 400 Barbies. She gravitates toward dolls she finds attractive, particularly the full-chested ones from the '80s and '90s.
"It's about nostalgia and collecting something I personally find interesting and beautiful," she explained. "As a child, I loved playing with the dolls: the shoes, the fashion, the beauty. It was all so glamorous and could spur the imagination in a thousand different ways. I would have given anything as a child to have the Peaches N' Cream Barbie's dress for myself."
While Barbie boasts all kinds of careers, for M.J. it all came down to the fashion side: the heels and the clothes. She can still pick up the doll and have fun playing today. The way Barbie invites children to use their creativity is something to be treasured, she maintains.
"I hope children still play with Barbies and that it teaches them to use their imaginations," she said. "In a world with so many tech-based toys, I fear that's a lost art for a lot of kids. If it doesn't blink and make noise, I fear it doesn't get as much attention."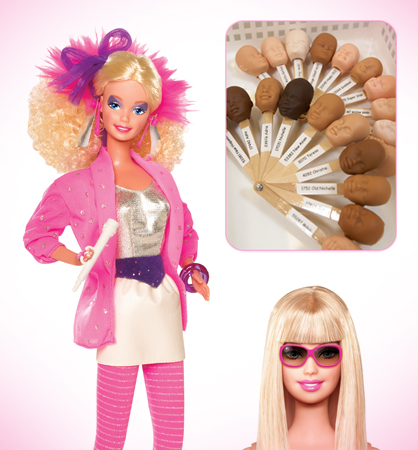 via Mattel
On the other hand, Barbie certainly has attracted her fair share of naysayers.
During the early 1990s, Mattel got itself into trouble when it released a talking Barbie doll that declared "math class is tough," reported the Wall Street Journal. The American Association of University Women furiously decried the voiced phrase, and the toy company apologized and eliminated the saying.
M.J. dismisses the negativity as people having too much time on their hands.
"Unfortunately, Barbie is not really a cause that needs time and energy to fight against," the blogger said. "She's a doll. Owning one and playing with one will not give you an eating disorder, distorted body images or anything like that." She points out that she turned out fine – and brunette.
Despite the opposition, Barbie is one hot commodity. Ninety percent of girls aged 3 to 10 own at least one Barbie, and girls 3 to 6 own an average of 12.
Now 11, Kylee Ruiz got hooked on Barbies when she was only 2 years old. And when she got hooked, she really got hooked, owning 15 to 20 Barbies from Hannah Montana to Sleeping Beauty and a number of fairies. Her favorite was Princess Belle, which she loved for being a princess and being pretty, especially dressed in ballgowns.
Barbie was one of her favorite toys because she is "a way to express yourself. You get to play with them and you get to dress them up in all sorts of things and play make-believe," Kylee, who outgrew Barbies at age 7, said.
She often pretended she was the doll, acting out plays with her friends and dressing her Barbies in various shimmery outfits.
"It's just very fun because she can become anything you want and anything you dream of becoming," Kylee said.
Describing Barbie as "pretty, blonde, and probably what most girls would like to be when they get older," Kylee acknowledges "normal" people don't look like Barbie because she is so attractive.
Barbie, whose real name is Barbara Millicent Roberts, was first introduced in a black-and-white swimsuit, retailing for $3. Ruth Handler, Barbie's "mom," found the inspiration for the doll watching her daughter Barbara play with paper dolls.
In 1959, 300,000 Barbies were sold; today the total nbumbers sold is estimated to be more than 1 billion.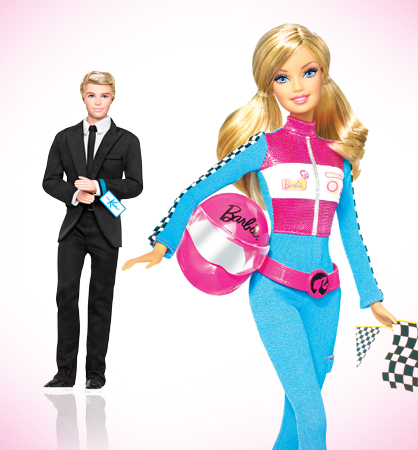 via Mattel
Considering the number of Barbies and her fashions – more than 1 billion different outfits have been created for Barbie and her friends – it is no surprise Mattel employs a range of designers to craft the dolls.
Linda Kyaw also fell in love with Barbie at an early age and her love of fashion grew out of playing with the doll. Becoming a Barbie designer seemed like the perfect fit for her two passions.
The designer enjoys Barbie's versatility: There is no limit to who she can become or where she can go.
"From fashion to fantasy, an element of 'believing' is vital as a designer. Barbie's legendary glamour is always a foundation, but to have the collector 'believe' is something different. If she's dressed like Cleopatra, she is not playing a part but actually becomes her. When you believe, anything is possible for Barbie," she declared.
The best sellers year after year continue to be Barbie in a beautiful, detailed dress – particularly something pink. "The theme does not seem to matter, as long as we deliver on beauty and quality," Kyaw said.
Yet Barbie is evolving with the times. Mattel raised a few eyebrows with its introduction of an edgy Tokidoki doll in October, which boasts trendy tattoos, a black tee with a skull heart and bones, and pink hair. The doll has already sold out.
In the end, as Kylee points out, it really comes down to one thing: "Barbie is fun to play with."
For more information, visit www.barbie.com.
Tagged in: lux exclusives, barbie, doll, toy, mattel, collector,