Top Ten Apps for Healthy Living
We all strive for better health, and these ten apps make it easier. Like last week's top fitness apps, these picks make the cut as innovative, useful, and user-friendly tools for every day life. Try them out to feel more rested, lose weight, stay hydrated and more.
My Fitness Pal
Despite the many diets out there, real weight loss ultimately comes down to burning more than you take in. My Fitness Pal makes it easy to keep track of every bite with the world's largest nutrition and calorie database containing over 2 million foods. Use the search feature to pull up any food item, do a quick bar code scan, or enter your recipes into the app to start tallying up. Then add your workouts and begin tracking your progress. The app remembers all your previous food entries, so the more you use it, the easier it becomes to enter your favorite items.
Zocdoc
Finding doctors and making appointments can be a pain, but ZocDoc is here to help. Once you enter the type of doctor you're looking for and your insurance provider, this app immediately provides a list of doctors near you. Read patient reviews to help choose the best one and book your appointment instantly. Done!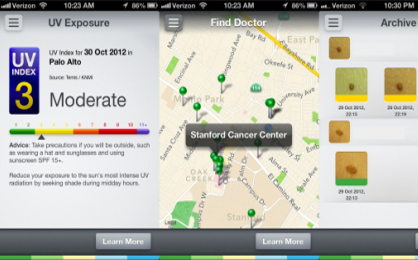 Skin Vision
Everyone loves a fun day in the sun. Unfortunately, too much beach time without proper sunblock can cause some serious health issues. Skin Vision allows you to take a photo of your mole or skin lesion and receive an instant analysis. It helps to keep track of any changes over time and connects you with dermatologists in your area if anything is looking suspicious. Also check the handy UV index to see when you need to be extra careful in the sun.
Green Kitchen
We all know that eating more plant-based meals is healthier for our bodies and the planet, but for some, forgoing meat can seem like a drag. Enter Green Kitchen: the app whose mouth-watering recipes and food porn-worthy photography will inspire anyone to embrace their veggies. The creative vegetarian and vegan recipes come with detailed, easy-to-follow instructions and the app also helps to create shopping lists as you decide what's for dinner.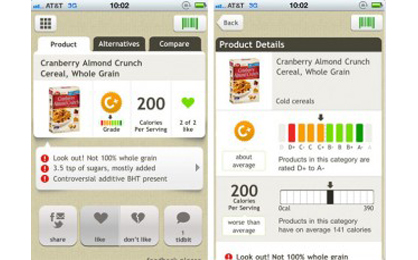 Fooducate
This popular app promises to help you understand what's in your food and make better choices at the grocery store. Either scan or browse for different foods and discover a wealth of information that makes decision-making easier than ever. In addition to basic nutrition info, each food is scored in a grading system developed by scientists and dietitians, and assigned a number in the FoodPoints system designed for dieters. Discover which foods are non-GMO, low-cal, high in vitamin A, minimally processed and more. With each item, Fooducate suggests other options and provides helpful reviews from other consumers.
Shopwell
This app is similar to Fooducate, but is great for people with special dietary requirements like gluten-free, vegan, low-sugar and more. Simply enter your dietary needs and preferences, browse or scan products and see how they match up. This personalized app rates food from 0-100 on how well they match up with your needs and summarizes the benefits and downfalls of each product. A particularly handy feature makes deciphering those confusing nutrition facts a breeze. Anything that appears green is good, and anything orange is bad. Shopwell helps you browse similar options and see what grocery stores stock this product near you.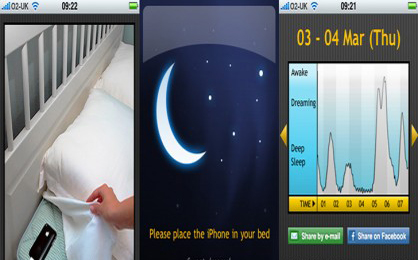 Sleepcycle
There's nothing more frustrating than waking up feeling groggy and cranky despite sleeping for a solid number of hours. Sleepcycle explains that this occurs when your alarm rudely wakes you up during one of your deepest sleep phases, which can affect your mood and attention levels for the entire day. This app uses the science of circadian rhythms to gently awake you during your lightest sleep phase to help you bounce out of bed feeling refreshed. It uses the accelerometer in your iPhone to monitor your movement as you sleep, and wakes you up at the ideal time during a preset 30-minute window.
Waterlogged
It's so simple, but staying hydrated is one of the most important things we can do for our health. Waterlogged makes it easy by keeping track of your drinks throughout the day. Take pictures of the glasses and containers you use most, add the volume, and select them as you knock them back. It will also send you reminders when you're forgetting to drink to keep you on track.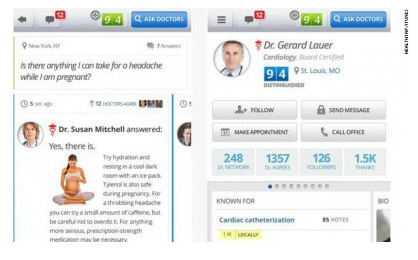 Healthtap express
Skip the waiting room and get answers to important health questions from over 16,000 licensed physicians with Healthtap – for free! You can ask questions on anything you choose, read responses to other questions, and make local appointments when you find the best doctors for you.
iPeriod
Ladies, this one is great. This app tracks your periods, moods and weight throughout you cycle, and predicts ovulation and fertility. Once you record two full cycles, iPeriod calculates the average duration and length, and becomes more accurate as you continue to use it. You can set reminders to alert you when your next period is coming (time to stock up on chocolate and Midol!) and export your data to doctors.
Read more on Health.

Tagged in: wellness, apps, health, diet, technology, food choices, skinvision, fooducate, lux health, zocdoc, green kitchen, my fitness pal, iperiod, sleepcycle, shopwell, waterlogged, healthtap,