Blogger Spotlight: Carolina Cheung shares her five new LOVECOCO designs
Carolina Cheung (Coco) is the author of the fashion, travel and lifestyle blog Closet Full of Nothing. The Vancouver-based fashionista is well known for her colorful ladylike looks of pencil skirts, designer heels and Chanel handbags. After years of blogging, Carolina has translated her feminine personal style into a new jewelry line, LOVECOCO. The debut collection features charming bracelets and elegant pearl necklaces, as she believes "pearls are a girl's true best friend." Here are five of her new favorite designs!
1. Zoe Chain & Pearl Layered Necklace
The Zoe necklace has three layers of textured gold chain and two over-sized pearls. I designed this necklace to be an everyday staple. It can be worn to the office but also looks great with a simple tee and skinny jeans. The best part? It also comes in silver and gunmetal for those who love cool tones.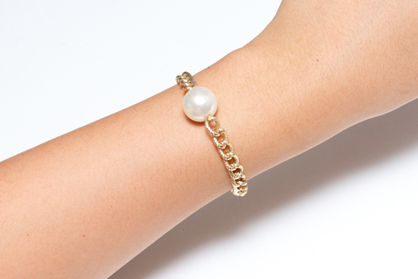 2. Zoe Chain & Pearl Bracelet
The Zoe bracelet complements the necklace. The pearl and chain combo makes it feminine yet edgy. I love the simplicity of it and that it can be worn alone or stacked with other bracelets to start your own arm party.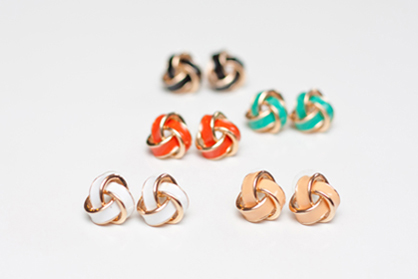 3. LoveKnot Earrings
These gold-accented enamel earrings are my personal everyday favorites. There's a vintage feel to the knot design but the dynamic shape and polished finish make them perfect for the modern lady! They come in 5 classic colors.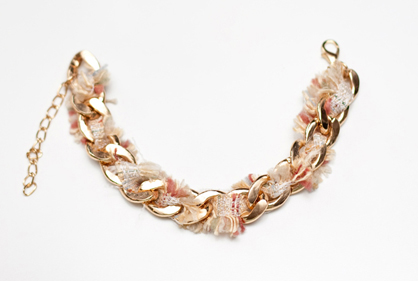 4. Woven Chain Bracelet in Tweed
Frayed to perfection and intricately woven, this shiny gold-toned chain and tweed fabric bracelet is both bold and delicate. It's a great transition piece for Fall and I love pairing it with other gold-toned bracelets.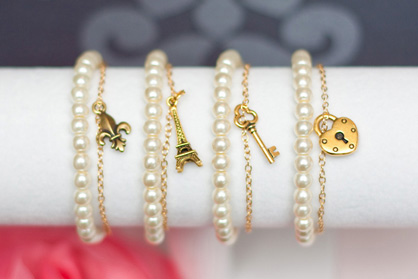 5. Ooh La La Pearl & Chain Charm Bracelets
Mixing pearls and chains, these French-inspired charm bracelets look great as a set but can also be worn one at a time. The charms include an Eiffel Tower, a Fleur-de-lis, a Heart Lock and a Heart Key. They come in silver and gold so there is something for everyone!
All of the above are available on Etsy: SHOPLOVECOCO.
You can follow Carolina on her adventures at Closet Full of Nothing and on Twitter or Facebook.
Tagged in: jewelry, blogger spotlight, pearls, gold jewelry, closet full of nothing, carolina cheung, pearl and gold earrings, pearl earrings,