Blogger Spotlight: The Short & the Sweet of it
Today's blogger(s) of the week are Kirby and Alexa of The Short & the Sweet of it. The two longtime friends offer readers inspiring photos and lifestyle tips, while keeping things short and sweet!
Grab a cup of coffee and get to know the ladies behind the blog.
LadyLUX: How did you two get into blogging and why?
Kirby & Alexa: We met when we were both uninspired copywriters looking for a creative outlet. We'd both been thinking of starting a blog and decided to team up. It's more fun, easier to learn tricks of the trade, and we can reach a wider audience because we're in different stages of our lives.
LL: How would you describe your personal styles?
K: Classic with a touch of bohemian.
A: Classic and Casual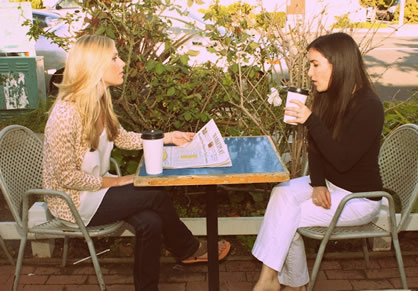 Courtesy of The Short & the Sweet of it
LL: What's your strategy with your blog in general?
K & A: We want to inspire and be inspired! Our posts are meant to be eye-catching and colorful. And we like to keep things short and sweet. With people's busy lives, we know it's difficult to keep up with blogs. But we hope that our readers pop in for a bit of color, pretty photos and maybe even some inspiration for tonight's dinner.
LL: What's your favorite trend of 2012?
K: Neon! I just stocked up on some neon jeans and v-necks from J. Crew and have already hinted that I'd love a few neon statement necklaces from Baublebar for my March birthday.
A: Like Kirby, I'm loving pops of neon and I'm also crushing on polka dots touches of sparkle.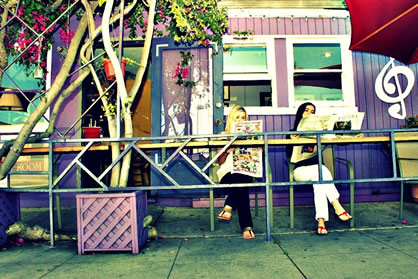 Courtesy of The Short & Sweet of it
LL: Share something your readers might not know about you.
K: I hint that I work long hours, but I've never revealed that it's because my company acquired a social network and is working hard to return it to its former glory. Hint, hint.
A: Each and every day consists of entertaining my baby girl, blogging, photographing, creating, walking the dog, writing web copy for my day job, cooking and reading. Sometimes it feels insane. But I love all of it.
LL: What is your favorite part about creating content for The Short & the Sweet of It?
K: Getting inspired! My posts always influence what I'm wearing, how I'm re-decorating, what I'm cooking and more.
A: I love decorating and finding little fun projects to do around the house. Posting my creations on the blog is so wonderfully rewarding.
To keep up with The Short & the Sweet of it and Kirby and Alexa's online adventures, follow @shortsweetblog and LIKE on facebook.
Tagged in: fashion, lifestyle, interview, blogger spotlight, blogger of the week, q&a, the short & the sweet of it,