Blues by kyky: Timeless options with a bit of fun
Blues by kyky truly came out of the blue. One day, 23-year-old would-be designer Yliana Yepez was sitting around and became inspired to craft an original piece, something that couldn't be found in any store. Seeking to create something unique yet trendy, she sat down, mocked up a design for a belt with studs, chose a stunning material and discovered a craftsman to make what she envisioned. As the kind of person constantly in need of a challenge, she could not rest until the project came to fruition.
"The moment I decided to create something for myself and saw my own designs actually come to life, I decided to put my name behind my products and see where that challenge could take me," Yepez said. "When people around me started to take notice of my personal collection and were interested in where they could find the products, I knew then that it was time to start my own line." The line started with accessories and grew to handbags.
Yepez's luxurious, South American-inspired collections are rooted in her own personal style. Her goal: bags that are timeless and affordable yet made of high quality materials, including fine leathers. Each bag is a playful interaction of vibrant colors and intriguing prints with some appliqué embellishments thrown in.
"When it comes to design, I go with my own instincts," she said. "Sometimes I want a design that may not be offered in the marketplace, so instead I create it myself. I like to think of my designs as a classic interpretation of trends."
Even while being edgy, she still goes for that fun, feminine touch. Whether worn by day or by night, her pieces make a statement that is both trendy and stylish. Her bags are exquisitely crafted by hand by craftspeople in Venezuela, the birthplace of the line, with attention paid to all the right details.
Yepez adores the power accessories have to make an outfit punch.
"I love the world of accessories because you have the power to change the look of your entire outfit with one statement piece," she explained. "There is beauty in the simplicity of styling with accessories that can immediately add to the sophistication of an outfit. Also, an accessory always fits. You never have to struggle with the size and fit of an accessory like you would with clothes. You choose an accessory that you need and that's that, no fuss."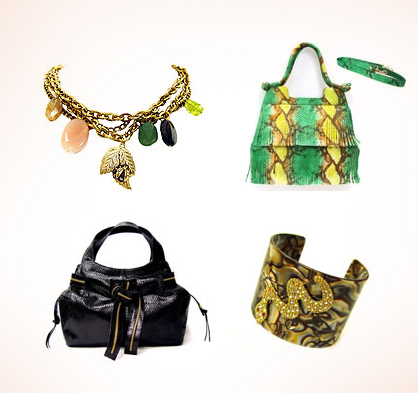 via Blues by kyky
Blues may be timeless in design, but Yepez also hopes the bags will be a timeless staple in her customer's closets.
"We want you to fall in love with the design of the bag and have it become part of your lifetime inventory," she disclosed. "I always design with the idea of a bag being timeless. I want a woman to be able to buy bags that she can keep for 20 years and hand down to her daughter as a vintage piece."
Yepez is one of those lucky designers that find inspiration everywhere they turn. She uses each day to pick up some new vibes. She keeps her eyes peeled to notice what bag is worn by whom, and how she can capitalize on her observations.
"I am inspired by functionality and enhancing the beauty of raw materials as well. I am motivated by my own needs and wants in a handbag and work on creating a product that women will love as much as I do," the designer said.
The bags are perfect for the modern cosmopolitan woman. Whether used while traveling or at-home, her collections make a statement understood in any language.
"(I) strongly believe that good fashion and design translates across all countries and continents and has the power to become a universal language," the designer declared.
Fashion, Yepez believes, can unlock and express your inner personality.
"What I decide to create is an interpretation of my own personality and I love that I can translate it into a product that hopefully will inspire other women to express themselves and develop their own style as well," she said.
Next on her agenda is international expansion. Already a success in Venezuela, Yepez aims to launch her handbag collection in the United States with stores across the country and then take on the global market. The sky's the limit.
The line is available in stores across South America, Europe and the Middle East, as well as online.
Tagged in: lux exclusives, handbags, accessories, blues by kyky, blues, yliana yepez,