BREN Collection is a blend of twins' Brie and Jenny Maletz and their Los Angeles to New York style
If there was one word to describe identical twin sister designers Brie and Jenny Maletz, it would be inseparable – or maybe, creative. Yet, the twenty-six year old twins weren't exactly exposed to fashion at an early age, often wearing hand-me-downs from their older sister and even matching twin outfits. Looking back, however, these inauspicious beginnings may have sparked their imagination.
"We intentionally would mismatch the outfits and began styling ourselves at a very young age," Brie shared about their childhood.
Their first unofficial lesson in fashion came from their grandmother and her closets full of magnificent pieces from every era. She exposed them to iconic styles from each decade, engaging the girls on the history of fashion. Brie and Jenny would play with the different styles in their grandmother's closet, taking them apart to create new and modern looks. The hobby ultimately developed into their passion for apparel, and the goal to study fashion design and create their own clothing line.
Brie and Jenny studied design at Syracuse University in New York as well as a study abroad program at the London College of Fashion.
"We weren't determined to go to school together initially, but we both knew we wanted to study fashion design. When it came down to choosing schools, we knew that, realistically, we wouldn't last long without each other! We left Los Angeles to study fashion design in New York," Jenny said.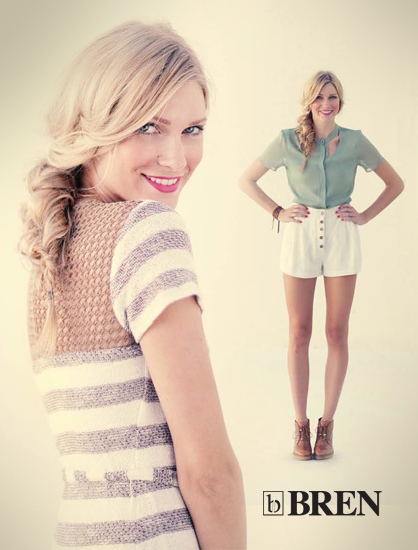 LadyLUX via BREN
In 2011, the design duo launched their Los Angeles-based collection, BREN, named after their childhood nickname that fuses Brie and Jenny's first names and reflects their inseparable relationship. The collection is a blend of the sisters' individual styles and a mix of the progressive vibe of New York with the laidback aesthetic of Los Angeles.
"We grew up in Los Angeles and the laidback feel is ingrained in us. However, we've also lived in New York and London for some time and those experiences definitely influence how we design and dress. Unlike the many t-shirt, surf and denim companies native to Los Angeles, we have a more sophisticated customer who likes to be comfortable but also a bit more refined and styled," Jenny explained.
With their only distraction being their love to sit and chat with each other for hours, Jenny and Brie's partnership is a solid one that shares the daily duties of the company, including the designing. Their division of labor helps to maintain the company's organization. Brie manages the production aspects, utilizing her previous experience from another company, while Jenny looks after the development process and samples. In the design department, each and every BREN piece is crafted by the sisters together, equally expressing their personal styles. The creative process usually begins at their favorite coffee shop with inspiration and concepts being tossed around for consideration.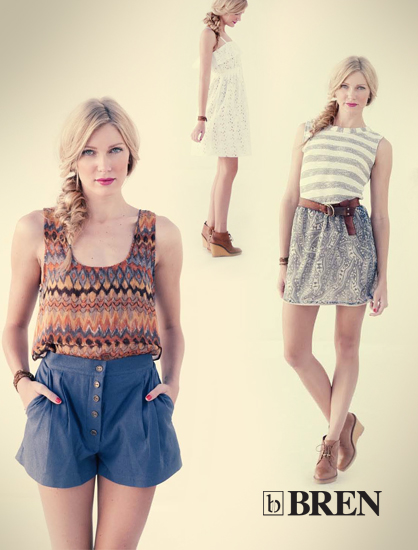 LadyLUX via BREN
"We have our favorite blogs and muses that we are inspired by and always keep in mind when thinking about our customer. We turn to each other a lot for inspiration, taking each of our styles and combining them. Often times, we look to our closets to try and figure out what we'd like to see in there that's missing!" Brie said. "For the next few months, we sketch, shop the market, look at fabrics, sew up samples and build the collection from there."
The current Spring 2012 collection exhibits a brilliant array of feminine sorbet colors that play alongside abstract floral and tribal themed prints on minimalistic silhouettes of blocked fabrics. The easy-going rompers, daydresses, and separates are composed of silk chiffon, silk linen, a variety of sweater knits and netted mesh.
BREN is still only in its first year, but the twins have big plans for its future.
"We'd love to see BREN widely distributed in the U.S. and internationally, continuing to sell to small boutiques as well as grow with the major departments stores. We'd like to offer accessibility and practicality for the fashion-conscious consumer everywhere. Brie and I plan to keep production in Los Angeles to continue supporting local businesses and growing our business along with our contractors," Jenny said.
Please click here to visit BREN.
Tagged in: lux exclusives, spring 2012, apparel, womenswear, los angeles, ready-to-wear, jenny maletz, bren, brie maletz,