Brian Atwood in a World of Fashion Firsts
NY fashionistas rejoice! Brian Atwood will open his first flagship store on Madison Avenue complete with handbags and footwear from his eponymous line and footwear from his diffusion line, B Brian Atwood. With 1,450 square feet of selling floor and 820 square feet of stock room, the new store is the largest collection of Brian Atwood and B Brian Atwood products in one place. As his first flagship store kicks off the fall fashion season with its grand opening in October, what better time to create his first global ad campaign and fashion film?
In true Atwood style, the campaign and film are high fashion, edgy and nothing if not sexy. So sexy, in fact, the ads were banned from appearing on the side of the Madison Avenue building where the new flagship store is located. Shot by fashion photographers Mert Alas and Marcus Piggott, the Fall 2012 campaign features a scantily clad Candice Swanepoel in a bedroom surrounded by half-naked men who are seemingly excited by her shoes.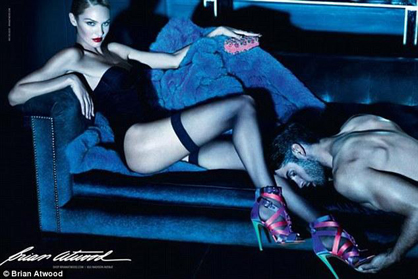 "When creating, I hold nothing back; I put rules to the side and design with a focus on creating desire beyond reason. This is about the sheer glamour factor alone. Practicality has many masters. I look for the exceptional, the evocative, for a woman who is unapologetically sexual," said Atwood. The ad campaign stems from his take on the modern woman's desire for fantasy and control, the allure of sexual submission, fearless beauty and cinema-graphic voyeurism laced with sensual tension.
The steamy ad campaign is paired with the footwear designer's first ever fashion film, "The Sex is in the Heel." Also quite risqué, it is set in a secret monitoring room where a mysterious person is watching the sexy interaction between a man and a woman through surveillance cameras. The couple begins a game of seduction in which the woman, played by Swanepoel, teases the man without letting him touch her. At some point, the woman looks at the cameras because she knows she is being filmed, though her partner is unaware, and is actually seducing the mysterious voyeur. At the end, it's revealed that this person in the monitoring room is none other than Swanepoel herself, shown in a different look.
The video and campaign captures the true essence of a Brian Atwood woman. According to the designer, "She has an unapologetic lust for life. There's a sexual energy that fuels everything she does coupled with a luxe glamour that creates drama and mystery that makes her so interesting and hard to keep your eyes off of."
The global campaign has been a long time coming and Atwood should be nothing short of proud now that it's arrived. He said, "It's something that's very special to me. This is a big moment for me and the brand. It's been a great number of years that I've been creating and nurturing the brand and to be able to share it with the world via this campaign with the talent that is involved is nothing short of exhilarating."
Tagged in: fashion, handbags, designer, footwear, shoes, beauty, style, fall 2012, store, madison avenue, brian atwood, ad campaign, flagship, flagship store, store opening, candice swanepoel, mert and marcus, the sex is in the heel,