Bridal Shower Cocktail Recipes for a Feminine and Stylish Party
Plan a festive affair for the bride-to-be
Planning a bridal shower doesn't have to be stressful. The perfect cocktail can make the party a hit. Read on to find inspiration for a mix of delicious alcoholic and non-alcoholic drinks.
Of course, there are plenty of bubbly options in our lineup. Because it is a bridal shower and there's no better way to celebrate.
And here's the best hint, from our editors who have thrown tons of bridal showers, if you want to score fabulous deals on disposable Champagne flutes and decorations, opt to shop online at Paper Mart.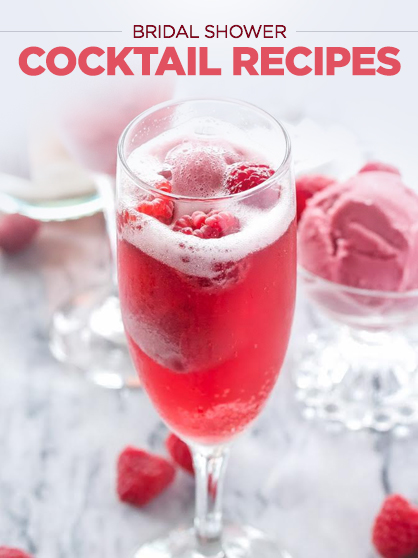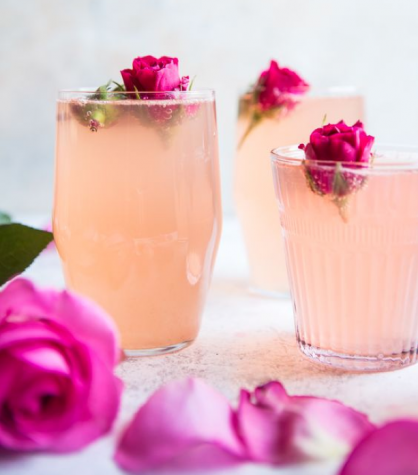 This one is delicate and delicious.
Ingredients
2 tablespoons rose water (optional)
2 tablespoons fresh lemon juice
1 1/2-2 ounces vodka (omit to make a mocktail)
1-2 tablespoon honey, or to taste (use agave if vegan)
a few drops of blood orange or pomegranate juice, for color (optional)
3/4 cup sparkling water, or more to taste
fresh roses, for garnish (optional)
Instructions
Combine all the rose water, fresh lemon juice, vodka, honey and blood orange or pomegranate juice (if using) in a cocktail shaker and fill with ice. Shake until combined and then strain into a glass. Pour in the sparkling water. Garnish with fresh roses. Yield: One drink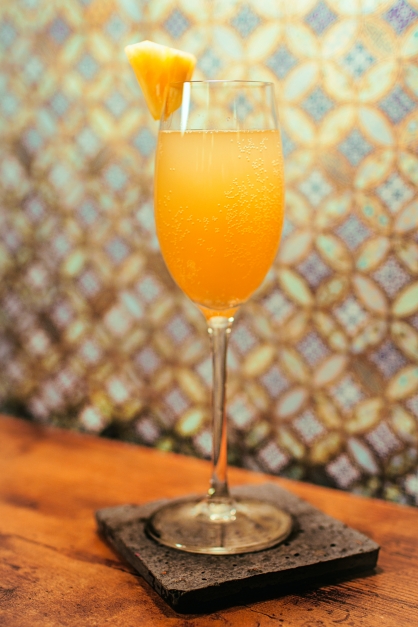 Pineapple Fizz
Try this sweet and fruity cocktail.
Ingredients
4 oz Prosecco DOC
1 oz Pineapple juice
1 oz Elderflower liqueur
Pineapple chunk for garnish
Instructions
Combine ingredients and serve in a flute glass, garnish with pineapple. Yield: One drink
Photo credit: Courtesy of Amanda Picotte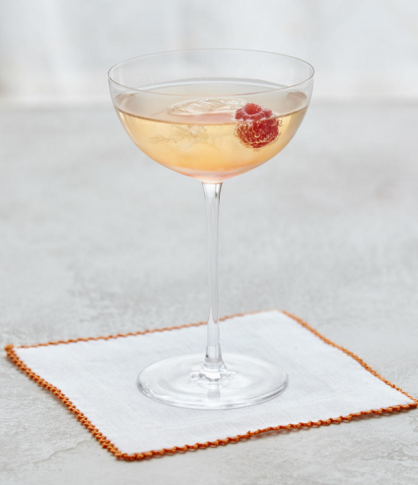 Pink and pretty is the way to serve a bridal shower cocktail.
Ingredients
2 oz. passion fruit nectar
2 oz. passion-fruit nectar
3 oz. Champagne
1/2 tsp. grenadine
Handful of raspberries (or any berries in season)
Instructions
Pour chilled passion-fruit nectar in a coupe glass or flute. Carefully add chilled champagne and grenadine; don't stir, but allow to blend. Add an oversize ice cube and a raspberry garnish.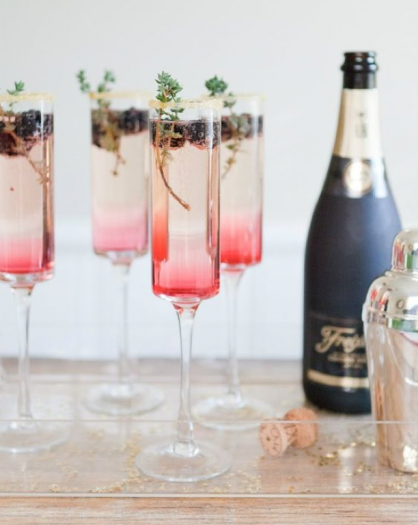 For a herbal vibe, opt for this sparkler.
Ingredients
1 c. blackberries + 8 more for garnish
1 c. Water
1 c. sugar
1 bottle of champagne
4 ounces or 1/2 c. gin
4 long sprigs of thyme
1 c. ice
gold baking sugar for the rim
Instructions
In a small saucepan, bring blackberries, water, and sugar to a boil. Reduce heat and simmer for 10 minutes, until the blackberries are soft and the simple syrup has turned to a bright pink/redish color. Remove from heat, drain blackberries, and allow to cool. This step can be done well in advance as the syrup will keep for at least a week in the refrigerator.
Prepare your champagne glasses. Okay, so here is a dirty little secret of getting those beautiful salts and sugars to stay atop the rim: butter. It adheres perfectly and you honestly never taste it. Place the tiniest amount between your fingers and rub just around the rim of the glass before dipping the glass into the gold baking sugar.

Next, begin by adding 1 ounce of gin to each champagne glass. Next drop two blackberries in each glass, followed by 2 ounces of homemade blackberry simple syrup. Fill the rest of the glass with champagne and top with a sprig of thyme in each glass. Voila!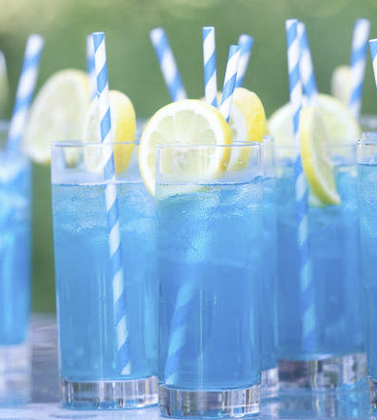 Proof that stepping away from the pretty pastels is worth it.
Ingredients
30ml vodka
15ml blue curacao
lemonade
Instructions
Fill a highball glass with ice, add the vodka and blue curacao and top up with lemonade, stir and serve.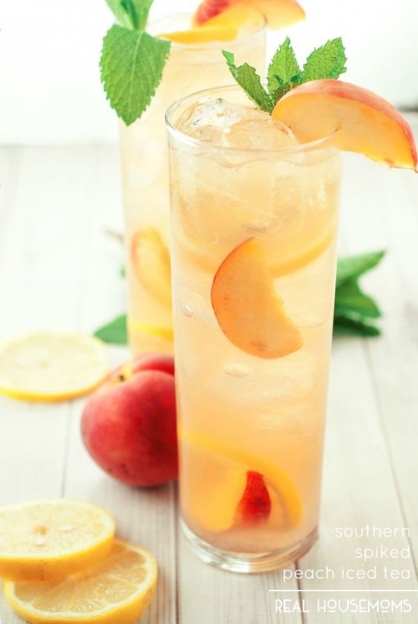 Southern girls know how to throw a bridal shower.
Ingredients
Ice
2 oz. Vodka
3 oz. Peach Iced Tea
3 oz. Lemonade
1/2 Peach, sliced (optional)
1/2 Lemon, sliced (optional)
Fresh mint, for garnish
Instructions
Add all ingredients to glass, stir and serve. It's that simple.
·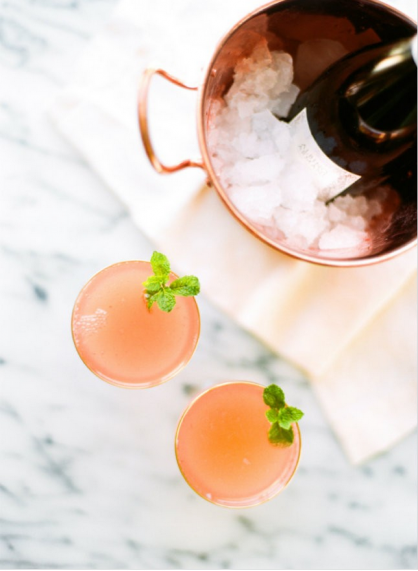 Tagged in: recipes, cocktails, bridal shower, wedding shower,
Beat the summer heat with this refreshing drink.
Ingredients
2 oz. fresh watermelon juice
3 oz. champagne
fresh mint leaves to garnish
Instructions
Pour 2 ounces of watermelon juice into chilled champagne flute or glass.
Top with 3 ounces of fine champagne or brut.
Garnish with fresh mint leaves.