Celebrate Julia Child's 100th birthday with famous recipes
Today celebrates the 100th birthday of Julia Child, the extraordinary chef who modernized American home cooking with refined French recipes. Child, who began her culinary career at the age of 32, attended the famous Cordon Bleu cooking school when she moved to France with her husband, Paul Child. Following her six-month training, Child teamed up with fellow students Simone Beck and Louisette Bertholle to form the cooking school L'Ecole de Trois Gourmandes. Her passion for the culinary arts resulted in groundbreaking cookbooks, including Mastering the Art of French Cooking, Baking with Julia and The Way to Cook, as well as the TV show "The French Chef."
Child's wildly successful career inspired the 2009 movie "Julie and Julia" and now, an app that highlights a handful of recipes and shares rare photographs and video clips. Whether you're a foodie or not, Julia Child is a household name and is synonymous with boeuf bourguignon. Celebrate her 100th birthday with famous recipes and an instructional clip on how to sauté chicken.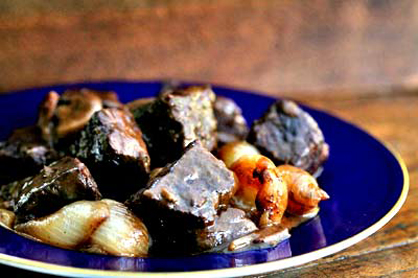 Photo Courtesy of simplyrecipes.com
As hearty as Julia Child's spirit, her boeuf bourguignon recipe from Julia's Kitchen Wisdom is full of savory flavors. The classic French stew combines beef slow-cooked in red wine, sautéed mushrooms and pearl onions.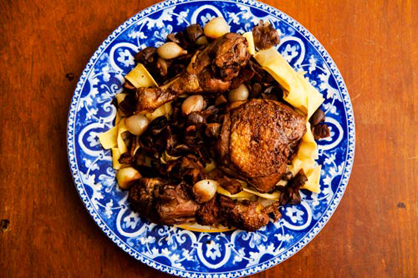 Photo Courtesy of simplyrecipes.com
Child was clearly a fan of cooking with red wine, as her coq au vin recipes also dictates chicken to be cooked in the wine. Child recommends blanched bacon for an extra kick.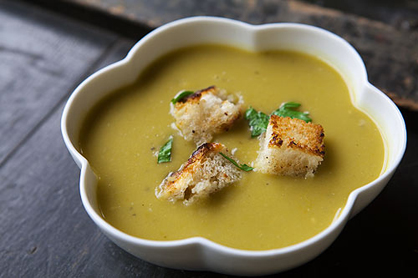 Photo Courtesy of simplyrecipes.com
A serious chef with many complicated recipes, Child's split pea soup from The Way to Cook includes numerous steps but promises great reward. Try the adapted version for an easier but still delicious meal.
Photo Courtesy of pbs.org
Impress a dinner party with braised lamb shanks accompanied with vegetables and herbs. Julia suggests pairing the protein with risotto.
via Youtube
In the most effortless manner, the iconic chef demonstrates how to prepare perfect sautéed chicken. She offers several possible variations, including chicken piperade and sautéed chicken with mushrooms and cream.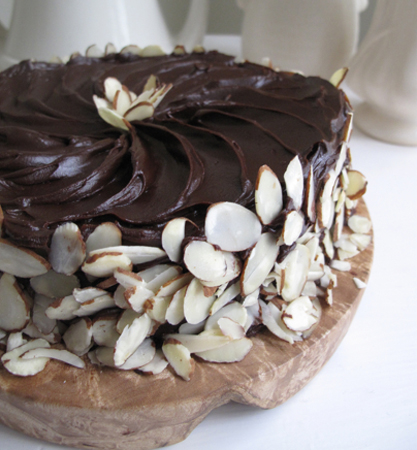 Photo Courtesy of thekitchn.com
Complete a delicious meal with a decadent reine de saba, a slightly underbaked chocolate and almond cake with a creamy texture. Child published two versions of the recipe, one in Mastering the Art of French Cooking Volume 1 and another in The Way to Cook. This particular method combines the two for a sophisticated dessert.
Happy Birthday, Julia Child!
Tagged in: recipes, culinary, chef, french cooking, julia child, 100th birthday,