Celebrities celebrate Oceana's SeaChange Event
October 1 marked the date for an evening of merriment, celebration and giving back as Oceana—the world's largest nonprofit dedicated to saving the world's oceans—held its fourth annual SeaChange Summer Party. A star-studded affair, the charity event was hosted by Angela Kinsey of "The Office" and Ted Danson, the leading spokesperson and board member of Oceana. The event welcomed Hollywood's elite including the likes of Academy Award nominees Diane Lane and her husband, Josh Brolin—both major supporters of the charity.
Lane and Brolin are close friends with Danson and environmental activists in their own right. When they were given copies of "Oceana," a book by Danson that addresses the current crisis in the oceans, they were inspired to act in support of the organization. "We got involved after reading Ted's book…This is a book that I will be sending everyone for Christmas," said Lane. She also mentioned that everyone needs to do their share in saving an integral part of the Earth, even those without the means to donate.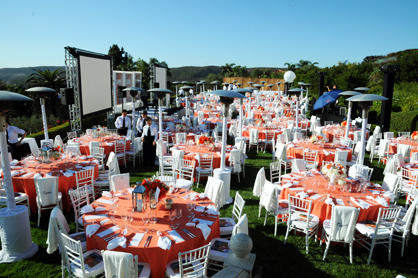 via Michael Munson, Oceana
"Do ask and do tell," Lane told LadyLUX. "Ask about the fish you are eating and where it came from…Get involved with a beach clean-up and see firsthand all the different species that are affected by oil spills and other man-made travesties."
The book and the movement did not only galvanize Brolin and Lane, but a number of celebrities. Angela Kinsey agreed to co-host the SeaChange event with Danson because she wanted to help bring awareness and work towards alleviating the ocean's troubles in any capacity. "I grew up in Indonesia and have a lot of happy memories playing on the beach. I just want my 3-year-old daughter to be able to have those same kinds of happy memories." A supporter and advocate for many years, Kinsey charmed with her whimsical personality and sense of humor as co-host.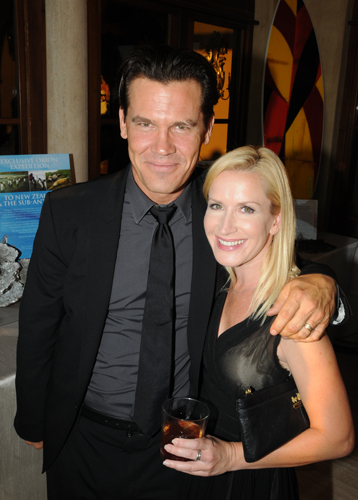 via Michael Munson, Oceana
Four hundred guests were treated to a sit-down dinner as they learned about Oceana and its efforts to combat a wide range of crises including overfishing, pollution, seafood fraud and shark-finning. The event space, a private coastal villa in Laguna Beach overlooking the Pacific, proved the perfect backdrop for such an occasion. The breathtaking view as the sun set behind the sea was as inspiring as it was beautiful.
A subject close to the hearts of Tinsel Town's best, Lane and Brolin both made speeches addressing the beauty of the oceans and the importance of organizations like Oceana that work to ensure its safety. Introducing his wife, Brolin, a long-time surfer and water enthusiast, stated, "She really embraces this like I've never seen her embrace anything." Lane took the stage and gave a heartfelt and powerful speech about her love for the world's oceans and devotion to Oceana's mission to protect them.
"We are all here tonight out of love for our oceans, her bounty that feeds us, her beauty and her power that give us true awe," she stated. "Oceana is where I turn for leadership in the changes that must be made to save the oceans. But it's up to us to be proactive, ambitious, far-reaching, deep-reaching in our pockets, demanding changes in policies, lobbying for tougher laws and enforcing these changes with some teeth. Even if I were not here to speak tonight, I would be here to listen."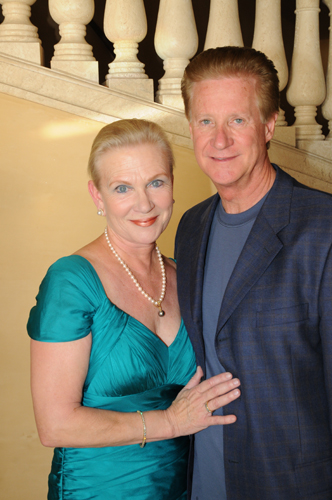 via Michael Munson, Oceana
The charity, its goals, the celebrity endorsements and the speeches that were given proved effective. Oceana garnered over $900,000 worth of support—quite the accomplishment for one night.
As we head into fall, pack away our swimsuits and tuck away our surfboards, we reminisce on the beach-filled memories of the past summer and feel a heightened level of reverence for our beloved oceans. Oceana works to ensure that these kinds of memories will be available for generations to come. And with the help of events like SeaChange and the generous hands of its supporters, it is certainly a possibility.
For more information about Oceana's work, visit na.oceana.org.
This article was contributed by Dani Smith. To read more from Dani, follow her adventures on Twitter at @Danilaexoxo.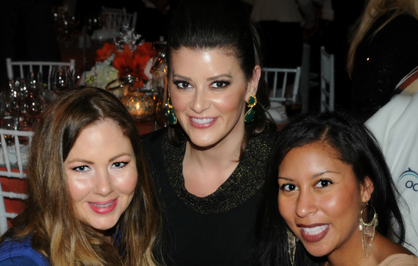 via Michael Munson, Oceana
Tagged in: lux exclusives, oceana, philanthropy, ted danson, seachange summer party, diane lane, josh brolin, october 1,