Chaiken and Capone is back
If you were a city girl in the '90s, then Chaiken and Capone probably rings a bell. The collection is making a comeback: Owner Julie Chaiken has announced a relaunch of her line. It will be sold at Barney's Co-op on Madison Avenue and at Neiman Marcus' Cusp stores starting next month.
Based in San Francisco, the women's sportswear brand was known for sophisticated, urbanite dressing and tailored pants. Founded in 1994 by Julie Chaiken and Pamela Capone, the line continued to evolve after Capone left and Chaiken bought her out. Hiring Jeff Mahsie as creative director, Chaiken and Capone remained synonymous with the perfect pant and expanded into outerwear, swimwear, maternity and evening. It was sold internationally at Nordstrom, Bloomingdale's, Saks Fifth Avenue and Macy's up until 2008.
After Chaiken closed her New York showroom three years ago and moved operations to her home base in San Francisco, the brand started to lose momentum. Although Chaiken never officially ended operations, the line's appearance in the marketplace became less and less apparent.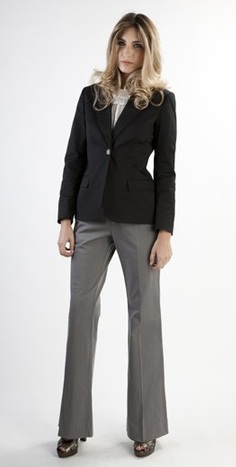 Chaiken told Women's Wear Daily that she felt it was the right time to reintroduce the label. The 2011 Spring Collection is said to be classic and casual, composed of skinny pants, blazers, Bermuda shorts and pima cotton blouses. She does not plan to present the collection on the runway. A lower price point than the original label, Chaiken hopes to target contemporary shoppers between the ages of 25 and 45.
Her Fall 2011 will include some additions, such as knits, leathers and staple pieces.
"It's very classic and clean, while being fashion forward. That's what people have always come to me for," Chaiken told WWD. "It's the woman who understands that you can wear clean lines while still being a little bit sexy."
Tagged in: womenswear, sportswear, chaiken and capone,