The Strut Report: Chanel Fall 2011 Couture
This season, Karl Lagerfeld's Fall Couture collection for Chanel was centered on the classic Chanel suit with a peplum twist, reported WWD. Despite the feminine aspect of the peplum, the show was dark and moody, featuring a great deal of navy, gray and black, with a small splash of fuchsia. The models wore lace veils over their eyes, further adding to the mystique.
The show kicked off with a classic tweed suit and slowly worked its way into 101 peplum ways. Suits progressed from different variations of the silhouette using multiple tiers, to tank tops, to long, tight dresses and skirts, then evolved into sophisticated gowns. Each piece maintained the silhouette in some form, but carried on its own with unique material and textures, including lace, print and glittery options.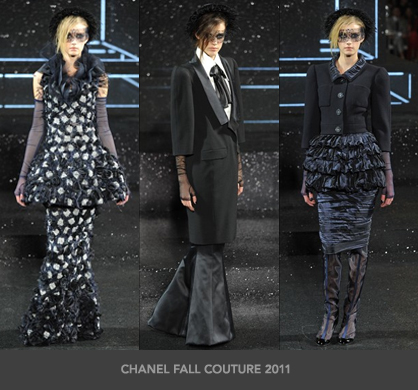 Chanel, WWD
The collection ranged from feminine pieces to more androgynous boxy pieces. To exaggerate the androgyny in each look, masculine hats and long, fingerless mesh gloves were the accessories of choice. The mesh continued into the over-the-knee boots that complemented the skirts.
The collection was a perfect follow-up to Lagerfeld's previous '90s grunge-meets-tweed Fall show, maintaining the dark, apocalyptic vibes in a more couture manner.
This article was contributed by Annette Tang of the VersaStyle. You can follow Annette and her fashion adventures on Twitter at @theversastyle.
Tagged in: paris, fashion week, runway, fall, chanel, karl lagerfeld, couture, fall 2011, fall couture,