CityBird Offers Alternative to Outdated Wedding Registries
Thank you for the knife block, the bride says with a pasted-on smile. For anyone who has ever been in her shoes or anyone ever been in the shoes of the gift-giver, uncertain what to choose off a "random" gift registry, CityBird is offering some hope. A wedding registry for experiences, CityBird targets the urban couple getting married but struggling to discover something they can actually use and not in need of more stuff. The bride and groom can register for date nights and experiences they can get excited about and enjoy together rather than the typical range of items for the home. Hooked up with fantastic local businesses in New York City, the newlyweds can experience the Big Apple at its best, with dinners, drinks, classes, activities and memberships – perhaps a wine tasting or a photography class.
After endless rounds of weddings one year, Micah Clasper-Torch knew wedding registry frustration all too well. As friends got engaged, the story was the same: We live in a small apartment, we don't really need anything and we don't know what to register for.
"It became clear to me that registries aren't meeting the needs of many modern couples … Personally, I was living in my own studio apartment and thinking I already have everything I need. By the time I get married, what in the world will I need to register for? I said to a coworker, 'maybe I could just ask for money towards something like piano lessons or a cooking class.' That little spark stuck with me for about six months before I really started fleshing out the idea, at which point I kept saying 'How does this not exist yet?'" Clasper-Torch said.
She told her friend Nicole Truscinski, the two turned serious, and the next day got down to the dirty work.
"When Micah told me about this idea for CityBird, it was a true 'aha!' moment … As we talked about the current registry options available, we found there was a gaping hole for people like us, who would rather take a cooking class than accumulate more silverware. We had a vision for something more tasteful and meaningful (unlike a cash registry, which seems very impersonal to us) that the couple and their guests could mutually enjoy," Truscinski said.
It's a concept both wedding guests and wedding couple can get excited about. The wedding goer gets to get enthused about what they are purchasing and the newly married partners get a gift they won't secretly hope they can return for cash. Perhaps best of all, the site is completely free for both the couple and the guest.
Try a cooking class from Global Kitchen led by an immigrant chef who shares her personal story and the history of the food as the attendees cook, followed by a class meal shared together. Or a mozzarella-making class from Murray's Cheese in which participants make the cheese, knock back some wine and take home their creation.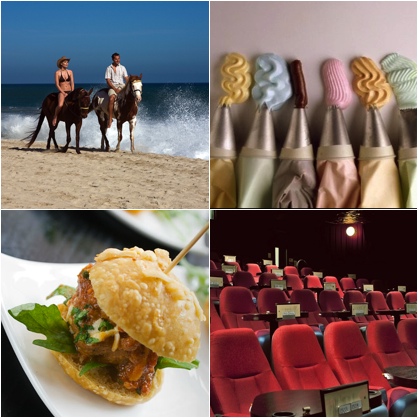 Both Truscinski and Clasper-Torch have done their homework for the site. The menu of options has been well curated; CityBird only works with businesses that provide the best – places that real New Yorkers would recommend.
"Our focus is not on weddings. Our focus is on living the life that comes after the honeymoon is over," Clasper-Torch shared. "We think great relationships are built on shared experiences and strengthened through continuing to learn and discover new things together. Our goal is to excite people (individuals as well as couples) to get out and explore, try new experiences, and discover all that their city has to offer."
Wedding registries typically cater to a new couple interesting in furnishing a home. The new trend, however, is to marry later and – for 70 percent of all couples – to live together before the wedding. These registries are quickly turning into an outdated concept.
Clasper-Torch recalls one wedding registry on which she could only afford either a $90 wine glass or a $100 set of salt and pepper shakers." It felt impersonal and very strange to me that these were the gifts that we were giving a couple to celebrate their love and a life that they were about to spend together. How is filling a home with fancy objects celebrating or contributing to the marriage?"
Over the course of the last few years, Truscinski has searched high and low among event listings and list of activities in the city, picking the best of the best with the help of friends. The result is a master event calendar, sent free weekly to the inbox of the company's subscribers.
"More than just offering a registry, we aim to inform and inspire our CityBirds, couples and singles alike, to try new things, and give support to the businesses, people and organizations that we admire," Truscinski said.
CityBird just launched in April in New York City, but the two founders have their eye on expanding to many more cities. The CityBird blog features a number of aspects that might interest any New Yorker, wedding bound or not: date inspiration, reviews, music playlists, interviews and the complete lowdown about what to do in the Big Apple.
Truscinski and Clasper-Torch are looking ahead to the future: CityBird in every major city across the United States, a blog with ever-rising visitors, and a growing weekly roundup of events to send out to the mailing list. Perhaps even event planning and creating their own CityBird events lie ahead.
For more information, visit www.citybirdregistry.com.
Tagged in: new york, new york, nyc, wedding, citybird, wedding registry,