CLASSY Awards: Keeping nonprofits as chic as can be
StayClassy held its third annual CLASSY Awards Ceremony on Sept. 17 to honor the most influential nonprofit charities, businesses and philanthropies nationwide. The CLASSY Awards is considered the largest philanthropic awards ceremony in the country that recognizes all hardworking individuals, volunteers and organizations and their contributions toward helping others in need.
via StayClassy


Hosted by actress and philanthropist Jamie-Lynn Sigler, the ceremony was held at the San Diego Civic Theatre. The red carpet, awards ceremony, and after-party were bursting with more than 1,600 attendees, including last year's winners, finalists, nonprofit and tech industry professionals, and the StayClassy team.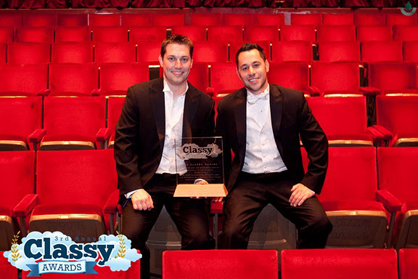 via StayClassy

Founded by Scot Chisholm and Pat Walsh in 2006, StayClassy is a San Diego-based startup company that has developed an online fundraising product used by nonprofit organizations worldwide. Their vision of creating an easy way for nonprofits to turn their supporters into fund is now an industry-leading online fundraising solution for charities, foundations, churches, schools, clubs and more.

"This year, StayClassy is showing more quality organizations and sharing more issues," said Chisholm.

CLASSY Award winners were chosen from 2,000 nominations and made it through several rounds of judging and voting. Every nominee's story inspired more than 250,000 people to cast their vote in the final round. Each of the 12 awards was presented by past winners or business representatives.

The winners were:

Charity of the Year: The Soldiers Project from Los Angeles, Calif.
Small Charity of the Year: Long Way Home, Inc. from Dallas, Texas
Best New Charity: Marley's Mission from Scranton, Pa.
Philanthropic Business of the Year: Panera Bread from Saint Louis, Mo.
Philanthropic Small Business of the Year: Nika Water from San Diego, Calif.
Most Creative Fundraiser by a Charity: Alex's Lemonade Stand from Wynnewood, Pa.
Most Successful Fundraiser by an Individual or a Group: Blanchard Memorial School's 6th Grade Class from Boxborough, Mass.
Most Effective Awareness Campaign by a Charity: Invisible Children from San Diego, Calif.
Most Influential College Student or College Organization: Northwestern University Dance Marathon from Evanston, Ill.
Most Innovative Use of Social Media by a Charity: I'm Too Young for This! Cancer Foundation from Manhattan, N. Y.
Volunteer of the Year: Troy Yocum from Louisville, Ky.
Young Nonprofit Leader of the Year: Faith Huckel/Restore NYC from Manhattan, N. Y.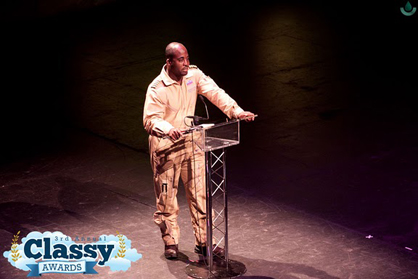 via StayClassy


Before each award winner was announced, presenters had the opportunity to share the mission statements and accomplishments of their organization. Award presenter Barrington Irving, the youngest person and first black pilot to ever fly solo around the world, revealed the purpose behind his organization, Experience Aviation. He created his organization to show younger generations that if he could achieve his dream, so could they.

"This is the opportunity to share our issues and develop partnership. With the economy, organizations have to leverage money and cut spending. Experience Aviation's greatest accomplishment this year was passing the one million dollar mark in scholarships and expanding to Dallas, Texas," Irving said.

During the ceremony, there were three video presentations from Invisible Children, charity: water and Nourishing NYC to help shed light onto the work of these organizations and the global issues they affect which are helping African child soldiers, bringing clean water to underdeveloped countries and feeding hungry Americans.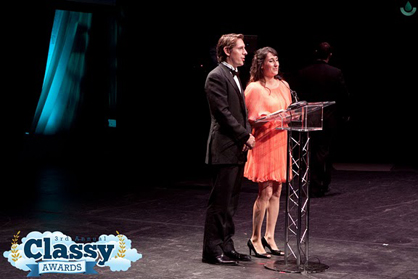 via StayClassy

Last year winners, Gina and Scott Keatley of Nourishing NYC, passed down the Charity of the Year award to The Soldiers Project. They made their national debut and expansion on stage with a video presentation of Nourishing NYC, a community food program that feeds, educates and advocates for tens of thousands of families in need annually.

"The CLASSY Awards offers new opportunities for new charities to expand and for people to know who they are. We are happy to be a part of it. We are making our national expansion on stage. We will be nourishing more people and taking over America. It's Americans nourishing Americans and we're doing it right here, right now," said Gina Keatley.

In 2011 alone, CLASSY Awards winners and nominees changed the lives of more than 200 million people, with monumental efforts that spanned 71 countries. Participants donated 15 million pounds of food, gave 4,108 service dogs to people in need, served 1 million meals to orphans in Haiti, helped educate18,274,522 students, provided 68,000 flights to help transport sick children to doctors, planted and saved 46,013 trees, converted 63 tons of garbage into construction materials and served 7,813,200 meals to the hungry.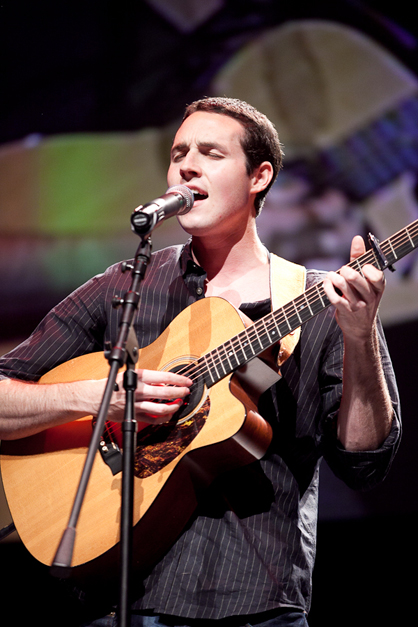 via StayClassy

Highlights of the night included special video appearances by actor Will Ferrell and the cast of television show "The Office," and also a live acoustic performance by singer-songwriter Collin McGloughlin.

An after-party was held at the W Hotel in downtown San Diego, where winners and finalists celebrated the night away and reflected on all the accomplishments of the organizations.

The CLASSY Awards ceremony inspired everyone in attendance with the many achievements of the thousands upon thousands of volunteers and the many hours spent helping others all over the world -- and it was all carried through in the classiest manner, of course.
Tagged in: lux exclusives, charity, causes, nonprofit, philanthropy, san diego, classy awards, stayclassy, classy awards 2011, jamie-lynn sigler,