Colin Heaney makes a statement with wearable art
Colin Heaney had a unique approach when he designed his Art of Luxury collection.

"Until I started with digital creation, I always worked in three-dimensional media. Printing on clothing then comes back to three-dimensional forms," Heaney said.
Using a complex process, Heaney has merged the digital world with his unique patterning, from the beginning designs to his finished artwork. His vibrant glass designs leap directly onto the silk through the latest digital technology. He was quickly taken with this new digital design technique of shifting dimensions.

"Colors and pattern evoke different moods and suit different personalities. As I play with color and pattern, the work emerges. Almost all of the artwork for my designs comes from images of other things I have created. It might be pictures of my house, Casa Blu, or my glasswork, or maybe images of draped silk that has my artwork printed on it," Heaney said.
His elaborate designs include layer upon layer of woven detailed patterning and colors. The intensity of his cosmic and psychedelic color scheme and his precise patterning all reflect his glass artistry, and his richly detailed and intricately layered prints and brilliant color combinations enhance the female figure.

Featuring silk kaftans, luxurious swimwear and accessories, his wearable art line is intended to make women feel glamorous, sexy and confident.

"When a woman wears one of my pieces, she is noticed," Heaney said. "My clothing appeals to women who are comfortable and enjoy being seen and appreciated. I love seeing the change in a woman when she puts on one of my designs. It seems that she contacts her femininity and grace."

For over 25 years, Heaney has been considered one of the world's top glass artists. Between 1982 and 2005, he ran Australia's largest glassblowing factory before switching to textile design in 2006.

"Since I was 20, I have made my living by my art… Four years ago, I started creating images on the computer. As I became immersed in the digital world more deeply, I left glass and chose to print on fabric as a canvas for my work," he revealed.

Heaney designed his home, Casa Blu, in Byron Bay, Australia himself, which ended up being a huge inspiration for his collection. With organic rounded walls, glass mosaics and sculptural features, Casa Blu calls to mind the sunken city Atlantis and ancient Persian temples.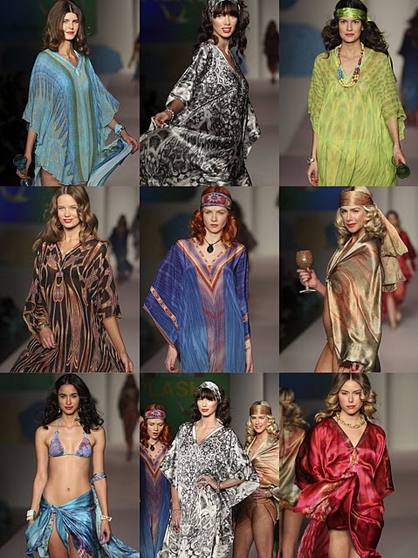 via Colin Heaney
Although Heaney began his collection with swimwear, he is best known for his dramatic kaftans.

"The kaftans are very sensuous and made from high-quality silk. They feel wonderful to wear. Kaftans are a perfect canvas, and silk is wonderful to print on," he said.

Each unique kaftan displays Heaney's beautiful prints and is available in floor-length and knee-length versions. Using satin, crepe or georgette silk, he combines different textures with a light sheen or transparent look.

His first kaftan collection, Exotic Lands, was released in 2009, and Mystical Elements, his second line of kaftans, followed in 2010. He later expanded into sarongs to pair over his bikinis, as well as scarves and headbands to wear with his kaftans. His next move was to branch out into housewares, creating luxury home products like cushions and prints featuring his signature designs.

His popular designs have caught the eyes of celebrities, including Heidi Klum, who has been seen wearing his Harlequin kaftan.

"Every piece I create has my full energy and creativity in it. A piece is never finished until I feel it is the absolutely best that I can do and is an expression of beauty. I love when my art becomes a physical reality and I can see it worn," he said.

Heaney has plans to expand his empire: "My vision is to create a Colin Heaney lifestyle store. I love architecture and interior design, so I am looking forward to creating a space in which I can showcase my designs in fashion, accessories, homewares and fabrics."

Without a doubt, Colin Heaney's collection is a masterpiece that has taken both art and fashion to new heights.

Experience all of his collections at www.colinheaney.com.

Tagged in: lux exclusives, designer, swimwear, art, silk, colin heaney, sarong, kaftan,