Copenhagen Fashion Week Fall 2012: By Malene Birger
Malene Birger is no stranger to the Copenhagen fashion circuit. Since she began By Malene Birger in 2003, the Danish designer has been known for her timeless angle on chic styling and her edgy, sexy twist. It's a style her fans have quickly grown to love and is also the impetus behind her numerous awards, including Brand of the Year by Costume Norway. For Fall 2012, Birger didn't disappoint her loyal following, delivering a collection full of the next wave of trends.
This season, Birger was all about an effortless, ladylike edge. The collection started off in classic black, much as it did last Fall. But this time, instead of bordeaux and orange shades, the designer added some flavor with blues, mint, mustard yellow and leopard prints.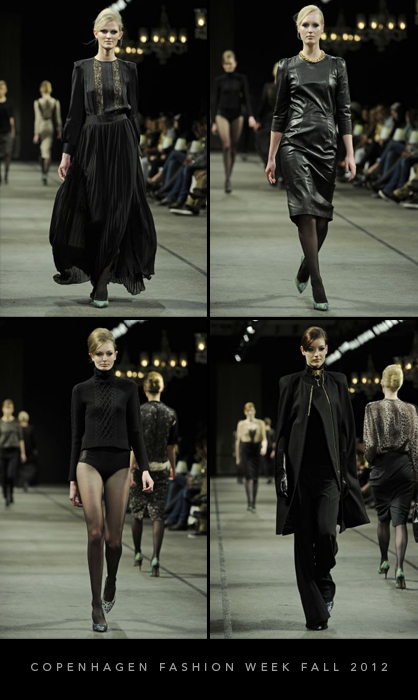 LadyLUX via Copenhagen Fashion Week
Dominating the first half of the collection, black ensembles appeared in an assortment of mixed and matched separates, giving depth and character to the potentially basic shade. Birger's technique amazed, with look after look of slouchy jumpsuits adorned with a thin-chain body harness, knitted turtleneck sweaters styled with hot shorts and pleated maxiskirts paired with pleated blouses with lace striped insets. Paneled leather dresses, cape coats layered over wide-leg trousers and deep, cozy V-neck sweaters with pencil skirts were displayed next. The styling was clean with easy, loose-fitting layers – nothing boring here.
The relaxed but polished looks continued with a sea of blues and greens and bursts of mustard yellow. The more colorful section of the collection made for some easy office attire. The By Malene Birger girl could sport any of the mustard blouses; flowy, belted daydresses; sweaters layered over collared shirts and houndstooth pencil skirts; and loose trousers matched with tuxedo-style blazers to a work meeting.
LadyLUX via Copenhagen Fashion Week
Birger accessorized the collection with subtle yet tough chains. Several looks showed off the body chain harness, while others had chain belts slung around the waist. Gold chain collar necklaces and chokers complemented the line's low, sexy necklines.
The collection is yet another hit for the designer. The edgier-than-usual, stylish spread gave fans plenty of versatile separates options, whether for daytime or night and in black or colors.
This article was contributed by Annette Tang of the VersaStyle. You can follow Annette and her fashion adventures on Twitter at @theversastyle.
Tagged in: runway, fall, fall 2012, copenhagen, copenhagen fashion week, by malene birger, malene birger,