Copenhagen Fashion Week Fall 2012: Gestuz
Gestuz is about all things rock 'n' roll, but with a hint of sophistication and sweetness. In just a few seasons, the new brand has already developed a significant following – especially in the blogosphere - for its lust-worthy knitwear, high-quality leather pieces, sexy dresses and edgy denim. With a recipe that is tried and true, for Fall 2012, Gestuz didn't stray far from what it knows works. The collection centered on traditional leather separates and motorcycle jackets.
The line boasted a simple palette of black, white and gray with a sprinkling of orange and gold. But simple or not, there was nothing vanilla about it. Instead, it had the edgy, downtown styling that fashionistas expect from Copenhagen fashion.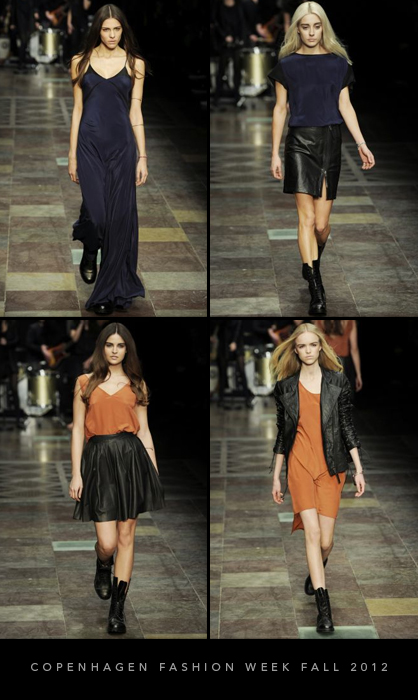 LadyLUX via Copenhagen Fashion Week
Gestuz crafted leather looks such as long, supple maxi skirts; paneled, long-sleeve minidresses; lace-up pants; flared and pencil skirts; and, of course, the now-classic motorcycle jacket. The leather separates created a basic foundation to pair with an array of tops, including fuzzy sweaters, understated silk camis, slouchy tees, wool jackets, gold knit blazers and denim button-downs. Each ensemble was effortlessly styled and finished with rugged mid-boots.
Among all the leather possibilities, Gestuz also featured a variety of dresses. Long and short slinky, slip dresses floated down the runway alongside knitted sheath dresses, both layered with motorcycle jackets. The showstopper of the line was easily the laser-cut dresses, presented in long and short versions. The dresses boasted a cutout pattern that exhibited some skin in all the right places.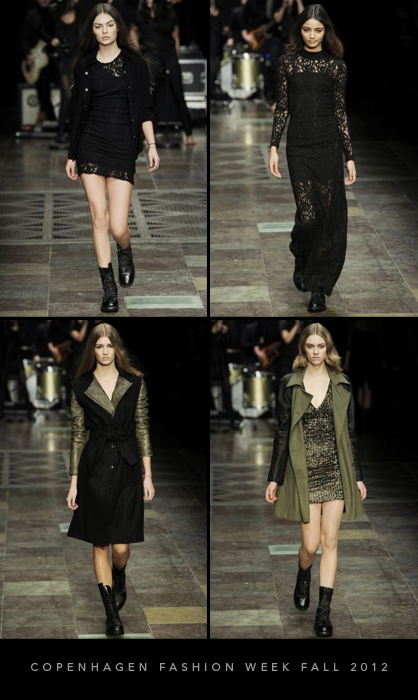 LadyLUX via Copenhagen Fashion Week
The brand is especially known for its colorblock leather jackets with contrasting sleeves. Gestuz created the must-have style a few seasons ago, and it has consistently sold out. The jacket was updated this time around with a trench coat with metallic gold sleeves and collar and a military green trench with black leather sleeves.
With its success already growing, Gestuz is definitely a brand that will be offered in more stores as it continues to expand. But for now, it's one of Copenhagen's best-kept secrets.
This article was contributed by Annette Tang of the VersaStyle. You can follow Annette and her fashion adventures on Twitter at @theversastyle.
Tagged in: runway, fall, fall 2012, copenhagen, copenhagen fashion week, gestuz,