Copenhagen Fashion Week Spring 2012: Helje Hamre
When you think of Copenhagen fashion, you probably imagine styles that are cool and effortlessly chic, with a good dose of modern minimalism. Helje Hamre pretty much sums up that impression. After graduating from Parsons School of Design, the Oslo-based designer acquired 13 years of experience in New York's fashion world, working at iconic brands such as DKNY and Narciso Rodriguez. With plenty of experience under his belt, Hamre returned to Norway to create his own brand.
For Copenhagen Fashion Week Spring 2012, the Norwegian designer went with a muted palette of cream, taupe, gray, blue gray and black. Although the colors were understated, he created strong looks through endless subtle details, bold makeup and thick, side-sweeping bangs. Hamre mixed opposite elements of tough and feminine, and modern and bohemian, for unexpected twists.
The collection had no shortage of dresses for the sunny season. Hamre crafted a few sheer pieces, including a fluid maxi and a short, button-up dress, both kept simple with barely there thin straps. Loose-fitting, gathered crossover V-neck dresses were featured, with both floor-grazing lengths and lengths that hit the knee.
Hamre also went a bit more progressive, producing a cream, belted, wide-sleeve T-shirt dress with a long fur fringe, short skirt and preppy collar – the most standout look of the collection. A sheer, black button-up with long fur skirt and leather bomber complemented the cream look.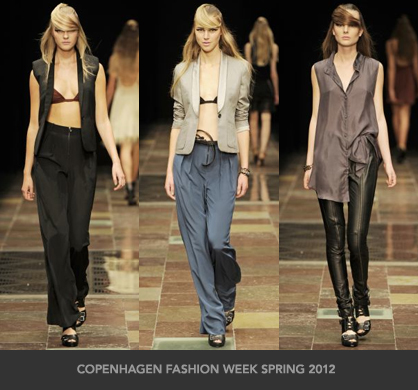 LadyLUX via Copenhagen Fashion Week
Blending menswear and beachwear, Hamre showed sharp, fitted blazers and long vests with pleated wide-leg trousers, both mixed with bikini tops. High-waisted shorts were paired with a button-up shirt layered with a sheer button cami.
Hamre's Spring collection did an excellent job of pairing unexpected details to create a fresh feel.
This article was contributed by Annette Tang of the VersaStyle. You can follow Annette and her fashion adventures on Twitter at @theversastyle.
Tagged in: fashion week, spring 2012, runway, copenhagen, copenhagen fashion week, helje hamre, hamre,