David Meister's Fall/Holiday 2012 collection shines at Saks Fifth Avenue
"I think my aesthetic is very simple. It's very clean, modern and sexy," David Meister said of his eveningwear collection. The Los Angeles-based designer's depiction was perfectly demonstrated during his Fall/Holiday 2012 presentation at Saks Fifth Avenue in South Coast Plaza in Costa Mesa, Calif. earlier this October. Meister is well-known for his sophisticated and body conscious womenswear that is always red-carpet ready and has been seen on celebrities including Katherine Heigl, Fergie, Felicity Huffman, Tina Fey, Demi Lovato, Drew Barrymore, Jamie Lee Curtis and Sharon Stone.
In the midst of devoted Meister followers, upbeat music, champagne and hors d'oeuvres, the Fall/Holiday collection took on a festive note with brilliant red one-shoulder dresses, stretch knit styles, dazzling green embellished knee-length eveningwear, draped navy silhouettes with shoulder cut-outs and long column gowns. Each piece was impeccably made and highlighted the flattering details of a woman's body – a Meister specialty.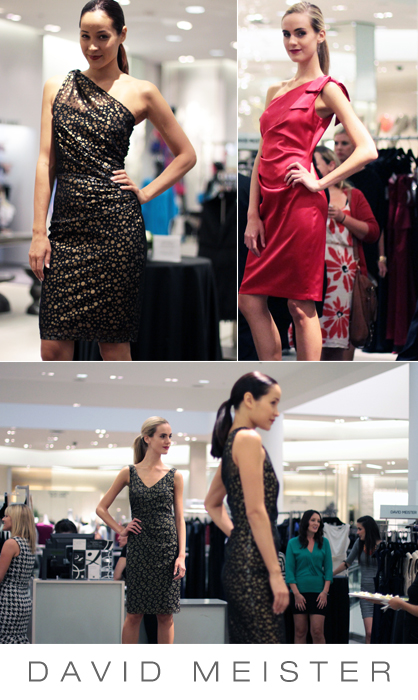 "Fall is about shine and metallics and subtle but my philosophy is if something is well designed, it has a sense of timeless to it. So if you pull out a dress of mine from your closet in four or five years, it should still look as good then as it does now and still be wearable," Meister said.
The designer focused on styles with an element of softness for the season. While one-shoulder shapes were still relevant, he proposed, "sleeves that are sexy, not like grandma, " demonstrated by his beaded cutout versions. As we head into Resort and Spring, these styles are picking up steam. In addition, he promised column dresses will "look newer and will become more important" and next year's red carpet will be effortless and chic.
"For the red carpet, I think you will see a lot of cleaner, simpler stuff; a lot of blues and greens. It's about clean, modern and streamline," he predicted.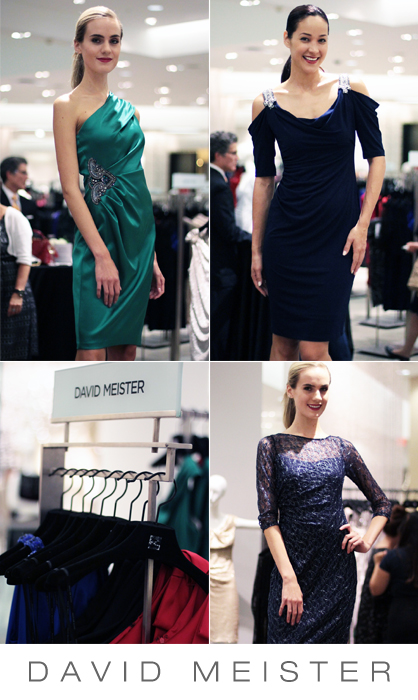 Meister's clean, modern looks have also brought him success with his David Meister Signature Collection at Bergdorf Goodman. The exclusive line has evolved greatly since its debut in 2009 and is now offering a new assortment.
"We are launching Signature Daytime for Bergdorf's. It's eight to ten dresses. They are very ladylike sheath dresses in beautiful European fabrics. It's a mix of silhouettes but we have boucle metallic tweed and we have a beautiful cap sleeve navy dress with a collar. They are very simple but very true Bergdorf lady dresses," Meister described.
His aesthetic, combined with the metallic, stretch materials and colors he is known for, clearly works. Between the celebrity following and support from luxury departments, Meister proves he has sophistication mastered.

Tagged in: lux exclusives, holiday 2012, fall 2012, saks fifth avenue, south coast plaza, fall 2012 collection, david meister, eveningwear, david meister signature, david meister,