Dior opens its largest boutique in Taipei
Christian Dior, owned by Moët Hennessy Louis Vuitton (LVMH), opened its largest boutique in the world on March 23 in the Taipei 101 mall tower. The impressive store boasts 19,410 square-feet, declaring Dior's importance in the market and the brand's continuing growth, especially with the Asian consumer.
"You have several generations now of Taiwanese entrepreneurs with a very high level of taste," said Dior chief executive officer Sidney Toledano to WWD.com. "They don't just buy something because it's a brand and because it's in fashion. They buy because they look to invest in a high-quality product."
Taiwan, with the help of visitors from Mainland China, has become a key market in the global luxury boom. According to the Tourism Bureau of the Republic of China, 163,442 Mainland Chinese residents visited last month, up about 41 percent from the same time last year and surpassing the number of visitors from Japan and Hong Kong, as reported by WWD.com.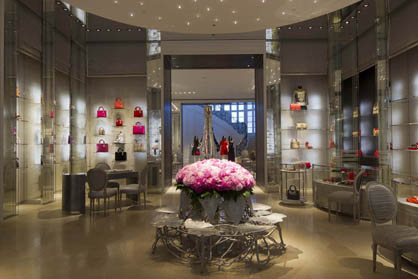 LadyLUX via WWD.com
To further tap into the increasingly wealthy Asian market, Dior plans to open even larger spaces in the region as well as expand current boutiques, including the one in Hong Kong. The vast size of the Dior stores is not without reason.
"In the market in Asia, the high-end customer is concerned with traffic and wants privacy," Toledano said. "The Taiwanese high-end customer doesn't like to show they have money."
In order to accommodate the preferences of high-end customers, the new store includes special VIP rooms as well as direct elevator access in and out of the mall tower.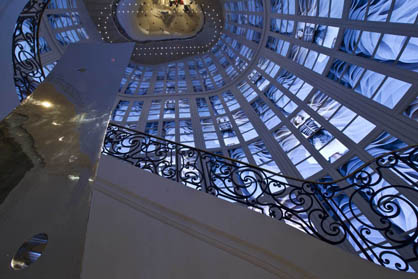 LadyLUX via WWD.com
To design the new boutique, Dior commissioned New York architect Peter Marino, who recently created the new luxurious Chanel boutique on Paris's Avenue Montaigne. The Taipei Dior space was inspired by blending 18th-century aesthetics with modern details. Rooms were decorated floor to ceiling with exclusive pieces by contemporary artists including Terence Koh, Claude Lalanne and Véronique Rivemale. On the second floor of the store, an Oyoram video installation showcases live-streaming videos that will be synced to other Dior locations throughout the world.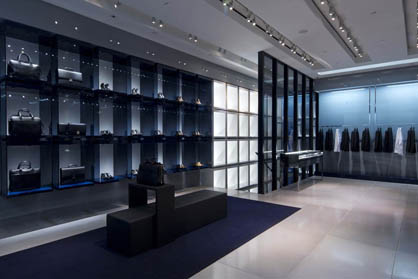 LadyLUX via WWD.com
Alongside the Dior Couture chamber, the boutique includes three ready-to-wear salons, with one exclusively for cocktailwear and eveningwear, a footwear room and two levels for Dior Homme. The first floor will be the largest selling area dedicated to fine jewelry, watches, handbags, leather goods and a customizing station to create versions of the iconic Lady Dior.
Continuing the focus on Asia, Dior plans to stage its first haute couture show outside of Paris in Shanghai next month.
Tagged in: christian dior, lvmh moët hennessy louis vuitton, lvmh, peter marino, taipei, taiwan, new boutique, sidney toledano,