5 Looks Inspired by Summer Cocktails
Looking for the perfect dress for the season, we turn to some of our favorite summer cocktails for inspiration. Vibrant hues, intricate details and sexy silhouettes have us saying "it's 5 o'clock somewhere." Cheers!
Mojito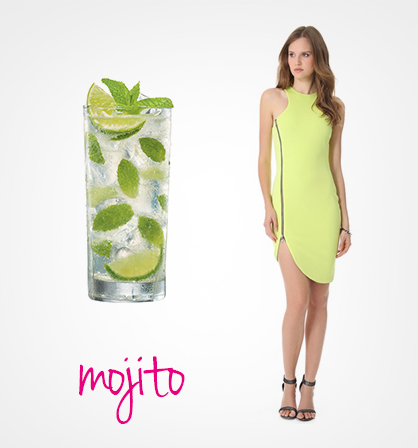 Considered the national drink of Cuba, this mint-infused cocktail is the perfect refreshment for hot summer days. For a look that's just as bright, go with a ONE by Boulee sheath dress in lime. Made from soft neoprene, an asymmetrical hem and form-fitting cut yield a sexy silhouette.
White Sangria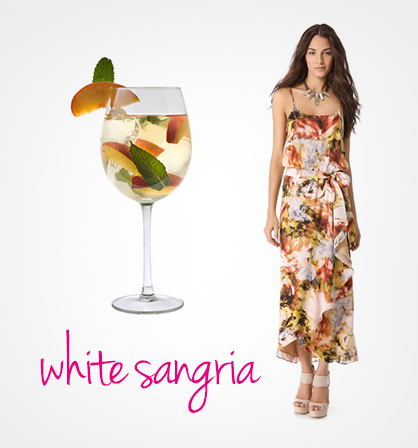 If you're on the hunt for a classy and party pretty beverage, look no further than white sangria for your summer soiree. A floral wrap dress by Haute Hippie is inspired by this light and colorful cocktail. Made from romantic chiffon and lined in silk, the dress boasts ruffled edges which give a girly flair.
Sex on the Beach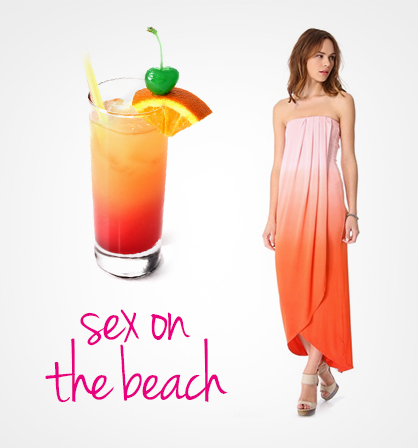 Get in the mood for a little fun when the sun goes down with a fruity Sex on the Beach. Colorful and provocative, this punch inspires an ombre look from Young, Fabulous & Broke. The strapless maxi dress features draped panels to enhance the fluid cut for endless dancing under the stars.
Piña Colada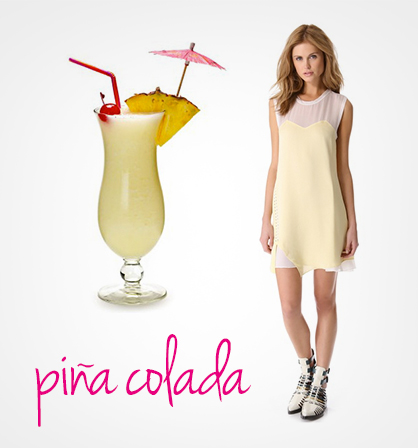 Coconut cream, pineapple and rum…nothing says tropical vacation like a piña colada. A layered tee dress by 3.1 Phillip Lim emulates the simplicity of the popular blended beverage. This pale yellow number features an illusion sweetheart neckline and chiffon lining for ladylike allure.
Strawberry Daiquiri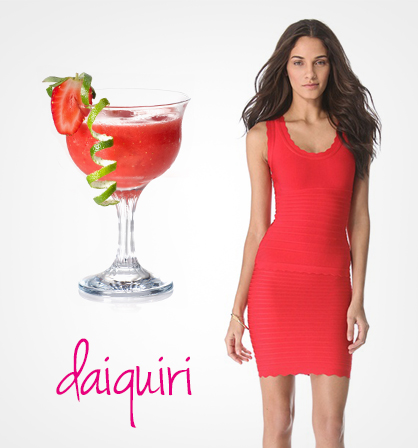 For the ultimate grown-up slushy, a strawberry daiquiri trumps all. The combination of sweet and sour tantalizes the taste buds while lounging by the pool. Matching the vibrant red hue is a fitted tank dress by Herve Leger. Scalloped edges lend femininity to the sexy signature bandage style.
Read more Summer 2013

Tagged in: dresses, summer 2013, get the look, cocktails,