The Strut Report: Giorgio Armani Privé Fall Couture 2011
Day Two of Paris Fashion Week proved to be as charitable as it was well, fashionable, with a Giorgio Armani Privé Haute Couture show that boasted a strong "Geisha: Redefined" theme . Titled "Hommage au Japon," the event was dedicated to the recovery efforts in Japan and those affected by the March tsunami, reported WWD.
The Italian-based designer flavored his signature tight, clean, crisp lines with Japanese inspiration, putting a modern spin on the traditional looks by incorporating geometric figures and experimenting with mixing textures. Printed floral silks with black velvet were the favored pair to frequent the catwalk, as were stiff architectural panels sported atop tight-fitting pencil skirts. Column dresses and pantsuits were finished with obi belts, while cherry blossoms seemed to bloom everywhere.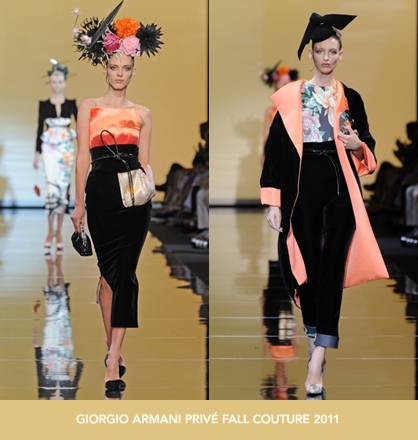 via WWD, Giorgio Armani
While the color choice of black connected most of the pieces, pops of color made their way throughout the collection via floral printed silk, with bursts of orange drawing the eye. Every shade from pale orange to bright tangerine was represented in the utmost sophisticated fashion.
As with most Giorgio Armani Privé shows, the headwear made a big statement, complementing the overall theme. With intricate geometric shapes that could be compared to origami for the hair, the headdresses were the perfect addition, giving just the right amount of influence without overpowering the styles.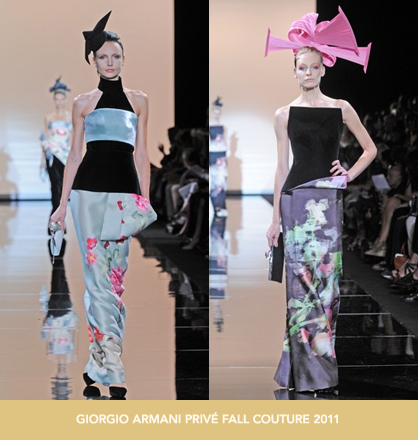 via WWD, Giorgio Armani
With each look, Giorgio Armani did, in fact, pay homage to the Japanese and his efforts to aid via fashion – and with a jaw-dropping line, no less – made for an inspiring collection in every sense of the word.
This article was contributed by Dani Smith. To read more from Dani, follow her adventures on Twitter at @Danilaexoxo.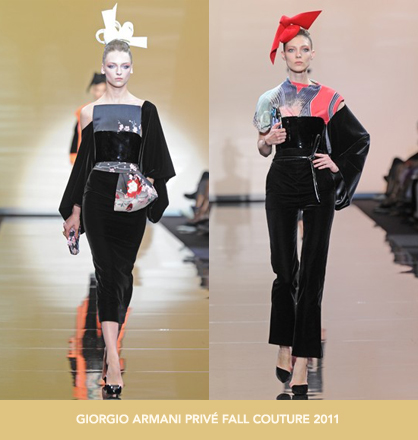 via WWD, Giorgio Armani
Tagged in: paris, fashion week, runway, giorgio armani, armani, couture, fall 2011, fall couture, giorgio armani privé,