Editor's Picks: what to wear to Fashion's Night Out
After deciding where to make your appearance for Fashion's Night Out, the next step is figuring out what to wear! There's no reason not to get dolled up on one of the biggest nights in the industry as designers, celebrities and fashion-lovers across the world will be in attendance. As LadyLUX gets ready to celebrate the year's most stylish night at a flurry of events, the team of editors shares their picks for what to wear to Fashion's Night Out 2012.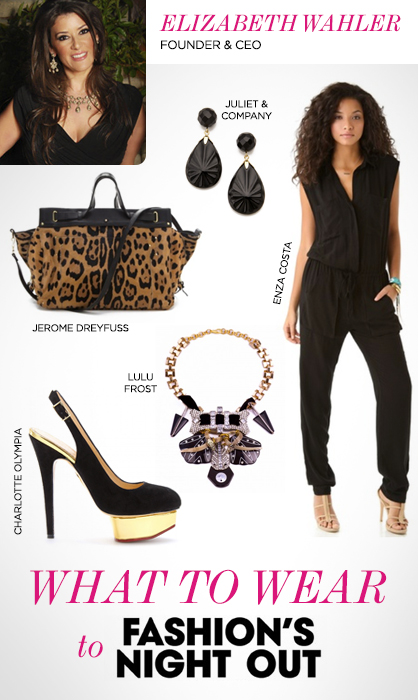 LadyLUX via Shopbop.com, Mytheresa.com and Charmandchain.com
Elizabeth Wahler, Founder and CEO
With so much excitement going on at Fashion's Night Out, stay fuss free with a streamlined ensemble. Create the silhouette with Enza Costa's challis jumpsuit, complemented with Charlotte Olympia's dolly suede slingbacks. Accessorize the look with a statement necklace that will catch everyone's attention like Lulu Frost's calypso necklace and Juliet & Company vintage jour earrings. A little leopard from Jerome Dreyfuss's Carlos haircalf satchel adds a dose of fun and easily carries all the essentials plus giveaways.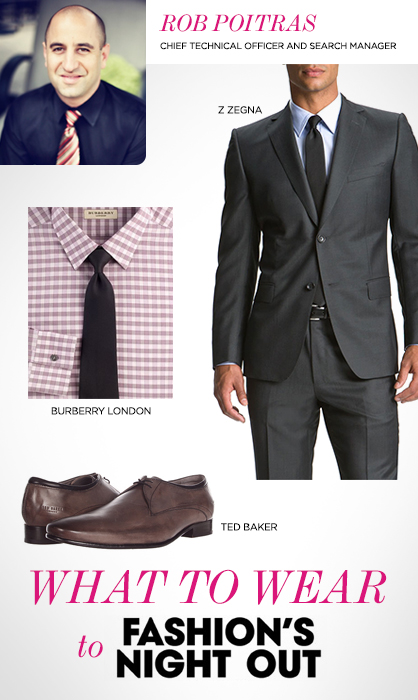 LadyLUX via Nordstrom.com, Zappos.com and Saks.com
Rob Poitras, Chief Technical Officer and Search Manager
I have selected apparel that I feel is timely for the season and matched for the current warm weather that is blessing us Los Angelistas. I'm building my suggested outfit from the ground up with these Ted Baker shoes. They inspired me with the off-brown color and purple and greyish hues. The Z Zegna suit with its steely dark grey hue brings out the color in the shoes. Bringing it all together with this Burberry London ingham shirt in lilac is the modern style I like, but still a traditional fit for a pre-fall outfit. Match the outfit with a solid or vertical striped tie from your closet.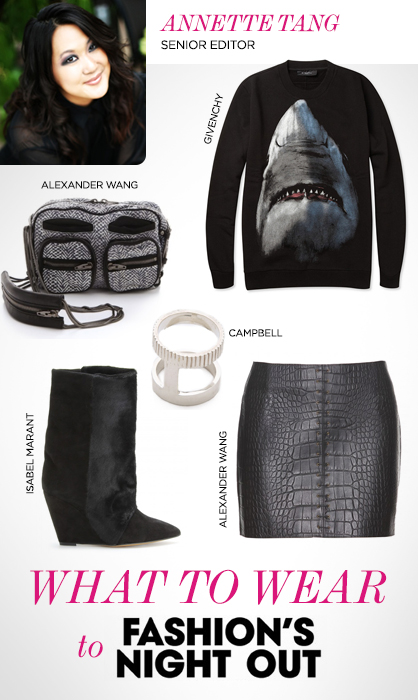 LadyLUX via Shopbop.com and Mytheresa.com
Annette Tang, Senior Editor
Fall 2012 offers a season of dark edginess that revolves around boxy silhouettes, tactile textures and endless shades of black. Embody the motif with Alexander Wang's crocodile mini skirt paired with Givenchy's men's shark print sweatshirt. Add extra attitude with Isabel Marant's Lazio wedge boots. Finish the look with Alexander Wang's Brenda printed chain crossbody bag to keep your hands free to shop and Campbell's double stack ring for a minimalist accessory.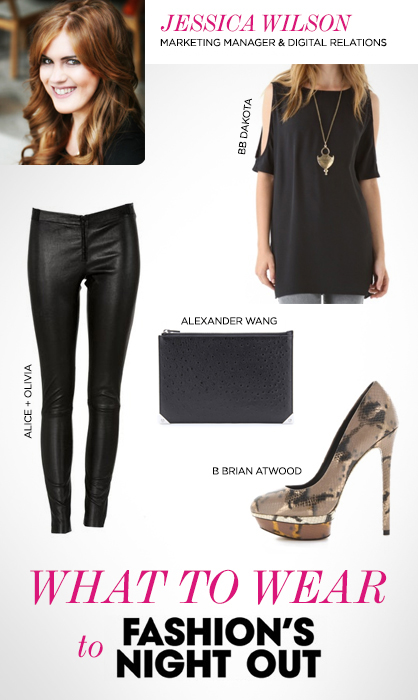 LadyLUX via Shopbop.com
Jessica Wilson, Marketing Manager & Digital Relations
For Fall, I wanted to choose an outfit with tones that reflect the season. I tend to gravitate toward simple and streamlined pieces with added details that make them special. BB Dakota offers cutout shoulders in the hugo tunic while Alice and Olivia display stretch leather. Snake print upgrades on B Brian Atwood's Fontanne metallic pumps and Alexander Wang's prisma flat pouch make this look for the perfect FNO outfit.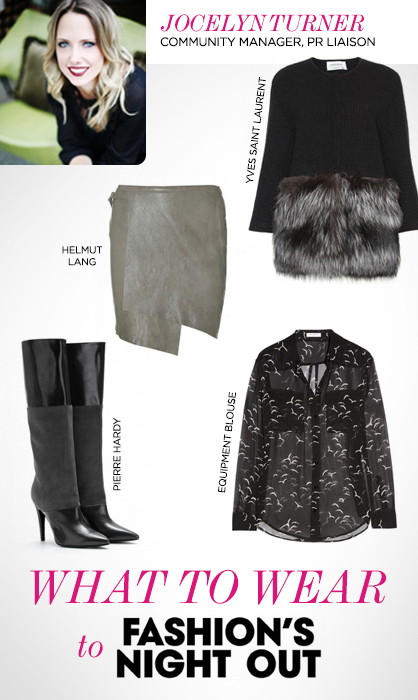 LadyLUX via Bloomingdales.com and Mytheresa.com
Jocelyn Turner, Community Manager, PR Liaison
With fall just around the corner, Fashion's Night Out is the perfect time to add a touch of cozy and chic fall fashion to your wardrobe. The Pierre Hardy leather-and-suede boots and Yves Saint Laurent fur-trimmed cardigan do just that. Paired with the Helmut Lang leather overlap skirt and Equipment bird print blouse that are sure to be fall staples, the ensemble is the perfect transition from summer to fall on every fashion girl's favorite night out.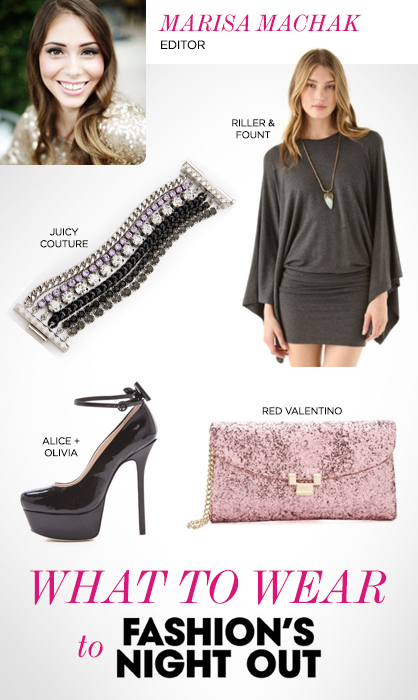 LadyLUX via Shopbop.com
Marisa Machak, Editor
This grey Riller and Fount Tribeca kimono dress is dramatic but still comfortable for mingling around at Fashion's Night Out. It would look fabulous paired with some sky-high Ladea Alice + Olivia pumps decorated with feminine bows on the back. To add some sparkle, this Red Valentino glitter clutch is a must! The Juicy Couture rhinestone multi-layer bracelet will tie everything together for a chic look to wear to this exciting and very fashionable evening!
Tagged in: shopbop, menswear, alexander wang, what to wear, womenswear, isabel marant, b brian atwood, fashion's night out, chain and charm, style inspiration, alice & olivia, fashion's night out 2012, editor's picks,