'Eye on the Giving Pledge' offers clearer view of philanthropic developments
The world of philanthropy continues to benefit from a special campaign called The Giving Pledge. An effort first launched in 2010 by Warren Buffet with Bill and Melinda Gates, the pledge hopes to inspire the wealthiest Americans to commit the majority of their assets to philanthropic causes during their lifetime. As the leading source of philanthropic information, The Foundation Center has launched a new web feature on Glasspockets.org, "Eye on the Giving Pledge," to help track the progress of these generous individuals. This initiative will bring transparency to this century's biggest philanthropic development by combining the Center's authoritative data with public information to further charity efforts.
Since 1956, The Foundation Center has been the leading source of philanthropy information worldwide. The Center connects people who want to change the world with the resources they need through data, analysis and training. The Center operates research, education and training programs designed to advance knowledge of philanthropy at multiple levels. To date, 92 high-net-worth individuals and families have joined the pledge and made public declarations featured on the website. Each pledger gives a moral commitment to one or multiple causes.
"The Giving Pledge has tremendous potential," said Bradford Smith, president of the Foundation Center. "And in a world where philanthropists now achieve celebrity status and new forms of philanthropy emerge at an extraordinary clip, it's more important than ever to keep pace with giving trends and make sense of it all. Good data and transparency are key to understanding philanthropy's impact on the world."
The Foundation Center's Glasspockets website is "keeping an eye" on the giving pledges by providing an in-depth look at the participants and their openly known charitable causes. America's largest foundations open up their grants data to increase transparency for the field and the potential impact of this collective effort.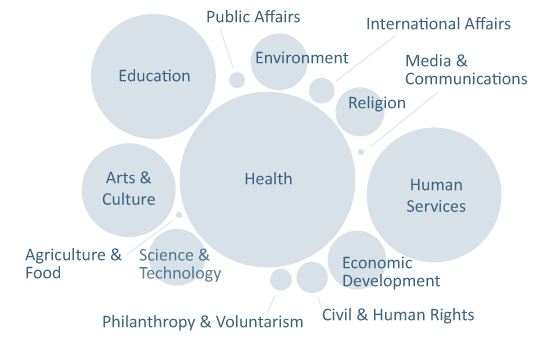 Eye on the Giving Pledge contains profiles of the 92 individuals participating, including their net worth, industry affiliation, giving interests, related foundations, charitable board service and charity press coverage. There are also charts that reveal demographic trends in philanthropy participation, including geographic distribution, industry affiliation, net worth and the age of pledgers. The combined net-worth of all the participants to date is roughly over $400 billion. From the pledges and commitments made by each participant, their donations could bring in over $200 billion to charities over time. This would create a dramatic increase in philanthropic giving.
Janet Camarena, who leads the Foundation Center's Glasspockets initiative said, "Because there is no specific timeline for the Giving Pledge gifts to be made, 'Eye on the Giving Pledge' provides a way to follow how those who have signed on are, through their foundations and personal giving, fulfilling their pledge."
The Center will continuously add new pledgers, update their information and add newer features to Eye on the Giving Pledge on a regular basis, which will include more data visualization tools and human interest stories.
To learn more about Eye on the Giving Pledge and Glasspockets, visit www.GivingPledge.org, www.GlassPockets.org and www.FoundationCenter.org.
Tagged in: philanthropy, charities, philanthopic business, eye on the giving pledge, glasspockets, the foundation center, the giving pledge,