Fall 2011: Michael Kors
One word for Micheal Kors' Fall 2011 show at New York Fashion Week: luxe.
The legend, now celebrating his 30th year in the business, gave a jaw-dropping show on Feb. 16. The classic American designer didn't leave a stone unturned, keeping true to his aesthetic, but continuing to crank out impeccable cuts in gorgeous fabrics.
Cashmere coats, tailored suits and fur coats in shades of eggplant, brown and gray turned heads in the front row.
Kors paid attention to the female physique in his newest collection. Instead of boxy trousers or oversized coats, the collection hung on the model as if it was draped specifically for her body. Soft jersey jumpers and separates simultaneously covered her up and exuded serious sex appeal, not an easy feat for cold-weather wear.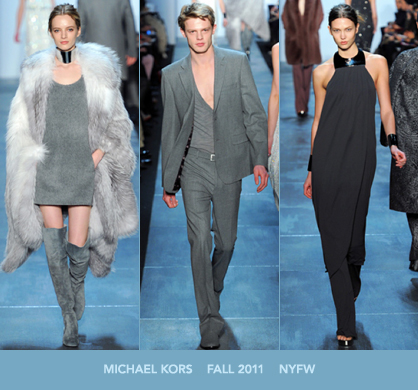 Dresses hugged at the neck and the waist, and then hung loose, creating a feminine and flattering silhouette.
The looks were classically monochromatic, sticking to a single shade in almost every ensemble.
It wouldn't be Kors, however, without a pop of red. During the last dozen looks, Kors surprised the crowd by giving a splash of the vibrant hue amid beige, black and brown. Only a couple of looks deserved the shade: a fur coat and trousers, and a long parachute dress.
Although the show was mostly womenswear, men made an appearance as well, showing off double-breasted coats, leather jackets and suits of various shades.
True to style, Kors bid the New York crowd adieu in an all-black outfit of a blazer, a sweater and jeans.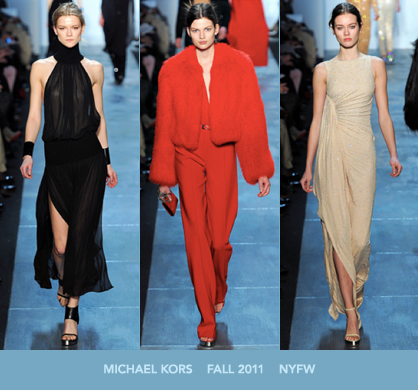 Tagged in: new york, new york, michael kors, fashion week, fall 2011, sportswear, american,