Fall 2011: Proenza Schouler
Native-American embroidery was a hit at Proenza Schouler's Fall 2011 showing on Feb. 16 during New York Fashion Week.
Proenza Schouler designers Jack McCollough and Lazaro Hernandez took a trip to Santa Fe, N.M., gaining a great deal of inspiration for their collection from Native-American blankets, according to Style.com.
The designers were able to translate the immaculate craftsmanship found in the American-Indian textiles into beautiful, colorful garments that each looked one-of-a-kind. Like a carefully laid mosaic, every color and pattern seemed artfully selected. McCollough said they pixelated the original prints on a computer and enlarged them.
From knits and pants to dresses, the two designers mixed and matched the colorful fabrics to form fascinating, eye-catching ensembles.
Whereas some inspiration can appear too literal, McCollough and Hernandez applied the aesthetic in such a modern, timeless way that it's hard to imagine that a skin-tight velour dress was inspired by the original settlers of the Americas. However, a closer look at the patterns – a chevron print or a woven knit – and it's obvious that with an artful eye, inspiration is everywhere.
The velour numbers closed the show. The evening attire was breathtaking; the vibrant prints were applied to the sensuous fabric and paired with sheer black chiffon, resulting in imaginative dresses fit to be framed on the wall.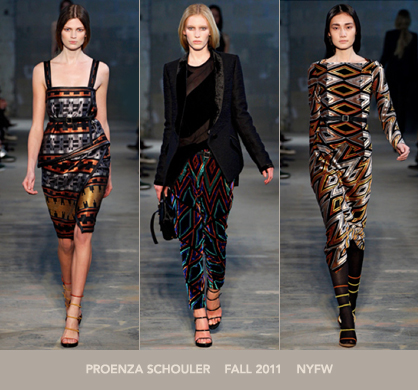 Tagged in: new york fashion week, runway, proenza schouler, fall 2011, lazaro hernandez, jack mccollough,