Fall 2012 Trend Wrap-up from A-Z: Part 1
Every runway season brings new collections and lots of excitement, but also enough emerging trends to make your head spin. Fall 2012 is no different, but have no fear! Lady LUX has you covered with a four-part A-Z trend recap. Today we focus on A-G.
A is for shades of Apricot. Nudes and neutrals have been on our radar for a few seasons now, but for Fall, designers updated the nude with a little tinge. Apricot looked classy on matching skirt sets as seen in Kenzo and made for interesting, sporty outerwear whether in plush or leather. Missoni degraded the color in knitwear to create a sense of earthiness.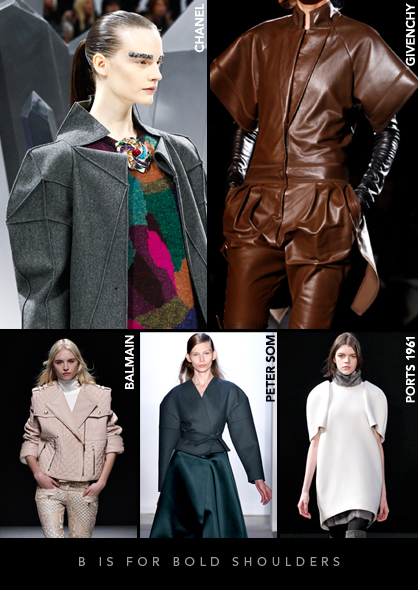 LadyLUX via Style.com
B is for Bold Shoulders. Designers zeroed in on shoulder details this season with strong silhouettes for the power woman. Shapes were very pronounced with wide features as seen in Balmain. Rounded versions were more soulful and melded into puffy sleeves. Karl Lagerfeld created the most impressive style with a structured, oversized polyhedron shape in Chanel's collection. Look to jackets and coats to carry this trend.
LadyLUX via Style.com
C is for Capes. Outerwear appeared in cape silhouettes, referring to medieval moments. Naturally, Gucci modernized the style with lavish materials while Moschino gave it flair with a ruffled hem and gold buttons stolen from band uniforms. Dolce and Gabbana's cape was appropriate for the baroque religious theme as it referenced liturgical garments. The outerwear piece can be styled over slim pants or worn like a dress.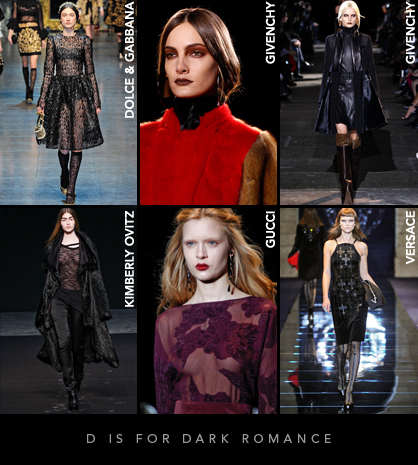 LadyLUX via Style.com
D is for Dark Romance. Dark and mysterious collections emerged this Fall as one of the most popular trends. After rallying colors for several seasons, designers reverted back to black. The sense of dark romance was blended with themes of equestrian, gothic, '90s grunge, religion, nineteenth-century decadence and everyone's favorite heroine, Lisbeth Salander from "The Girl with the Dragon Tattoo." Designers built ensembles around leather and sheer materials and fitted silhouettes. Models were completed with dark lips and heavy-rimmed, worn-in eyes.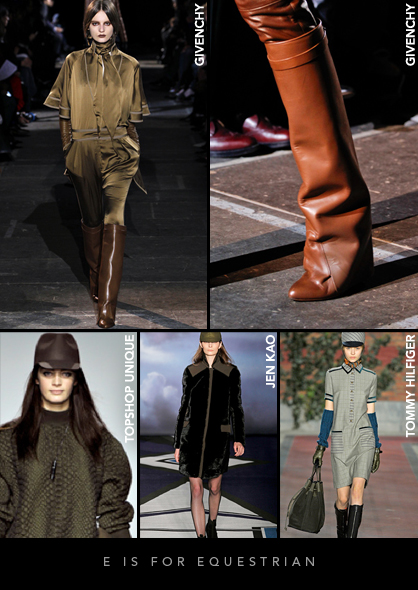 LadyLUX via Style.com
E is for Equestrian. Equestrian detailing appeared on the runways from New York to London to Paris. Givenchy's Fall collection continued the theme from Pre-Fall and fully embraced it with a dark sensibility. With a foundation of jodhpur pants stuffed into sheath riding boots, the silhouettes were ready for the horse track. Tommy Hilfiger went the preppy route complete with riding hats and gloves. Presented by Jen Kao, Topshop Unique, Band of Outsiders and Ermanno Scervino, equestrian-style hats were fused with caps for a sophisticated option to the active-inspired headwear.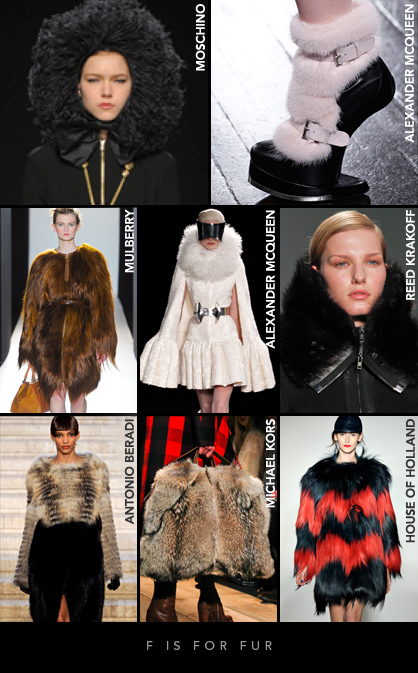 LadyLUX via Style.com
F is for Fur. It's no surprise that fur is a major Fall trend. The luxe material has gained momentum and evolved over the last couple of seasons. This time around, it takes a playful turn with bold colors and new silhouettes. Shaggy styles were popular on coats and even dresses and skirts. Fur cropped sweaters were new for the material, while fur collars reached supersized proportions. Handbags and footwear participated in the trend with all-over styles, as seen in Alexander McQueen and Michael Kors.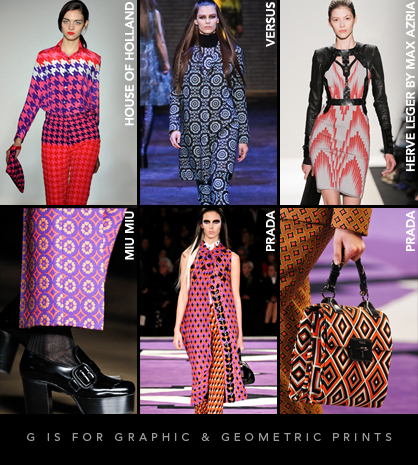 LadyLUX via Style.com
G is for Graphic and Geometric Prints. Prints from Spring continued into Fall in graphic, eye-catching patterns, often referencing the '70s. Thanks to Miuccia Prada, both Miu Miu and Prada presented head-to-toe print ensembles. Following suit, Versus and Marni also went all-over and with oversized repeats. Designers went both directions, matching prints as well as contrasting them for flair. Motifs included medallion repeats, jacquards, wallpaper patterns and foulards.
Read more Fall 2012 trend wrap-ups.
Tagged in: trends, handbags, footwear, accessories, givenchy, alexander mcqueen, gucci, apparel, chanel, fall 2012 trends, versace, runway trends, balmain, missoni, topshop unique, peter som, marni, moschino, jen kao, dolce & gabbana, fall trend 2012 wrap up, tommy hilfiger, band of outsiders, versus, fall 2012 fashion week, kenzo, trend wrap-up,