Fall 2013: 7 Jewelry Trends
What's not to love about jewelry? No matter what number the scale says, that ring, necklace or earring always fits! Whether you use jewelry to finish off your outfit or as the inspiration for a great look, Fall 2013 runways provided a great variety of bijoux to keep us looking shiny and polished. Here are the top 7 trends we think will get you excited to expand your jewelry wardrobe.

Gold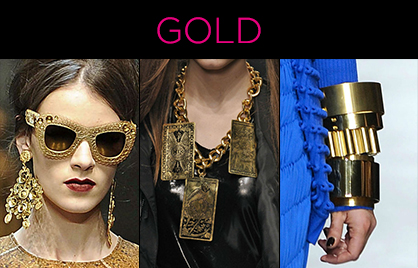 Gold was the metal of choice for Fall 2013 accessories. The metal permeated every classification from headbands to belts to bags and of course, jewelry. Looks included ornate Byzantine metalwork, bold chains, Baroque metal jewelry, hair accessories, modern cuffs and a wide variety of other styles and high-shine finishes.
Costume Jewelry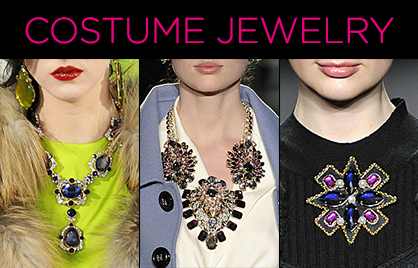 Costume jewelry looked as good as the real thing on Fall runways. Opulent and dramatic jewels appeared on handbags, belts and various necklines. Medium to giant-sized stones made quite the statement, whether in clear crystal or a rainbow of sapphire, emerald ruby, amethyst and topaz. Any of these pieces will add head-turning flair to the simplest of outfits.
Chokers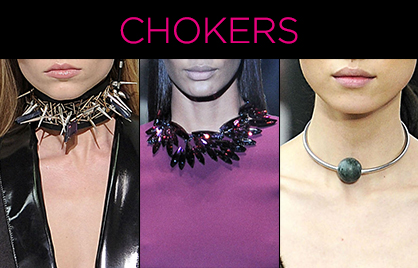 Collar necklaces have been popular for the last few seasons and the next iteration appears to be the emergence of choker silhouettes. There were many variations of this face-framing option, including African and Asian-influenced neck rings, modern minimalist designs, stacked high chains, floral motifs and rings with exotic skin breastplates.
Single Earring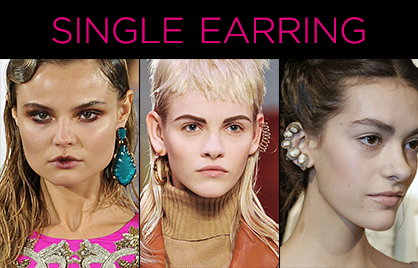 We first noticed Sienna Miller's choice to wear earrings in only one ear at this year's Golden Globes red carpet. This asymmetry appeared to be a major styling statement on Fall runways. While ear cuffs are traditionally worn in singles, the runways extended this trend to include hoops, chandeliers, tassels, ear plugs and even glued-on body jewels in one ear only, ranging from the small and simple to bold and dramatic proportions. Finally, a use for all the earrings to which you've lost the mate!

Matching Cuffs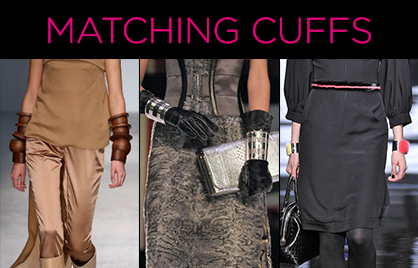 Generally, "matchy-matchy" pairings are frowned upon in fashion. This was definitely not the case for Fall 2013 as matching cuffs were worn on both wrists for maximum "Wonder Woman" impact. The options included supersized cuffs, simple bangles, stacked high bangles or even doubled-up cuffs. The arm candy ranged from simple metals to those with giant jewels, ultra-wide leather, exotic bands, chain links and stud or buckle embellishment. Alternatively, mismatched pairs were also shown.
Colorless Crystal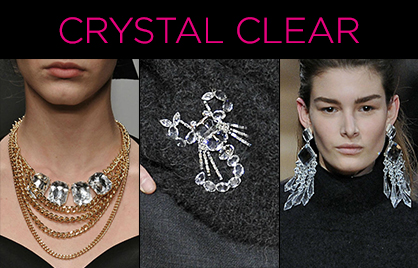 Colorless crystals offer a clear alternative to the other bold and colorful jewelry trends. We love the colorless option as it mixes well with other colors and nicely complements a print without competing with it. This is also a great way to try out some of the other jewelry trends for Fall, including giant chandelier earrings, chains/links and animal motifs.
Rings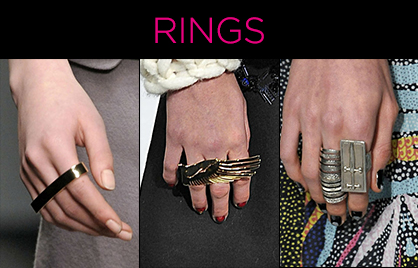 The popularity of nail art puts a lot of attention on our digits! So is it any wonder that rings are popular as ever? Forget less is more. The trend is to wear them in multiples, whether it's a multi-fingered ring, matched pairs on separate fingers or multiple bands on several fingers. Don't forget to throw in a midi ring for good measure. The runways featured rings with sleek minimalist bands, words, protective evil eye symbols, stones, pearls and animal motifs including serpents and feathers.

Read more Fall 2013 Trends
Tagged in: trends, jewelry, accessories, fall 2013, runway, rings, earrings,