LUX Style: Fall 2013 Must-Have Handbags
Experimenting with scale, utility and texture, designers went to great lengths to update classic silhouettes for handbags this season. From innovative shapes to mixed materials and special detailing, the retail selection is sure not to disappoint. With fall right around the corner, don't be afraid to ditch your summer bag for one of these must-have styles.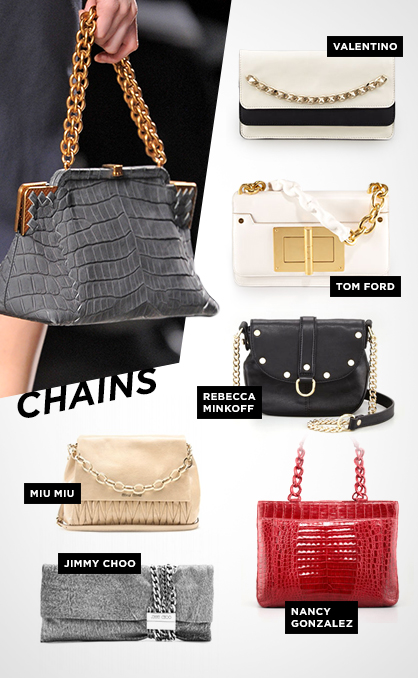 Miu Miu / Leather Chain Handbag I Jimmy Choo / Metallic Fold-Over Clutch
Valentino / Two-Tone Chain Clutch I Tom Ford / Chain Shoulder Bag
Nancy Gonzalez / Crocodile Chain Tote I Rebecca Minkoff / Chain Crossbody Bag
Gaining momentum from Pre-Fall, chain straps and detailing are even more prominent for Fall 2013. Featured in chunkier versions from past seasons, they serve as a decorative touch on fall silhouettes in addition to providing function. Seen in traditional over the shoulder looks, expect to see new layered techniques and mixed media chains.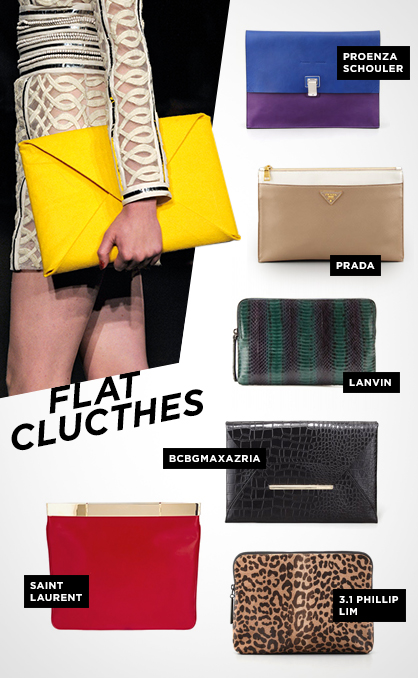 Proenza Schouler / Colorblock Clutch / Prada / Bicolor Pouch
Lanvin / Snakeskin Clutch I BCBGMAXAZRIA / Crocodile Envelope Clutch
Saint Laurent / Red Clasp Pouch / I 3.1 Phillip Lim / Animal Print Clutch
Increasing in size and gaining popularity among designers for Fall 2013 is the flat clutch. Soft and zip-top styles rule the runway for their simplistic design while flap closures make for a strapless briefcase. Colorblock designs, animal print and the combination of matte and shiny planes add visual interest and dimension. These handheld styles can be used for a night out or as a daytime bag.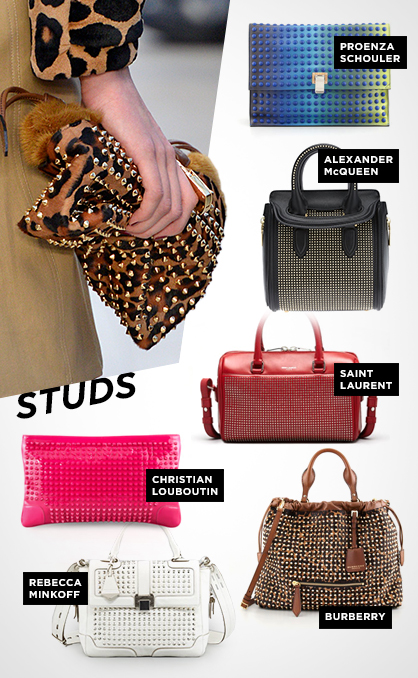 Proenza Schouler / Studded Ombre Clutch I Alexander McQueen / Studded Handbag
Saint Laurent / Studded Crossbody Bag I Christian Louboutin / Pink Studded Clutch
Rebecca Minkoff / Studded Leather Satchel I Burberry / Studded Leopard Satchel
Studs continue as a prominent design element for fall handbags and shoes. Metal and plastic embellishments add texture and interest to clutches, totes and shoulder bags. New trends for the season include small spikes applied allover, neatly accented bags and rosy metal updates.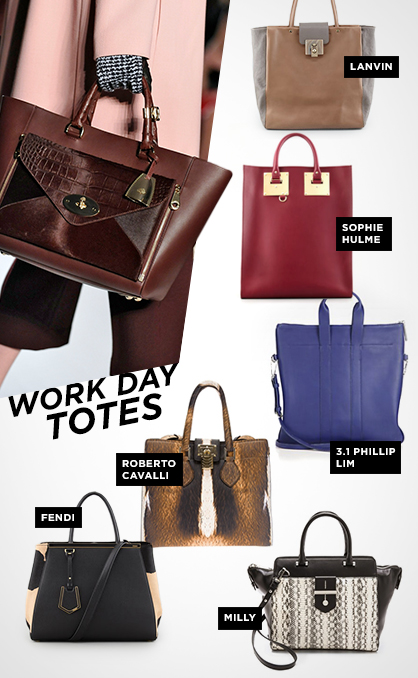 Lanvin / Colorblock Tote I Sophie Hulme / Burgundy Leather Tote
3.1 Phillip Lim / Blue Convertible Tote I Roberto Cavalli / Animal Print Tote
Fendi / Animal Print Tote Bag I Milly / Snakeskin Tote
Your workday tote just got a lot more stylish with this season's interpretations. Petite proportions on polished totes trend on the runways and will double as purses for day to day. Other noted details include boxy structures, east-west and north-south shapes, frontal utility pockets and paneling with contrasting materials.
Read more Fall 2013
Tagged in: guides, handbags, fall 2013, lux style, studs, clutches,