Fall Couture 2012: Versace
After Donatella's dark, gothic Fall Ready-to-Wear 2012 collection paid tribute to her brother Gianni Versace, she further embraced his legacy with the location of the Fall Couture 2012 show. This Versace couture season's collection went back to the original stage at the Ritz, where Gianni held his couture shows for eight years. Along with the location, the collection embraced Gianni's traditional themes of extraordinary adornments with no detail to spare. It was a couture dream come true.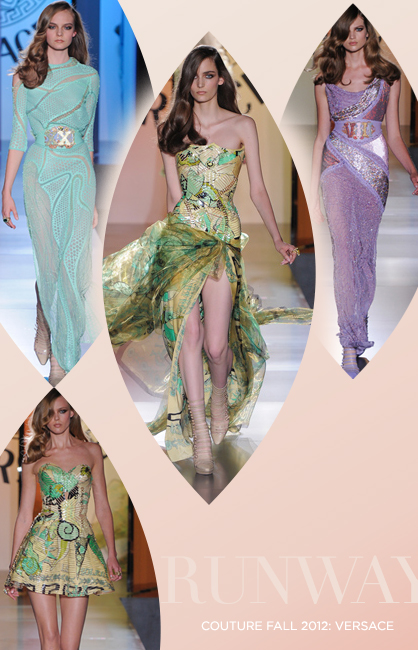 Sexy was written on the runway with graceful, ruffle-flowing gowns boasting thigh-baring slits, the shortest of minidresses and structured coat dresses. While the styles were glamorous Versace at its best, it was the precise embellishments and handwork that made the collection. The show-opening trench coatdress was crafted from strips of patent leather that were fashioned together with gold buckles, resulting in a woven-like effect. Donatella also utilized the strips and buckles technique to construct bodices for the gowns, contrasting the bustier structure with waves of shimmery organza. Adding further shimmer, beads were tightly sewn together in an all-over arrangement, making for glittering gowns. A handful of dresses discovered slashed cutouts that were stitched together with crystals that looked like sutures.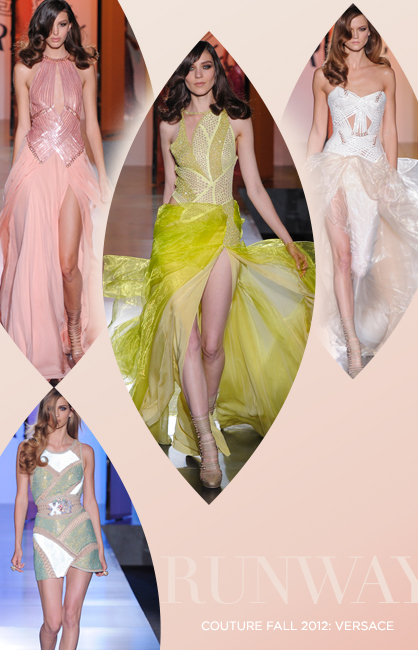 The handwork continued with pieces that looked like they were made from a honeycomb mesh material, but each circle and hexagon was actually hand cut. A trench coatdress embodied the cutouts while a long column gown juxtaposed the material with beaded chiffon and the crystal sutures.
Donatella completed the atelier looks with multi-strap platform pumps that embodied a bootie vibe. It was edgy and unexpected of couture but not of Versace. And considering this is only her second couture collection, it looks like she's got the hang of infusing attitude with high fashion.
Tagged in: paris, runway, versace, donatella versace, fall couture, couture fall 2012, couture collection, gianni versace,