Fine Featherheads extensions add bohemian chic to your locks
Fine Featherheads hair extensions have a free-spirited, bohemian chic appeal that is just right for breezy spring and warm summer days. Launched in 2010 by creative sisters Dakota and Dana Hills, they initially began selling the feather extensions casually at concerts and farmer's markets. As the popularity of the product grew, Dakota realized its potential and reached out to expand into stylish hair salons across the country. The feather pieces were an instant hit.
"The beauty of how Fine Featherheads started is that it began so organically as a fun way to earn a living and be my own boss. When I first started selling feather extensions at concerts and farmers markets, I never imagined that it would blossom into such an amazing business," Dakota shared.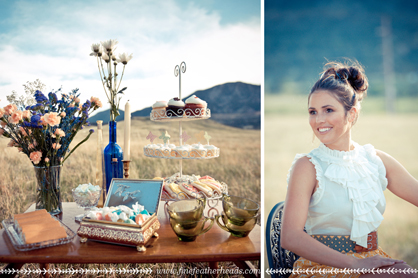 LadyLUX via Fine Featherheads
To keep up with the demand, the young entrepreneur turned her basement into a full feather hair extension production shop and international distribution office. Friends and family helped and supported the sisters and now the Fine Featherheads company has exploded into an internationally recognized hair extension designer. The business currently consists of a staff of 35 workers that considers itself a family including Dakota's husband and co-owner Ryan Dilts and creative director Kate Hamilton, and sells to thousands of retailers globally. With the success of the company, it has been able to help create jobs locally as well as worldwide.
"The best part about it is the job opportunities it provides our wholesale accounts and the impact something as small as a feather can have on a woman's well-being," Dakota said.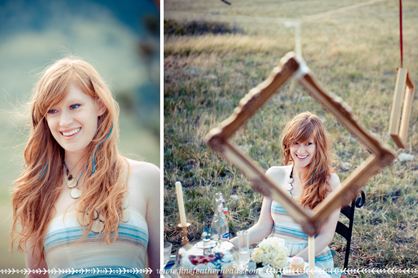 LadyLUX via Fine Featherheads
The tight-knit staff handles the entire operation in-house. At their new headquarters in Colorado, the product is produced, packaged and shipped.
Fine Featherheads come in several beautiful styles including Original, Shorties, Wispers, Accents, Drops and even Pet Plumes for fashionable furry friends. Each handcrafted feather extension is washed with 100% non-toxic detergent and then dyed with organic, mineral-based dye. The styles are offered in a full spectrum of colors ranging from subtle browns to wild pinks and vibrant rainbows, as well as in varying lengths. Dubbed "the Versace of feather hair extensions," the pieces are long-lasting - thanks to a patent (pending) bonding technique - easy to install and reusable. And like natural hair, they can be brushed, blow-dried, put into ponytails, straightened or curled.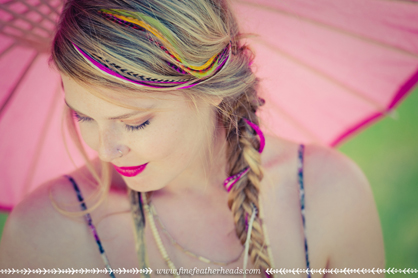 LadyLUX via Fine Featherheads
"The reason these products are so popular is because they're natural, they're effortless and they're fun. It's such a simple way to add a pop of color and fun into your everyday life without damaging your hair," Dakota said. "The bohemian, carefree lifestyle that Fine Featherheads embodies is one that has attracted women for years. The feathers allow women to express their individuality and style in a fun, temporary way."
Please click here to visit Fine Featherheads.
LUX Giveaway:

One winner will receive a Fine Featherheads package including 1 Sand Headband, 1 Black Headband, 2 Natural Feather Charms, 2 Native Feather Charms, 2 Retro Feather Charms, 1 Rasta Feather Charm, 1 Natural Quill Clip and 1 Orchid Fly Tie!!

Here's how to enter:
1. Like Fine Featherheads on Facebook here.
2. Follow Fine Featherheads on Twitter here.
3. Comment under the Fine Featherheads picture with your contact info here.
Winner will be chosen at random and announced in 7 days. Good Luck
Tagged in: lux exclusives, giveaway, hair accessories, bohemian, dana hills, fine featherheads, colorado, dakota hills, feather hair extensions,