Top App: Fitness 100 Ready Workouts
There are a zillion health and fitness apps out there and, happily, a few of them do genuinely help users to eat better, get more out of their workouts and lead a healthier lifestyle. Fitness: 100 Ready Workouts, an app by Viaden Media, attempts to bring together the best features of many popular apps to meet all needs, levels and workout styles.
From the app's homepage, you can choose where to start in your daily fitness regimen. Once you've entered your basic information, the app will generate a daily calorie goal and help you stay on track with the Calorie Counter. With options to scan food item barcodes, enter your own recipes, select menu items from popular restaurants or supermarkets, or search for particular food brands, it's easy to get everything in there. The app will remember your choices, so it becomes easier to enter your favorite foods the more you use it.
The app also has a body tracker section that allows you to calculate your body fat, keep photos at various stages of your progress, and enter detailed body measurements to make sure you're gaining or losing in the right places.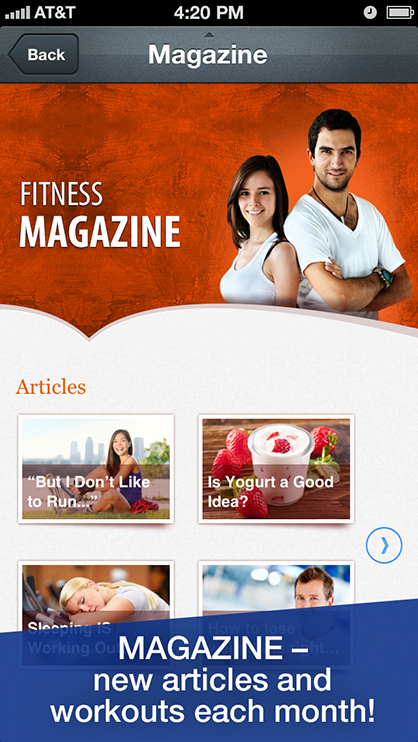 While you can add your own activities in the Training Plan section, the Ready workouts are perhaps the major draw of the app. Choose your goal or fitness level and try one of the 100 workouts to target specific areas or get an overall burn. Each workout provides a 3-day plan that you can rotate during the week and detailed instructions on how to safely perform each component. Pump in your favorite playlist and you're ready to go.
Of course, you can also search the Exercise Base for specific exercises to meet your goals. With a database of over 1,000 moves organized by muscle group and equipment, all with video and audio instructions, the weight section of the gym just got a little less intimidating.
Other neat features include content from Fitness Magazine (with premium account) and the ability to ask a fitness expert anything you want to know. Just enter your question in the app, and receive an email response within a few days.
With the gluttonous holiday of Thanksgiving behind us and more indulgent holiday affairs to come, now might be a great time to give this app a spin.
Discover more great health and fitness apps.
Read more on Fitness.

Tagged in: exercise, fitness, health, diet, weight loss, technology, fitness apps, fitness: 100 ready workouts, health apps,