Wasted Food Recycled to Help the Hungry
Before you throw away that bit of pasta left on your plate, think twice. Everyone knows that plastic, glass and aluminum can be recycled. But Food Recovery Network is here to tell you that you should add food to that list – particularly for college students trashing that last remainder of a college meal plan. Recycling wasted food can help the hungry and aid in preventing global warming. With lack of economic resources causing one in every seven Americans to wonder where their next meal is coming from, recycling food on college campuses can make a big difference.
"It's ridiculous to be wasting so much food – 40 percent of all the food produced –when we have so much hunger in our communities," said Ben Chesler, co-founder and director of member support at Food Recovery Network. "Also, food in landfills is a huge contributor to global warming because it releases methane into the air, which is 21 times worse for the environment than carbon dioxide."
Facts about campus food waste are hard to come by due to lack of research. Food Recovery Network estimates that mid- to large-size universities generate about 10,000 pounds of food waste a year that can be donated. With around 75 percent of colleges lacking food recovery programs, this translates to 22 million pounds of waste each year.
"Look around at our society – where we have enough resources to provide for everybody, yet we simply don't allocate them properly … we waste 66 million tons of food every year," Chesler declared.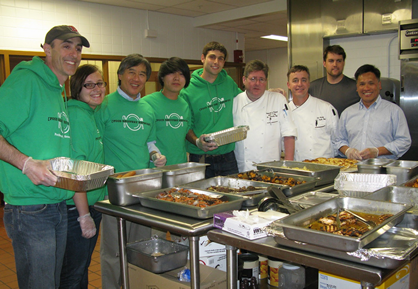 Food waste has a variety of sources, including students with eyes bigger than their stomaches. The main cause of food waste, however, is the way dining ways are set up. Large universities sometimes have to cook meals in advance for more than 10,000 students each day, making food waste practically unavoidable. On slow days, excess food adds up fast.
Food Recovery Network is fairly new to the scene. In 2010, a group of students at the University of Maryland College Park noted that huge quantities of leftover food were being thrown out, sitting in landfills rather than providing for the needy. Three students came together and founded the Food Recovery Network, working with on-campus dining and encouraging students to donate an hour to recover excess food.
"When I heard about global warming, hunger, and the immense amount of food being wasted right in front of my eyes, I realized the food distribution system was broken," Chesler said. "Essentially, there was an inefficiency that was allowing millions of people to go hungry while food sat in landfills contributing to global warming. At that point, there was no way I couldn't get involved."
Although in its infancy, the program quickly took off, with students recovering up to 200 pounds of food each day and carting it off to local shelters. Soon the founders began to wonder where else the program could go and decided that every college should join in with food recovery action.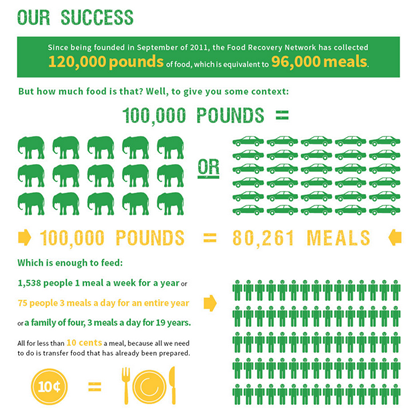 "Our greatest success has been how quickly we have spread," Chesler maintained. "In just over a year, we have spread from four to 16 college campuses, and we are still growing quickly. We are so proud to be encouraging young people to recover food, but also to be building a movement to end food waste in our country."
Their mission and drive is simple: "We plan to keep working until there is zero food waste on our nation's college campuses."
Chelser encourages all to take action: "The EPA and Love Food, Hate Waste have some good ways to reduce food waste, including innovative recipes and tips for how to shop for what you actually need. All of our chapters donate 100 percent of the recovered food to local shelters and meal sites, where it is turned into meals for hungry men, women, and children. The goal is that the food we donate can help the shelters provide an extra meal to their clients or save the shelters money on purchasing."
For those interested in getting involved or starting a food recovery program at their college, visit www.foodrecoverynetwork.org/get-involved/start-a-chapter. Not a student? There are other opportunities in food recovery, including at your place of work or in your local community. Find another organization and take some action.
Tagged in: charity, causes, nonprofit, philanthropy, food recovery network, food recovery,