Freedom and Fashion looks forward to a big year
Going into its fourth year in existence, Freedom and Fashion is looking forward to an exciting 2012. Launched in the Fall of 2008 by Bonnie Kim, the nonprofit organization became the first of its kind to combine fashion, social justice and faith by promoting fair trade and cause-centric designers. The idea for Freedom and Fashion came to Kim after she returned from Bangkok, Thailand, where she volunteered for an organization called Nightlight. The organization focuses on fighting human trafficking and the exploitative sex industry, seeking to empower women through jewelry making. Upon Kim's return, she realized that Nightlight and similar nonprofits including Not for Sale and Polaris Project lacked access to marketing, promoting and financial support.
"I decided to start Freedom and Fashion to support organizations like this and provide a platform to promote them on the runway, in magazines and social media outlets and connect them to the market," Kim shared.
In the first year of the organization, Kim and a team of five volunteers threw a successful runway event with over 800 people in attendance. In Freedom and Fashion's second year, the fashion show expanded to include 16 non-profit partners and drew 1,300 attendees, resulting in over $25,000 raised for the organization and its partners.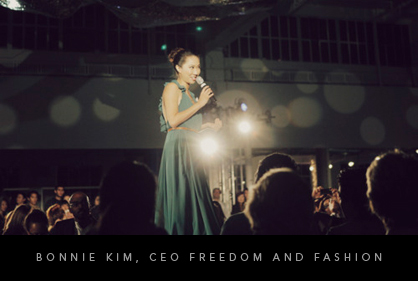 LadyLUX via Freedom and Fashion
The nonprofit celebrated its third year with a theme of "Rebirth." Kim, along with 45 staff members, made a fresh start in a new office space, began building Freedom and Fashion's New York City and European networks and participated in their first Fashion's Night Out. By training former victims of sex slavery to earn a fair wage by making products, they assembled an impressive evening gown collection with each piece representing a person in need of rescue or restoration. They also found time to produce a magazine and, of course, organize their runway event.
It was an eventful year to say the least and Kim isn't slowing down for Freedom and Fashion's fourth year. She is refocusing though.
"We are not producing a fashion show this year. Instead we are focusing on services for our nonprofit partners and strengthening internal structural foundations," Kim said of 2012.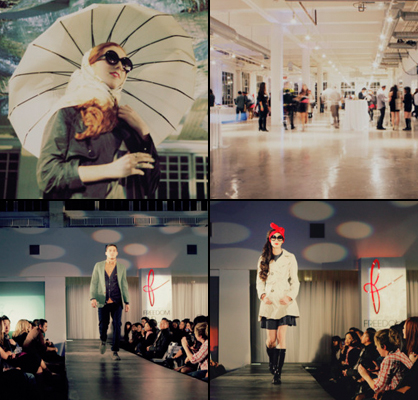 LadyLUX via Freedom and Fashion
The organization is planning to launch a pop-up store in Los Angeles in April to sell products from partners including Urban Natures, Senhoa and Allison Parris and bring awareness to the community. To spread the Freedom and Fashion word further, Kim and her team will be attending the MAGIC tradeshow in August along with a handful of other tradeshows. There is also a conference in the works for November that will discuss branding tips and what the market looks like.
Referring to the conference, Kim said, "There is a missing link with those who make the goods and those who buy them. There needs to be a liaison to connect the supply to the market and our partners need to be educated."

As for the annual fashion show, the Freedom and Fashion team will be taking advantage of the extra time to prepare for an even bigger extravaganza that will take place in early 2013.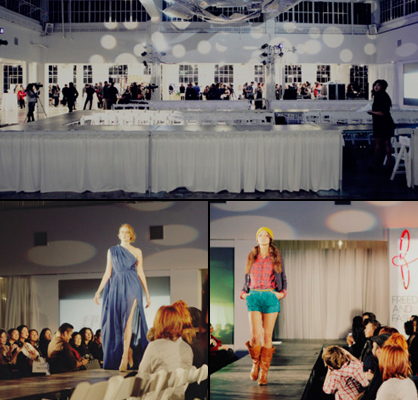 LadyLUX via Freedom and Fashion
Looking further ahead, Kim hopes to have an office in New York City in three years and partner with major companies to sell merchandise. She looks to work with key legislators and advocates to bring sustainable methods to end trafficking, and team up with donors interested in investing in various ways to provide resources to the nonprofit partners. In five years, Kim hopes to create an after-school program focused on the arts and a new educational platform on conscious consumerism.
"There's so many ways for people to get involved – donate, partner, sponsor or volunteer. I just want to reach everyone I can," Kim declared.
Freedom and Fashion is always looking for volunteers to join the cause. Summer internships are still available with applications due on April 7.
Please click here for the full website and details.
Tagged in: lux exclusives, non profit, los angeles, freedom and fashion, senhoa, fair trade, bonnie kim, allison parris, urban natures,