Future:Standard and ethical style
With Earth Day on the horizon, now is the perfect time to remind ourselves how we can live greener lives and make an ongoing difference to our planet. Future:Standard, an online boutique that provides ethical apparel and accessories, recognizes that fashion is one of the easiest places to begin living greener. Many in the fashion industry use numerous dyes, detergents and washes in the clothing manufacturing process that are harmful to the planet. Sweatshop exploitation, reliance on soil-depleting cottons and excessive use of fuel resources are all ongoing realities, but consumers can choose to make smarter decisions. So why not buy recycled clothing and jewelry instead of buying brand new? Future:Standard carries eco-friendly, fair trade and locally made fashions that respect those making them and the planet. You shouldn't have to compromise on style and your values shouldn't get in the way of looking chic.
"In 2008, a conference speaker said that you do not have to choose between your passions. If you want to combine them, you should … A lightbulb went on. Crazily enough, this was the first time I had ever thought I could do all of the things that I really am excited about. I immediately began thinking about ways to support the environment, promote fair labor practices and spend my days looking at, and wearing, beautiful clothes. Two years later, Future:Standard, was created!" said founder, Jessica Altoff.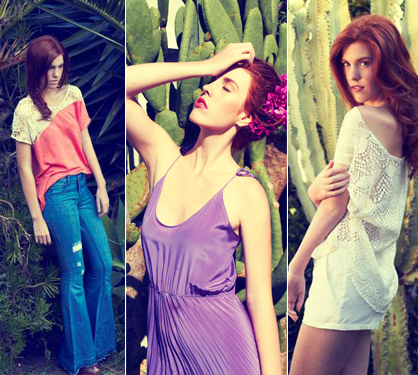 via Future:Standard
Altoff and her team have created an online boutique filled with beautiful and eco-friendly pieces that you can wear without feeling guilty. With over thirty eco-conscious brands, there is something lovely for every girl. Future:Standard sets the bar high and only chooses brands that take care in the production of their clothing. They select products that are transparent in their design, manufacturing and distribution processes. They look for brands with a history of good labor practices and similar environmental practices.
"We are waiting for the day that what we purchase does not need to be described as sustainable or fair trade. This assumes that all products are made in the most sustainable way possible and with concern for those making the products. This is our Future:Standard … The first step in creating a Future:Standard is creating demand. We need to show designers, retailers and manufacturers that consumers want ethical clothing. We also need to show designers that it can be done without compromising style and fit," Altoff explained.
Future:Standard would like to help you celebrate this Earth Day by offering you an exclusive 15% off your purchase. Altoff has also given her personal top 10 tips to living a greener and more fashionable life. Check them out below!
1. Choose natural personal care products and cosmetics: Pure, natural products with pronounceable plant-based ingredients will do your body and the planet a gorgeous world of good. Look for products that harness plants instead of petroleum and natural fragrances and colorants instead of chemical constituents.
2. Choose recycled, repurposed and vintage materials: Clothing designers are getting creative with recycling materials, whether its eco-polyester made from recycled soda pop bottles and discarded garments, or deconstructing vintage pieces to fashion new ones. It seems that almost anything can be upcycled into something usable and on-trend!
3. Buy organic apparel: Ordinary cotton uses a lot of water and chemicals in the treatment process. Organic cotton's environmental impact is much lower.
4. Reuse those old tees: Fringing is the latest and greatest trend, and so easy! Learn how to fringe your old tees on Future:Standard.
5. Get eco and tech savvy: It is so simple and effective. Save energy and wear and tear on your hardware by shutting down your computer at night.
6. Wash your threads in cold water: 90 percent of the energy used from your washing machine goes into heating. Most loads don't need hot water. The higher the water temperature, the higher the cost to you and the planet.
7. Update your ride: A sleek and cool beach cruiser is the latest way to pimp your ride and reduce your carbon footprint!
8. Go organic with your diet: Buying and eating organically grown food is one of the single most eco-powerful green choices for personal and planetary health. Eating organic means avoiding the pesticide residue left on foods. Organic farming methods fortify soil naturally to produce less waste and be more energy efficient and produce less waste. This means workers and farm neighbors aren't exposed to potentially harmful chemicals. It means less fossil fuel converted into fertilizers and it means healthier soil that should sustain crops for generations to come.
9. Go vegetarian: Your waistline, your body and the planet will be thankful. Beyond being a solid source for a full spectrum of good stuff like vitamins, nutrients, minerals, antioxidants and phytonutrients, a plant-based diet requires a lot less energy and water to keep you well-fed. Meat is the least energy-efficient food on the planet, requires a serious amount of water and is a major polluter.
10. Carry style: With a reusable tote bag! Take it to the farmers market and just about any shopping trip for a simple and effective way to cut down on plastic waste.
To learn more about Future:Standard and to shop their eco-friendly merchandise, visit www.shopfuturestandard.com. Don't forget to claim your 15% percent discount until April 30 by using the discount code LADYLUX.
Tagged in: fashion, eco, accessories, green, apparel, online boutique, fair trade, earth day tips, future:standard, ethical style,